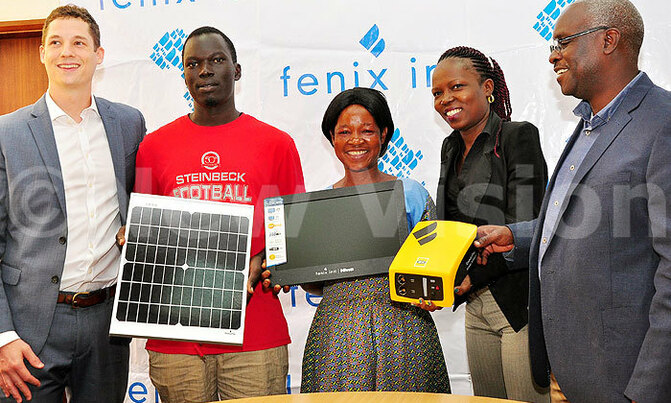 "In Uganda, 84 percent of our customers are farmers, self-employed or own a small business in rural areas."
PIC: Allan Abola, his mother business owner Christine Aken and Charity Sidi Laker are flanked by Fenix International Uganda MD, Daniel Willette (left) and Vision Group CEO Robert Kabushenga (right) during a press conference at the Vision Group head office in Kampala. (Credit: Juliet Kasirye)

SOCIETY

KAMPALA - Fenix International, the leading solar energy company in Uganda, has now provided electricity to 200,000 homes as of June 2018 through its ReadyPay Solar Power System.

"Christine Aken, a 35-year-old wife and mother of six children who is a small business owner in Gulu bought her ReadyPay power system to cater for her family's basic electricity needs. Unbeknownst to her, she was a milestone in our presence in Uganda," said Daniel Willette, Fenix International Uganda's managing director.

Fenix International is changing more lives today with their flagship product ReadyPay Solar Power.

ReadyPay is an expandable, lease-to-own solar home system providing lighting, phone charging, TV, and radio, financed through affordable installments over MTN Mobile Money.
Aken and her son Abola display the ReadyPay Solar power banner. (Credit: Juliet Kasirye)

Fenix International has built a unique co-branding and distribution partnership with telecom giant MTN Uganda to reach these last-mile households.

"In Uganda, 84 percent of our customers are farmers, self-employed or own a small business in rural areas and Christine fits right within that mold. The majority of the ReadyPay power systems are purchased primarily to power lights in people's homes. People also use their ReadyPay power systems to charge their phones and to listen to radio", adds Willette.

Willette added that it's been interesting to see the steady increase of Ugandans who are shifting away from the use of Kerosene lamps and rapidly switching to ReadyPay Solar Power products in their homes.

"For us this is a great indicator of the shift in the trust of solar products, with customers now recognizing the quality of what we offer and the inclusive nature of our financing".

The rapid increase in ReadyPay's customers is also attributed to the affordability of the product which comes down to the innovation behind it that allows a customer to choose to pay installments on a daily, weekly or monthly basis from as little as sh700 a day. In doing so, the customer is given the opportunity to bite off what they can chew.

During the handover event, Fenix International Uganda MD announced that Christine Aken's kit that she bought would have the balanced paid off, further indicating that she would be given a free TV upgrade.

Christine Aken thanked Fenix International and remarked about the changes she has experienced already and how this new upgrade will bring more change to her & her families life.

Daniel Willette also handed over 10 home solar power systems to Robert Kabushenga the Vision Group CEO to go towards their Youth Empowerment CSR.
"We are grateful to Fenix International for supporting our drive to empower Uganda's Youth. Giving out home solar systems will help our youth push further in their quests to succeed, and we know that many of them are entrepreneurial," added Kabushenga.

The significance of this milestone for both the media house and the solar company cannot be overstated.

With Robert Kabushenga as a key figure head of media in Uganda, the media industry plays a significant role supporting the development initiatives specifically around Solar Energy.

Robert Kabushenga calls on the media to continue to educate the public at large about home power solutions that provide efficient and affordable electricity to the masses.

Daniel Willette as the key figure head of Fenix International Uganda continues to manage the company's mission to not only develop paygo solar home systems for the Ugandan market but to continue to increase the milestones of delivering clean, safe and affordable energy and financial services to over one million people.