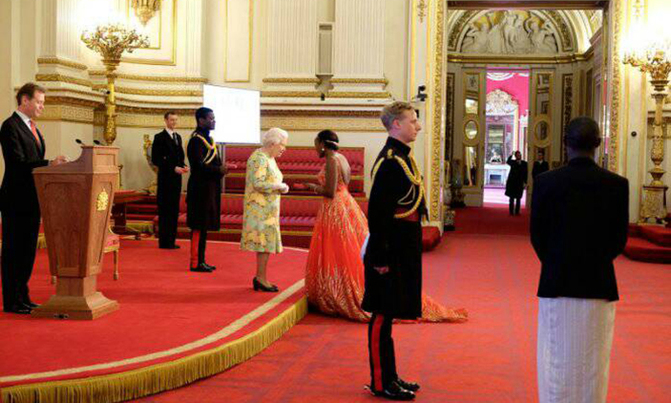 Newly wed Duke and Duchess of Sussex Prince Harry and Meghan Markle also attended the function that was held at the Buckingham Palace.
PIC: Elizabeth Kasujja receives a medal from Queen Elizabeth II at Buckingham Palace. (Courtesy photo)

LONDON

At the Queen's Young Leaders Award fete in London, three Ugandan youth stood out.

Bazil Mwotta Biddemu, Elizabeth Kasujja and Stephen Katende were on Wednesday honoured by Queen Elizabeth II for their exceptional innovations, which have shaped communities and empowered Uganda's low-level citizens.

Through his organisation, Kisoboka Africa, Katende started community banks, an initiative that allowed parents to save money in order to secure tuition fees for their children.

Katende's organisation was praised for helping children stay in school. The Kisoboka banks help parents to save, borrow and invest for their children's education.

"It is a special thing to receive an award from Her Majesty the Queen for the work I do, in developing rural communities in Uganda. My next step upon returning home will be to put everything I have learnt while here into practice," Katende said on Tuesday, shortly after receiving his award at a ceremony presided over by the Queen.

Newly wed Duke and Duchess of Sussex Prince Harry and Meghan Markle also attended the function that was held at the Buckingham Palace.
From left: Kasujja, Uganda's High Commissioner to the UK Julius Peter Moto, Stephen Katende and Bazil Mwotta Biddemu at Buckingham Palace. (Courtesy photo)

The Queen recently appointed Harry as the Commonwealth Youth Ambassador.

Biddemu, the founder of agro Duuka business, was recognised for empowering local farmers in upcountry communities to beat the challenges of accessing capital and modern farming tools.

Kasujja, the only Ugandan woman recognised at the function, developed technology dubbed Clear-Yo-Mind, which helps people with mental disability to access shrinks and other mental health professionals easily. The trio will also undergo mentorship and specialised training at the University of Cambridge's Institute of Continuing Education, which was set up to develop leadership skills.

The Queen's Young Leaders Awards programme celebrates the achievements of some of the most exciting young change-makers from across the Commonwealth.

This year's winners from 38 Commonwealth countries were honoured for finding solutions to global issues, such as climate change, food scarcity, gender-based violence, mental health, and access to education.

"In this rapidly changing world, it is heartening to meet so many inspiring young people gathered here today, who have already stepped up as leaders and improved the lives of so many people across the Commonwealth. You are the hope and optimism the world needs and we will all do whatever we can, to support you in it," Prince Harry said.

To further support the Queen's Young Leaders network in their future endeavours, a £200,000 (about sh1b) legacy fund was created and will be open to all 240 Queen's Young Leaders and 282 highly commended runners-up to apply for grants that will help elevate their work.

It will also enable them work together to tackle some of the most pressing issues facing the Commonwealth.