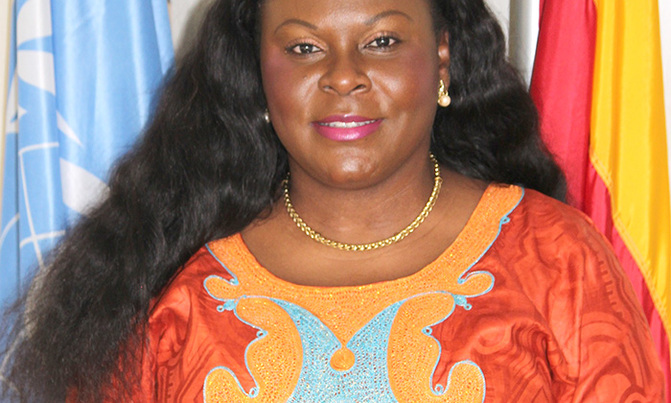 A number of atrocities have been inflicted on refugees before and during flight, including indiscriminate killings, hunger, sexual violence and other inhumane acts.
By Rosa Malango

Every morning each one of us wakes up to perform our roles as part of the households, communities, nations and regions we live in on planet Earth. Our actions are informed by our values, experiences, skills and ambitions.
Every so often our dreams and aspirations can be suddenly interrupted by a tragic event or a setback. Our approach to survival and recovery will depend on our circumstances, our dreams and our shared humanity.

On June 20, 2018, the national commemoration of World Refugee Day took place in Nakivale refugee settlement in SouthWestern Uganda. Nakivale is an example of Uganda's solidarity with refugees that dates back to 1958 when the settlement was established.
This celebration was a moment of reflection, thanksgiving and inspiration. Reflection on the fact that anyone of us can become a refugee, thanksgiving to host communities who help ensure a dignified survival for asylum seekers and recognition of the inspiration driving the Government's vision of a symbiotic relationship between refugees and Ugandans.

The United Nations set aside the World Refugee Day to call upon the international community to take action and raise awareness of the struggles faced daily by people forced to flee their homes. The day is also a platform for reflection on the extent to which we have fulfilled the international obligation to reach-out to our brothers, sisters and children regarded as refugees.

Let's reflect for a moment on who is a refugee. A person fleeing violence and persecution across national borders is a refugee, this means that no one chooses to become a refugee. Nearly three quarters of all refugees globally are women and children including those in Uganda. A number of atrocities have been inflicted on refugees before and during flight, including indiscriminate killings, hunger, sexual violence and other inhumane acts.

Imagine being raped, separated from family, pregnant, lacking food and water, emotionally torn apart and need to compose yourself and start a new life away from home. These are some of the horrible stories the refugees have to tell. It is great to note the resilience of the refugees amidst all.

Today as we focus on the 2030 Agenda, its 17 Sustainable Development Goals (SDGs) and world refugee day, it is time for a revival of the values of social cohesion and community accountability known by some as Obuntubulamu or Ubuntu. This provides a strong foundation for a comprehensive response that pulls together humanitarian, development and peacebuilding efforts in the districts hosting refugees.
The Uganda model - a vision of cohabitation were refugees once identified can pursue an education, start a business and be part of life in the communities where they are being hosted is informed by ancient set of values around social cohesion and community accountability as well as firsthand experience by several members of Government as refugees. The pursuit of harmony between people and planet was at a point the epicenter of the pursuit of development and stability for centuries among African kingdoms and chiefdoms and then it was lost.

The cost of hosting refugees is enormous for both host communities and the Government of Uganda as it includes costs ranging from provision of food, water, security, land, health and education services, to the costs of protecting and mitigating the impact on the environment. So this is also a message of thanksgiving to the host communities who have been generous enough to share their limited resources with refugees.
I also want to thank the big number of volunteers, professionals and officials working hard to save lives and improve livelihoods for both refugees and the communities hosting them. Refugees in Uganda are hosted by 12 districts in the north-western and south-western parts of the country, most of which have the lowest development indicators in the country. Despite that they have welcomed refugees extending their hospitality and shared humanity to their sisters and brothers in need.

Now it is time to mobilise investment in recognition of the progressive vision of the Government of Uganda, its open-door policy to refugees from South Sudan, the Democratic Republic of Congo (DRC), Rwanda, Burundi, Ethiopia and Somalia among other locations. We should continue to foster the harmonious co-existence of the refugees and host communities by catering for the humanitarian and development needs of both refugees and the communities hosting them.
There is need for continued support to Government of Uganda and partners to cater for humanitarian and development needs for growing number of refugees. It's important to recognize that districts hosting refugees need urgeny humanitarian aid as well as significant investments in economic opportunities in areas such as water, infrastructure, health, vocational skills training, agri-business among others.

We should all emulate Uganda's solidarity for refugees by investing in the communities they call home - for now. We must also support ongoing efforts to peacefully resolve the conflicts in the countries of origin of refugees so that they may one day return home and become trading partners with Uganda. The private sector should invest the refugee hosting districts, which have abundant opportunities including skilled labour and market for goods and services. Investing in refugee hosting districts is the right thing to do.

The United Nations System in Uganda which is comprised of 18 agencies, funds and programs has been responding to the needs of refugees and communities hosting them through the Delivering as One approach in the 12 refugee hosting districts. Our interventions are informed by the National Vision, the SDGs and local values of global relevance regarding solidarity, protection and empowerment. We will continue to work with both humanitarian and development partners to ensure that no one is left behind.

Let's keep the spirit of world refugee day alive! It's time to align Obuntubulamu and similar universal values among other cultural groups in Uganda with the SDGs as part of a conversation on improving the quality of life, protecting the most vulnerable and promoting inclusive economic development across the nation. Start a conversation at work, with your family and community today. This will help us ensure that everyone has a role to play and that no one is left behind, not even refugees.




The writer is a UN resident co-ordinator and UNDP resident representative