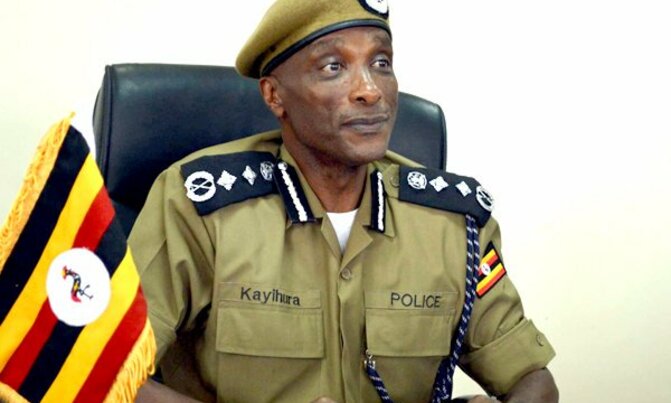 Kayihura has been in detention since Wednesday when he was flown from his farm in Kashagama, Lyantonde district. His family members and lawyers are allowed to visit him.
Former Inspector General of Police (IGP) Gen. Kale Kayihura has stopped being co-operative, protesting the manner in which his investigation is being conducted, New Vision has learnt.

According to a source who visited him in Makindye barracks, Kayihura says it is not fair to be subjected to investigations by people he says "have an axe to grind with him".

Kayihura has been in detention since Wednesday when he was flown from his farm in Kashagama, Lyantonde district. His family members and lawyers are allowed to visit him.
When the lawyers, Alaka and Compay Advocates and Ochieng Company Advocates and visited him on Friday, he instructed them to put up a spirited fight and ensure they challenge his detention in courts of law.

"He is not comfortable. He believes the operatives of the Internal Security Organisation (ISO) and Chieftaincy of Military Intelligence (CMI) have a personal bone to pick with him.
He accuses them of frustrating his work when he was IGP," the source revealed. "He is dejected and extremely disappointed." Sunday Vision has also learnt that the former IGP is locked up in the same block together with the other arrested army and senior Police officers who were regarded as his confidants.

"It's the same block, but the difference is that Kayihura's has his own room with a bed and mattress," a source who has been to the cells told New Vision. Former IGP Gen. Kale Kayihura was arrested on Wednesday, according to a statement issued by the UPDF spokesman, Brig. Richard Karemire. According to reliable sources, Kayihura was arrested after a Tuesday meeting between the heads of security agencies and the President

Details of the investigations surrounding the arrest of Kayihura have also emerged, saying CMI used one of its top female agents to gain the trust of the detained Police officers, who later confided in her about what role Kayihura played in the crimes being investigated.
"The officer was planted in the cells as a human rights lawyer and often times visited the Police officers in the cells.

After gaining their trust, some of those officers revealed details of their operations implicating Kayihura," the source revealed.
The evidence collected was relayed to the heads of ISO and CMI, who later briefed the President, who sources say issued the directive on Friday last week to have Kayihura arrested and only reconfirmed it on Monday during the meeting with the security officers.
The source revealed that the directive was only known to a few senior officers and codenamed 'Operation Arrest ADF'.

The Second Division Commander, Brig. Kayanja Muhanga, was also briefed and was on standby setting up a number of roadblocks in Mbarara and its neighbouring districts. Sunday Vision has been able to revisit the events of Kayihura's first 100 hours in detention.

According to reliable sources, Kayihura was arrested after a Tuesday meeting between the heads of security agencies and President Yoweri Museveni.

He was subsequently summoned to report at the army headquarters in Mbuya, Kampala, and informed that a military helicopter was being dispatched to pick him from his home in Kashagama, Lyantonde district.

TUESDAY
Kayihura has been staying at Kashagama since he was replaced on March 15. The army spokesperson, Brig. Richard Karemire, said when the helicopter arrived in Kashagama, Kayihura had travelled to Mbarara and so it had to return to Entebbe Air Force base. But heavy deployment was seen at Kashagama, starting with Tuesday.

Brig. Muhanga ordered dozens of roadblocks to be mounted on Tuesday evening and throughout the night, whereby random checks were carried out, especially on civilian cars, because security had received a report that Kayihura had fled using an ordinary car. Roadblocks were mounted along the major roads, but security failed to trace him.

When they received a tip off that he had been seen at the Court Yard International and Sky Blue Hotel in Lyantonde, security agents raided the hotel and carried out a search, which also yielded no results. Kayihura's phones, which were being tracked by security, would later be recovered in a civilian car that was being driven to Kabale, while Kayihura was allegedly intercepted at the Lake Mburo National Park the next day.

WEDNESDAY
The New Vision talked to Kayihura in the morning and he said he was at his farm and was not under arrest. However, as if to confirm what was coming, he added that even if he was arrested, he would not be the first person to be arrested.
Indeed, a few hours later, he was under arrest and was airlifted to Kampala for interrogation.
The army announced that the helicopter was again sent back to Kashagama on Wednesday and had returned to Kampala with Kayihura on board. Our source revealed that he was flown to Kampala and taken to Mbuya military headquarters, where he arrived at around midday. The interrogation process immediately started.

It was conducted by security agents led by Brig. Abel Kandiho, the director of CMI, Brig. Kaka Bagyenda of ISO and the director of the Criminal Investigations Department, Grace Akullo.
The chairman of the probe team is Gen. Elly Tumwine. "Kayihura was questioned for close to six hours before a directive 'from above' was issued that he gets driven to Makindye barracks, where he was to spend his first night," a source revealed.

The source further said the general feeling among top security officers was that Makindye was the best facility for Kayihura, given the fear surrounding his arrest. Kayihura was allocated a room which was heavily guarded and he was blocked from accessing other officers in the same block.

THURSDAY
Kayihura was picked at around 9:00am and driven to Mbuya, where the normal questioning continued until 4:00pm. The panel of investigators asked him to respond to confessions from the other arrested Police and army officers, who implicated him in a number of their shoddy dealings, a source said.

The team, New Vision has learnt, was also constantly briefing the President about the developments of the case and that because the interrogation had to consider his rights as an innocent citizen, Kayihura needed holding charges pending a court appearance. The team came up with charges which ranged from abuse of office, murder, illegal extradition of refugees and possible treason. He was driven back to Makindye.

FRIDAY
On Friday after a brief interrogation, Kayihura was driven to his home in Muyenga, where a search was conducted in the presence of his lawyers. Later, he was driven back to Makindye and allowed to access his lawyer, Caleb Alaka, privately, for the first time. Kayihura has appointed Caleb Alaka and Ochieng, who are regarded as some of the top criminal lawyers in the country, on his defence team.

But, according to the sources, Kayihura had changed. The usually cooperative officer had by Friday refused to answer some questions or offer information as readily as he had before, said a source who is among the investigators.

WHAT NEXT?
Sources said Kayihura would be presented before the General Court Martial (GCM) and charged once the investigations are over. However, the biggest challenge the GCM faces is that the Chairman Lt. Gen. Andrew Guti was a rank below Kayihura and cannot try him.
"The President will either promote Gutti to a full military general or appoint security minister Gen. Tumwine as the substantive GCM chairman to try Kayihura," the military source revealed.