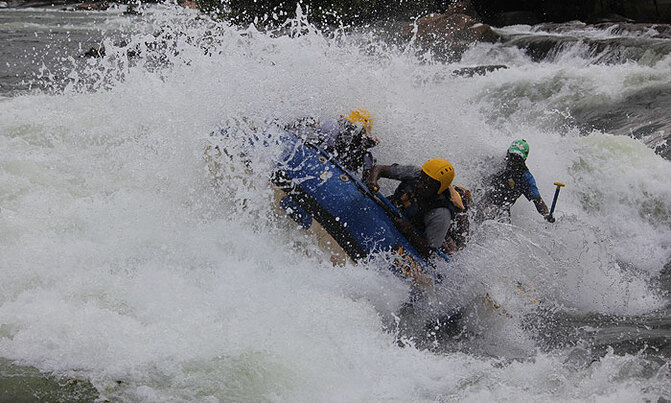 White water rafting on River Nile is best done in groups if it is to be fully enjoyed.
TOURISM

There is so much to see and plenty of tourist activities to undertake while visiting Uganda.

Ugandan tour companies like African Pearl Safaris are well in position to organise safaris and tours involving these tourist activities and so much more. Here are some of the major tourist activities in Uganda.

Gorilla trekking

Uganda is home to more than half of all the mountain gorillas on Earth and because of this, gorilla trekking is such a popular tourist activity that majority of tourists who visit Uganda every year choose to take part in this memorable adventure. Gorilla Trekking in Uganda is done in Bwindi Impenetrable Forest National Park and Mgahinga Gorilla National Park. Gorilla Habituation Experience Rushaga Bwindi gives tourists enough time to spend with the mountain gorillas.
Tourists tracking mountain gorillas in Bwindi

Bird watching

The variety of bird species in Uganda make it a perfect destination for tourists who enjoy bird watching. The climate is conducive all year round and because of this, different bird species keep flying in from far and wide. Bird watching can also be done during boat rides where birds are usually seen by the banks of the abundant water bodies and also during game drives through the parks. Uganda bird watching tours are very popular and usually opted for by a considerable number of tourists.

Game drives

Game drives through Uganda National Parks are quite unique and give tourists a chance to encounter more of Uganda wildlife including lions, leopards, elephants, buffaloes, giraffes among so many other animal species all spread out among Uganda National Parks.
Tourists on a game drive in Queen Elizabeth National Park

There are plenty of bird species that can also be encountered while on these game drives. Game drives are usually done early in the morning or late in the evening when elusive predators are out in the open hoping to pounce on their prey. Game drives are usually done in Murchison Falls National Park, Queen Elizabeth National Park, Kidepo Valley National Park, Lake Mburo National Park and Semuliki National Park.

White water rafting

White water rafting on river Nile in Uganda is a great way to explore Jinja in the Eastern part of Uganda. Rafting is done on the world's longest river and a full day rafting session covers a distance of about 21 kilometers. White water rafting is best done in groups if it is to be fully enjoyed as you pass through the big water rapids on the River Nile.

Mountain climbing

Uganda mountain climbing tours are for the most adventurous of tourists and are done on the Rwenzori Mountains up to the snow-capped Margherita Peak, the highest point in Uganda and on Mount Elgon via the magnificent Sipi Falls. Mountain Hiking tours in Uganda are done all year round.