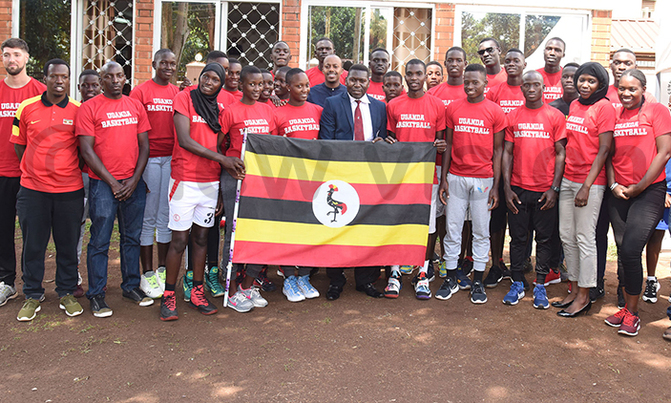 Coach George Galanopoulos welcomed the exhibition games saying they offer perfect practice for his side
Molten Istanbul Cup 2018
Uganda 90 Iraq 72
Saudi Arabia 90 Uganda 60
Monday: Uganda v Jordan
Uganda's national basketball team, the Silverbacks, take on Jordan on Monday as they continue their build up to the second round of the FIBA World Cup qualifiers in Lagos, Nigeria, June 29-July 1.
The team was straight away thrown into action on arrival in Turkey on Friday and they did not disappoint beating Iraq 90-72 in their first game of the Molten Istanbul Cup.
Naturalised player Jordin Mayes and Samuel Kalwanyi have thus far been the stars for the Silverbacks and have scored a joint 57 points in both games with Robinson Opong, Cyrus Kiviiri and Deng Geu managing 19, 18 and 15 points respectively in the two matches.
Coach George Galanopoulos welcomed the exhibition games saying they offer perfect practice for his side ahead of the qualifiers that come in a fortnight.
"I like the idea of playing these many exhibition games because they offer the best preparation for us, to practice and get better moving forward. They help us correct our mistakes and prepare us to get what we want to get to as a team," Galanopoulos said.
The coach is also hoping to get the best from the new players that have been drafted on the team.
"Mayes is a big addition to us as he can shoot and defend; Mugenga is also a bigger guard who can drive and post and we are looking to integrate him in our offence and defense, Deng is also a good addition because we haven't had someone of his stature while Lumanyika brings in energy from the bench,"
But the coach will demand more energetic displays after the team disappointed him against Saudi Arabia losing by 24 points.
"The Saudis were playing more aggressively and harder than us, which is unacceptable because we are supposed to play hard every time, but this was just the second day; we just need to get better every single day," Galanopoulos stated.
Meanwhile Uganda tips off their FIBA Zone V Nations Cup for U-18 Men and Women in Dar-es-Salaam on Monday against Tanzania (girls) and Rwanda (boys).
"We plan to go hard, aggressive and utilise our strength over our opponents in terms of size, speed and tactics," Coach Mavita Ali said.
The competition is qualifier for the Africa Nations Championships for U18 2018 (FIBA Africa U18 Men & Women 2018).The team placed first following the Men competition will qualify to the 21th FIBA Africa U18 (to be determined, Mali).
The team placed first following the Women competition will qualify to the 15th FIBA Africa U18 Women (to be determined, Mozambique).