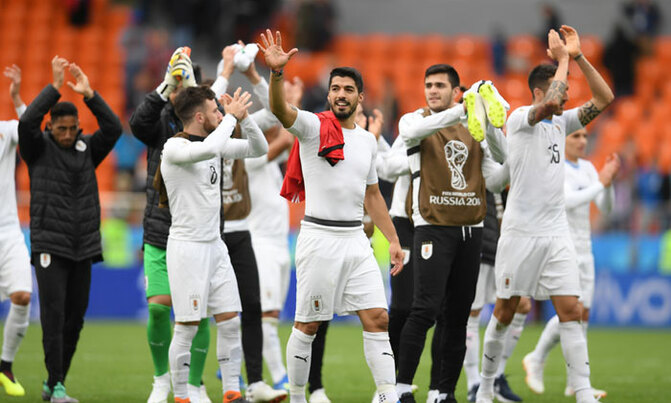 Relive the action between Egypt and Uruguay as the Pharaohs concede late on.
2018 WORLD CUP - FOCUS ON AFRICA

Live reporting by Joseph Kizza

____________________________________




5:02pm What's next?

The Egyptians may have lost today's battle but the war is still definitely on.

Their next game will be against hosts and Group A leaders Russia on Tuesday in St. Petersburg.

For now, African attention switches to the Morocco v Iran Group B opening game in St. Petersburg. I will be bringing you updates from that one shortly.

Stay tuned.

FULL TIME


And that is it. Uruguay take it very very late. Egypt absolutely gutted.

Group A's second game ends Egypt 0 Uruguay 1.
90min (+1) Puffing . . .

The Egyptians are pushing for an equaliser.

The five minutes of added time are ticking away so fast.

89min GOAL! - Uruguay


The pressure has told.
Egypt could not hold on anymore. After several unsuccessful set pieces, it appears the best had long been preserved for the last. A long ball in from a corner drops midair in the air. It is congested in the box, but Jose Gimenez rises highest amid pressure to nod home.
That is a kick in the throat for Egypt, who had up and until this moment of the game, done well to keep out their more illustrious opponents.

This could well be the winner . . .
83min CLOSE! - Cavani

That was so close from Edinson Cavani, but yet again El-Shenawy stretches high and wide to make the best save of the game.

Oh deary me, that was one hell of a brilliant save!
82min SUBSTITUTION - Egypt

Athird and final substitution for Egypt, and it is not Salah coming on. Instead, Ramadhan Sobhy is coming on for Amr Warda.
77min Spirited run - Egypt

Second-half substitute Kahraba makes a dash for goal down the left flank. It is a good run but white quickly crowd his view and eventually, the ball is cleared way out of danger.
72min CLOSE! - Suarez

Only he should know how he missed that, but even Suarez raises his hand in the air, not sure how he wasted that opportunity.

The ball is played into the Uruguay attacking line, Cavani has it but he is crowded out - he senses Suarez dashing through and he does the easiest thing: pass the ball to him. The Barcelona forward is clean on goal but again, fails to beat El-Shenawy, who remains on the ground briefly from an apparent knock during the clash.
69min HANDBALL - Uruguay

Uuguay have enjoyed the privilege of set pieces. They get a corner, but this time, it ends with Cavani's effort in the area slamming the hand of teammate Martin Caceres. Referee blows for handball.

Twenty-one minutes left on the clock and both goals are still virgin.
62min SUBSTITUTION - Egypt

Egypt make yet another substitution. Mohsen Marwan is the man off and on comes Kahraba.

Meanwhile, shortly after that change, Uruguay are deep in attack but the timely intervention of Hegazy keeps Egypt in the game. The defender receives high-fives from his colleagues for that.
57min Salah watches on . . .

The Egyptians have still yet to need their main man Mohamed Salah, who is keenly following the action from the sidelines.

Cuper's men are doing a good job at keeping Uruguay at bay.
50min SUBSTITUTION - Egypt

That will be the end of this game for the limping Tarek Hamed, as he is helped off the pitch following an injury. He needed medical attention in the opening half and it appears the effects of his knock have only worsened.

In his place comes Sam Morsy.
46min CLOSE! - Suarez

What a start that would have been!

Dangerman Luis Suarez picks up a ball and dashes into the area after shaking off his minder. He threads from an angle but the oncoming El-Shenawy, making his competitive debut, sticks out a leg to save.

Very close that one!

KICK OFF - Second half!


We are back for yet another 45 minutes of action.
3.55pm First half stats

The opening half has seen Urugual boss possesion over their Egyptian counterparts: 57% v 43%.

The South Americans had two shots on goal while Egypt had one.

Nothing came out of the three corners (the only of the game) that Uruguay had at their disposal.

But overall, the Pharoahs will have come out of the first half the more contented side.

HALF TIME!


An Egyptian player is down, but again, the referee lets the play go ahead. No fruits again and that will be enough for this half.

Half-time score: Egypt 0 Uruguay 0
44min Hold on Egypt . . .

Even without Salah, Hector Cuper's boys have done well to keep out the likes of Suarez and Cavani, who, by their top standards, have not impressed much today.

You wonder how second half will turn out like.
40min FIVE MINUTES TO GO!

We are five minutes away from stoppage time of this opening half and the crowd is alive. Could we see an opening goal here?
39min OUCH! - Warda

Egypt's Amr Warda is on the ground, writhing in agony. The referee allows play to continue as Uruguay goes in attack mode, and only when threat gets extinguished does he bring the game to brief half to attend to Warda.

Replays show the Egyptian player fell onto his back as he tried to do a volley. Clearly, his own doing.
36min Mighty task for Pharoahs

The Egyptians have struggled to score in the first half of games. Can they find an opener before half-time?
30min Huffing and puffing

We are onthe half-hour mark and the opening half is climaxing into a good one. Uruguay appear to have settled into their boots much better than their African counterparts as Suarez plays deep.

It is still goalless though, and that's the statistic that matters most.
23min CLOSE! - Suarez

From the front angle, that came off as an optical illusion.
The first corner of the game. It is Uruguay's. The ball is floated in teasingly. It finds Suarez unmarked at the back of the post and the Barcelona attacker whips it in. he is about to run off to celebrate, but wait, it's a side-netting.

So, so, so close! Egypt and Africa breath a sigh of relief.
19min Balanced affair

It has turned into a two-way-traffic kind of affair now. The Egyptians have picked themselves up and after stringing a few passes in front, they are gifted a free-kick just outside the box. It bears no fruit, but at least it is a sign that the Pharaohs are discovering their mojo in their opener.

Earlier, Uruguay made a meanginful surge forward, but the execution was poor.
11min CLOSE!

Cavani is allowed some room not so far from goal. Thank you, he says, and goes for goal. It is a powerful shot but Egyptian goalstopper El-Shenawy stretches out to save.

Good start for the South Americans.

05min Uruguay hit the ground running

Uruguay, considered among the dark horses of the tournament, have enjoyed a relatively decent start. They have Luis Suarez and Edinson Cavani at the front and they will hope to take advantage of that front power as the Egyptians start without their star Salah.

KICKOFF - We are underway!


The ball is rolled into motion.

A mighty crowd is already roaring the two sets of players on.

Egypt are spotting a red and back outfit while Uruguay have gone for a rare all-white look. Not their characteristic light blue outfit.

Great atmosphere! This is what the World Cup is all about!

2:57pm The lineups

Here are the starters for the two sides:

EGYPT - El-Shenawy, Hegazy, Gabr, Abdel-Shafy, Ahmed Fathi, Hamed, Elneny, Hassan, El Said, Warda, Mohsen

URUGUAY - Muslera, Godin, Gimenez, Caceres, Varela, de Arrascaeta, Vecino, Bentancur, Nandez, Cavani, Suarez

Kickoff shortly.
2:54pm Teams in dugout

The two teams are ready in the tunnel, ready to emerge to an expectant crowd packed inside the Central Stadium.
2:47pm Egypt's World Cup drought

The Pharoahs may have the edge in continental football, being the record winners in the Nations Cup, but they haven't been at the World Cup finals so often.

The last time Egypt was at the World Cup was 28 years ago - in 1990.
2:40pm Salah on the bench

Egypt will start without their talisman Mohamed Salah, who plays his club football with English side Liverpool FC.

He is on the bench.

Oh, by the way, he turns 26 today. Happy Birthday sir!
2:30pm Ekaterinburg Arena set

Africa will be paying closer attention to today's game, which will be played out at the 35,000-seater Ekaterinburg Arena in Ekaterinburg.

It is a warm afternoon and the Egyptian side have enjoyed an equally warm reception during their warm-up ahead of their crucial opener.
2:25pm Blistering start

Group A, in which Egypt features, got off to a blistering start on the opening day on Thursday as hosts Russia made easy work of Saudi Arabia with a 5-0 win in Moscow.

Shall we see another piece of goal galore today?

Egypt v Urugual kicks off at 3:00pm Ugandan time.
2:20pm Hello everyone!

Good afternoon ladies and gentlemen, welcome to this live text commentary of the second game of the 2018 World Cup in Russia - but the first for African representatives on the biggest stage of global football.

Can Egypt overcome South American side Uruguay?