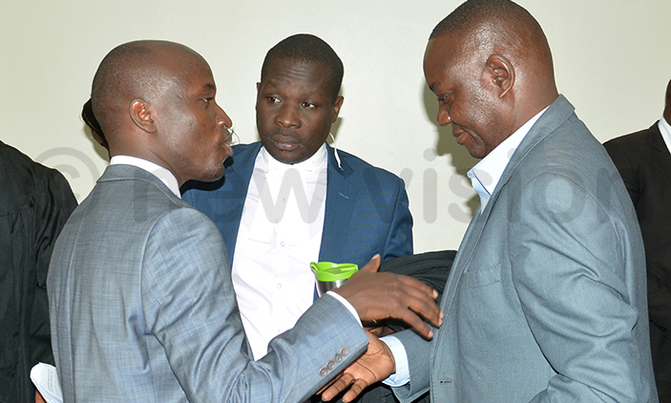 Defending his client, lawyer Andrew Bwenjje told court that Joe Ssemugooma authorised payments for the road
Joe Ssemugooma (right) with his legal team at the Anti-Corruption Court in Kololo last month. Photo by Godfrey Kimono
Drama erupted at the Anti-Corruption Court on Wednesday afternoon after a defence lawyer in the Katosi road case suddenly turned against one of the accused and pinned him of the crime.
In a rare turn of events, lawyer Andrew Bwenjje told court presided over by Justice Lawrence Gidudu that Uganda National Roads Authority (UNRA) former director of finance and administration, Joe Ssemugooma, authorised payments for the road.
He noted that the 57-year-old Ssemugooma authorised payment of sh24.7b to Eutaw Construction Company for the construction of 72km Mukono- Katosi-Nyenga road.
"The state has not proven the duty of verification to court beyond reasonable doubt against my client Wilberforce Senjako. The verification was done by Ssemugooma," he revealed.
Bwenjje added that "there is no way a junior, Senjako, would draft letters for Semugooma, who earlier told court that when he signs verification letters, he owns it."
Defending his client, Bwenjje said Senjako, the former UNRA regional accountant, was not charged with verification but was a custodian of Housing Finance Bank securities.
Earlier, Ssemugooma also told court that the process of verification was done by Senjako.
Bwenjje was winding up a case in which the duo, former works minister, Abraham Byandala and three others are accused of causing financial loss of sh24.7b to government. The money was meant for the upgrade of Katosi road from gravel to paved standard.
Others include Berunado Kimeze Ssebbugga, 54, and Isaac Mugote, a former Housing Finance Bank official.
The lawyer faulted the Inspector General of Government (IGG) for not summoning the then UNRA chief accountant, John Mpanga, who was at the time assigned verification duties, saying it creates a gap in the prosecution's case.
"Senjako received three witness summons showing that he was a state witness but he did not answer, prompting his arrest by the IGG," Bwenjje told court.
Citing the law, the judge said if the witness refuses to appear in court to testify, he or she can be committed to civil prison for eight days.
Bwenjje also said Senjako is being persecuted for refusing to act as a prosecution witness to pin Ssemugooma.
Meanwhile, IGG's Sarah Birungi said prosecution has discharged its burden under Section 28 of the Electronic Transaction Act because the authenticity of the emails, seeking for approval of securities exchanged between Senjako, Senkeeto and Mugote are not in question.
"Authenticity of the documents are intact and cannot be challenged on attempted that is has no header should be discredited," she requested.
According to the charge sheet, Byandala is alleged to have influenced the procurement process that led to the award of tender to Eutaw.
Prosecution alleges that Senkeeto uttered a false KCB bank bid guarantee for sh1.9b in support of a bid for procurement of the road upgrade.
Senkeeto allegedly obtained execution of performance bond of sh16.5b from insurance company of East Africa and UAP by misrepresenting to them that it was guaranteeing a pending payment for the road.
The case has been adjourned to July 9, when the judge will sum up the case to the assessors, who include Vincent Okech and Stanley Korongo.
In common law jurisdictions, assessors are usually non-lawyers who sit together with a judge to provide either expert advice or guidance on matters before it.