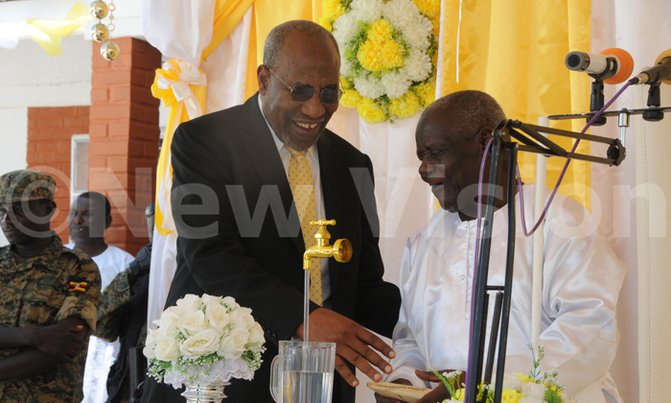 Bisaka was Monday celebrating his 89th birth day at the headquarters of the Faith of Unity at Kapyemi village in Muhorro town council Kagadi district.
President Yoweri Museveni has hailed the founder of the faith of unity Owobusobozi Bisaka for uniting all people and encouraging them to be self-sustaining.

In his message delivered by Dr. Ruhakana Rugunda, the Prime Minister of Uganda, the President said Owobusobozi Bisaka's vision rhymes well with the National Resistance Movement (NRM) government of unity and prosperity.

Bisaka was Monday celebrating his 89th birth day at the headquarters of the Faith of Unity at Kapyemi village in Muhorro town council Kagadi district.
Dr. Rugunda with Bisaka
The President quoted scriptures the book of Samuel where it says: "Our lifespan is 70 or 80 years for those who are strong, Owobusobozi Bisaka has even gone beyond what the scriptures say. And indeed life is a God given gift that deserves our thanksgiving. We also thank God that Owobusobozi can still work at that age.

The President said Bisaka keeps going for his pastoral engagements as per the call which is a big gift from God and it's a treasure.

"Owobusobozi we thank you for faithfully serving God for all the years. You have touched many people's lives and enabled many to come back to God. You have inspired many by your servant hood spirit," said Museveni.

The President said that Bisaka has worked hard for God and his effort shall never be in vain.

He thanked Bisaka for the faith he does not only profess, but which you completely believe.

The President gave a sh10m prize to Owobusobozi upon attaining 89 years.

"Owobusobozi we wish you many years of happy returns and good health. Happy birth day celebrations," the speech read in part.

Owobusobozi Bisaka asked the President to allow the teaching of the faith of unity preaching book among religious studies in the country to cement the faith of unity and unifying all people right from childhood.

In a message read for him by Omuhereza Baguma, Bisaka said President Museveni had in 2015 promised to meet the National Curriculum Development Centre so that the faith of Unity book can be integrated into the national curriculum, but this has not been achieved to date.

"Dear President we request that out book of faith of unity is also listed among the books in religious education so that our children are not forced to sit for exams that they do not know," said Bisaka.

He thanked the NRM government for granting the freedom of worship to all Ugandans which enabled the establishment of the faith of Unity many years back.

Bisaka expressed his heartfelt condolences for the slain Col. Ibrahim Abiriga, the Arua municipality Member of Parliament because he was an ardent supporter of the National Resistance Movement government and contributed a lot to this country.

"We also join the rest of Ugandans to mourn the death of our hero Ibrahim Abiriga," said in a statement.

The Prime Minister in response to the request by Owobusobozi Bisaka promised to deliver the message to the president and assured them that their concerns shall be addressed.

The finance, planning and economic development minister Matia Kasaija asked the faith of unity believers to form savings credit and cooperative organizations so that the government can extend to them soft loans to increase on their household incomes.

"The ministry of finance extends soft loans to organized groups and associations but you have not utilized this opportunity to increase on your household incomes," said Kasaija.

He promised to help the faith of unity innovators who are producing organic products so that they increase on their production and productivity.

At the function Bisaka consecrated over 800 new servants (Bahereza) to go and preach the gospel of unity in over 40 dioceses countrywide and beyond.