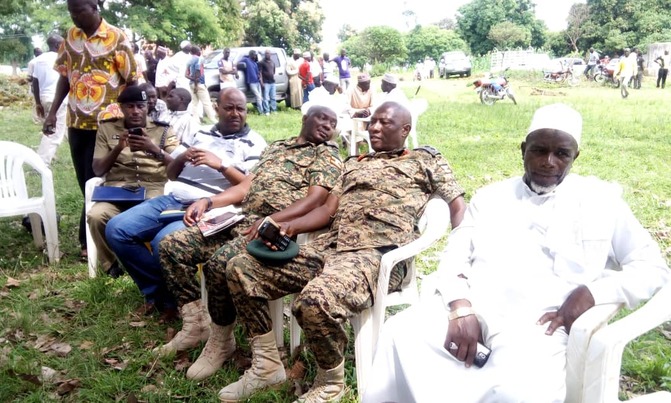 Arua municipality voters will pay their last respects on Sunday afternoon before the body is taken to Rhino-camp for burial.
The programme for the burial of slain Arua Municipality legislator Ibrahim Abiriga has been released.
Mourners at Abiriga's home in Arua
According to the programme released by Arua LC5 vice-chairman, Genesis Acema, burial will take place on Monday at Rhino Camp.
Acema with other mourners
He said a committee has been formed to co-ordinate the arrangements.

Acema read the programme to mourners who gathered in Arua municipality after they heard of the death of their MP. He said the body will be taken to the Uganda Muslim Supreme Council at Old Kampala, before it is taken to Parliamnet on Sunday.

The Clerk to Parliament has already sent out communication to Members of Parliament about a special session on Sunday at 9:00am to pay tribute to the fallen MP.

From Parliament, the body will be taken to Kololo Airstrip in Kampala, where it will be airlifted to Arua at 2:00pm.

Arua municipality voters will pay last respect on Sunday before the body will be taken to Rhino-camp for burial.

According to the communication, Parliamnet will cater for burial expenses.

In the budget, Parliament was allocated about sh60m to cater for burial expenses of any MP who dies within the term of his membership to the House.