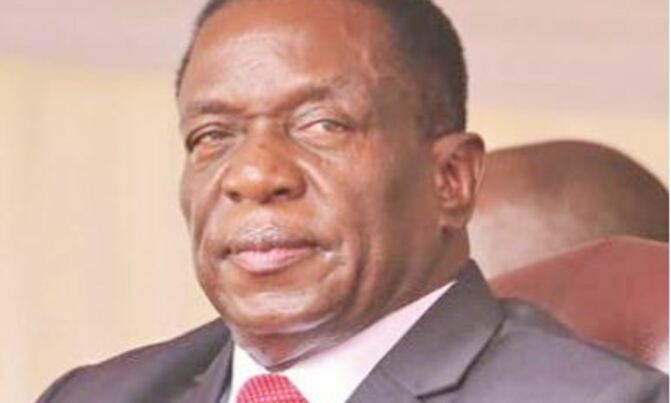 "There were six break-in attempts, no police investigation; he was hit by a car and they tried to kill him, no investigation; he was poisoned, no investigation; they put cyanide in his office, no investigation was done...."
The old man sitting on a briefcase at a bus stop in the Mozambican city of Beira was covered in dirt, his shoes in tatters.
No one gave him a second look. Yet his briefcase was Louis Vuitton and inside were a passport, a wad of dollars and a letter to Robert Mugabe, who had sacked him.

Two days earlier, Emmerson Mnangagwa, 75, had been one of the most powerful people in Zimbabwe. Now he was a "very vulnerable man, dirty, sick and betrayed", in the words of his son. Father and son had spent the night on foot, crossing rocky mountains and dodging snakes, Mugabe agents, bandits and landmines, in a dramatic flight from Zimbabwe.

Their great escape set off a chain of events that ended in the fall of Mugabe after 31 years and Mnangagwa's installation as president. The extraordinary story reveals how narrowly Zimbabwe's new leader got away with his life from the machinations of those around Mugabe's ambitious wife, Grace.

Mnangagwa, known as the 'Crocodile', had been Mugabe's right-hand man for decades when he became vice-president in December 2014, putting him in pole position to succeed the nonagenarian head of state — and into dangerous contention with Grace and her supporters in the Zimbabwean regime.

That was when the trouble started; his son Emmerson Junior, 33, recounted last week: "There were six break-in attempts, no police investigation; he was hit by a car and they tried to kill him, no investigation; he was poisoned, no investigation; they put cyanide in his office, no investigation; all his projects as vice-president were sabotaged and ministers were not reporting to him."

Junior said his father refused to believe that the Mugabes were out to get him — until he was given a vanilla ice-cream cone at a rally of the governing Zanu-PF party last August and became violently ill. He was airlifted to South Africa, where doctors identified arsenic.

The ice-cream allegedly came from Grace's dairy. She denied allegations of poisoning, but hurled accusations and insults at Mnangagwa, denouncing him as a "snake". "We saw my dad break down piece by piece," Junior said.

Mnangagwa was frequently visited, however, by Gen. Constantino Chiwenga, the head of the Zimbabwean military, who "would come and offer his shoulder to dad". The two men had known each other since the 1970s liberation war against the Rhodesian government. Chiwenga would play a crucial role in the endgame of this drama.

FIRING Junior believes the turning point was a rally on November 4 last year in Bulawayo, when Grace was loudly booed after insulting his father. Mugabe, incensed, publicly warned Mnangagwa, saying: "I can drop him tomorrow."

Around 4:00pm two days later, he did so; Mnangagwa was fi red. Junior and two of his brothers — Sean, an army officer and Collins, an engineer — drove to their father's house. All his security had gone. "People were phoning to say, they are coming to arrest you and will put you in a police station and poison you

or hang you and make it look like you committed suicide," Junior said. "So my brothers and I told him it is not safe for you to be here. Usually he did not take us seriously, but to our surprise he said, 'Okay, let us get in the car and go'."

THE ESCAPE They took temporary shelter in an unfinished house one of their other brothers — Mnangagwa has 18 children — was building in a Harare suburb. Plans to escape in a private jet fell through. Plan B was medical evacuation. Overcoming Mnangagwa's resistance — "Dad kept saying, 'I'm not sick'" — they got a doctor to write a letter authorising the evacuation.

In a bizarre act of subterfuge, it had to be smuggled out of the lavatory window of a Chinese restaurant, as Mugabe's agents were everywhere. By then, however, the airport was swarming with police. The only escape route left was by road.

Around midnight, with a cousin who came along to help, the Crocodile and his sons began the three-hour journey southeast to Mutare, near the frontier with Mozambique. They hid in an abandoned lodge the Crocodile knew from his days in the liberation war and were first in line when the Forbes border post opened at 6:00am.

Their passports were checked with no problem, but at the next checkpoint for clearance of the car, security agents realised who was in it and began to delay. "Dad said, 'know only too well what this means, they are calling for backup to come and arrest me' Junior said. "That is when all hell broke loose."

The cousin with them made a commotion to distract the guards while Mnangagwa sneaked out of the car and tried to escape, followed by his sons. He was 50 yards from an exit gate when an officer started screaming at the guards manning it: "Shoot, shoot, shoot!" Sean shouted at his father to run and dashed to block the guards' line of fire.

"We were lucky because the police at the exit gate had to get their weapons," Junior said. "They cocked their AK-47s loudly and my brother jumped in the way and held the two barrels against his chest. I was terrifi ed they would blow him up." In the commotion Mnangagwa fled with Collins to a mountain cave the old man knew from his war days.

"Dad was to himself a lot, as if he couldn't believe what had happened to him, that the order had gone out to kill him." Sean and Junior escaped on foot before commandeering a taxi to Mutare, where they hid in "an old car wash" as the streets were crawling with police. "Every car was being stopped and searched."

Junior linked up with his father again and they decided to try to reach Mozambique on foot. They secretly contacted local officers from military intelligence — which Mnangagwa used to run — who arranged a guide to the border and for a taxi to meet them there. Around 10:00pm, they set off, sneaking past Marymount Teachers' College on the edge of Mutare.
Father and son were still in the business suits and shoes they were wearing when they had fled Harare. "It was terrifying," Junior said. "So many times we had to duck because we could see searchlights, hear dogs, and see patrol cars. My dad was in front of me on his belly doing the '3 army crawl' in the tall grass. I am a businessman and could not do it, so I just crouched down.

"He is 76 this year, a man who had just been poisoned and did not have his medicines, he is old, his blood pressure up, I was worried, but I couldn't keep up." Because of the police, the guide used an alternative route, which made the journey much longer, and missed the taxi rendezvous on the border.

Tramping up and down the granite mountains in their formal shoes in the dark was tough. "We were slipping and sliding, and coming down we had to walk sideways to brake. I was so tired, I remember praying to God, just give us 100m of walking upright. Dad fell a couple of times and I was so sad." Suddenly they came to an area flagged with banners warning of landmines.

Mozambique is one of the most heavily mined countries. "We stood there deciding what to do. The area seemed to stretch for miles, so there was no way to go round it. I was happy to stop for the first time and rest. "Dad looked at me said, 'Give me 30 metres head-start and try to see where I step.' I thought, dude, these are landmines and it is dark, how am I going to see? But he set off and we followed and somehow we were not blown up."

There was more danger. Junior had forgotten that he had left his phone on and the flashing in his back pocket attracted attention. "Suddenly there was this Renamo bandit with an AK-47 which he pointed at my dad's head."

Renamo was the losing side in Mozambique's civil war decades ago, but its remnants linger on. Mnangagwa handed over $2,000. They walked on in darkness through rivers up to their bellies, past villages where dogs barked at them and into a banana plantation where it became clear they were lost. "It was full of snakes and mosquitoes and we were getting desperate when suddenly we heard the noise of a small motorbike just above us."

They walked up and found a road. "We were so happy." It was around 5:00am, so they stopped to rest. "Dad sat under a mango tree, but I could not sit because my legs were shaking. He said, 'Young man, in the war I used to walk to Zambia from Mozambique — this is nothing'."

THE AWAITED REST
They walked on to the nearest town, Manica. "We found an old motel, $6 a night, all of us in one room, I remember dad sat on the filthy bed, took off his shoes and his socks were ripped, while his toes were bleeding and wet because of the mud. I almost cried, seeing him like that." Mnangagwa, however, was able to call Justice Maphosa, a wealthy Zimbabwean businessman in South Africa, who sent a plane to Beira, a 170mile taxi ride from Manica.

GOING TO SOUTH AFRICA
By 6:00pm they were at Beira airport, only for immigration officers to disappear with their passports. "We were freaking out. Dad said it makes sense: Mozambique intelligence work with Zimbabwe intelligence. We presumed they were calling back up."

Then the pilot, a young white South African, arrived. "He did not know who we were — just thought we were clients and was furious with the immigration. Eventually, this large man appeared with all these badges and seven men. We thought he was going to arrest us, but instead he apologised that he hadn't been expecting a plane and had gone to his village, locking the computer, so his men could not scan our passports."

On the plane, Junior lay down to sleep, exhausted. "That was when dad said something strange: 'You wanna die in your sleep?' Mnangagwa told his son: "If I was Zimbabwe security, I'd shoot this plane down. Tomorrow it would always be a mystery what happened, just like the death of (Mozambique's former president) Samora Machel, maybe it was the mountains or the weather ..." His son looked at him in horror.

"We were on the runway about to take off and I've never been so scared in my life. All I could think about was my wife and children. I'm thinking what distance can a missile or bullet hit and I asked the pilot, please, go as high as you can." After just over an hour, they reached an airport near Pretoria. To their dismay, the tarmac was full of police cars.

"We thought they were there to arrest us, so I said, dad, let me go and speak to them, so at least there are no cameras when they arrest you." It turned out, however, that they were escorting a visiting dignitary. Maphosa was waiting with a phalanx of Afrikaner security guards in black Range Rovers without number plates.

The cars whisked Mnangagwa and his son to a one-bedroom fl at in a Pretoria township. For the next two weeks they hid there, the curtains closed, living off takeaways from Nando's. Their guards told them a bounty of $10m had been put on their heads and that 50 Zimbabwean intelligence agents had been sent to South Africa to search for them. Junior started looking for countries where they could seek asylum.

Maphosa came to pray with them every day and brought dozens of mobile phones that they could use and then discard to avoid bugging. Mnangagwa called his old comrade Chiwenga, who had been visiting China when they escaped — and was still there. Junior was suspicious.
"I thought he must have been part of the plan against dad, as why hadn't he come back, but continued with his schedule?" When Chiwenga returned to Harare, however, Mugabe sent police to the airport to try to arrest him. "Then I knew he was not part of the plan."

SIGH OF RELIEF
Two days later they got a call in the early hours in Pretoria to say tanks were on the streets of Harare and the Mugabes were under arrest. "We were so happy — me and the security guys were high-fiving each other," Junior said.
Their apartment had a small TV and they watched in astonishment as hundreds of thousands of Zimbabweans took to the streets demanding Mugabe's exit and Mnangagwa's return.
Soon he was getting calls from party officials and generals, discussing how Mugabe could be persuaded to step down. Then Mugabe himself was on the phone. "Dad was respectful. I heard him say, 'If you don't know what to do, listen to the people — the voice of the people is the voice of God.'

I heard him saying, 'I have nothing to do with this, how can I tell people to go marching in the streets from here?" Three days later, November 21, Mugabe resigned and Mnangagwa was named president.
The following day, he and his son flew home to be met by huge crowds. Mnangagwa's posters for Zimbabwe's forthcoming elections proclaim, The voice of the people is the voice of God.
Zimbabwe News Network (ZwNews)