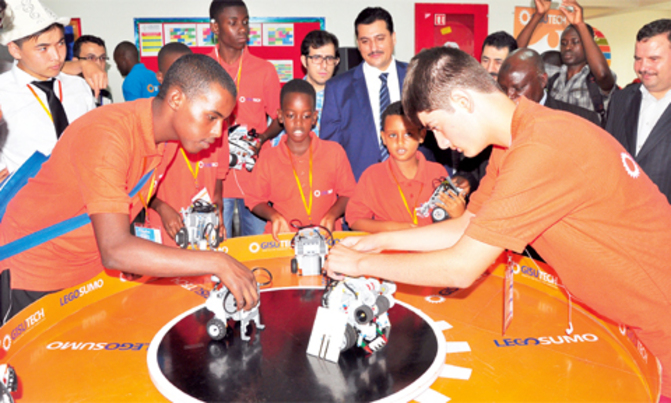 INTERNATIONAL SCHOOLS SUPPLEMENT
Give your child a global mindset with an international curriculum


The growing number of international schools can only imply one thing. There is a growing demand for the international curriculum-based education as a number of Ugandans shun the local curriculum on grounds of inefficiency. PRISCA BAIKE talked to parents and experts about the two curricula
Tyrone Tusubira, 14, is unlike most of his peers. His confidence, and focus make him come off older and wiser. From as early as the fifth grade, he knew that he wanted to be a computer scientist and five years on, he is still committed to his dream. His mother, Flavia Tusubira, says his teachers have been very supportive in keeping her son's dream alive.
"They always ensure that he is doing well in the relevant subjects," says the proud mother, adding that he has started interfacing with some age-appropriate computer science practical projects to prepare him for his future course and career.
The well-equipped computer laboratory and well-stocked library at the international school he attends makes it easy for him to research and learn as much as he needs about his dream career.
"This is exactly why I chose an international school for my son," says Tusubira. As disclosed by Stephen Mawanda, the head of admissions at Aga Khan Education Services, international school enrollment rates have recently gone up.
He explains that what used to be a reserve for expatriates and the affluent is now fast becoming a viable option for quite a number of middle class parents, who wish for their children to receive international education.
"Parents are embracing the international curriculum because of what it offers," says Mawanda. The international curriculum, according to Mawanda, is based on the premise of a global mindset. He says children who go through this kind of curriculum are innovative, dynamic and easily adapt to multi-cultural settings.
In resonance with Mawanda, Paul Mwiwa, whose two children attend an international school, says he chose the international curriculum because of the weaknesses in the local curriculum.
"The current Ugandan curriculum encourages children to cram and reproduce what they are taught simply to pass exams," Mwiwa says. This, he says, is not the case with the international curriculum, which is more practical.
He says the international curriculum emphasises the applicability of knowledge, which is the true essence of learning. "Children in international schools are given projects to work on, which sharpens their minds and prepares them for the field when they are finally out of school," Mwiwa says. CLICK HERE FOR MORE ON THIS STORY
Why choose IB?
The International School of Uganda (ISU) is a not-forprofit, parent-owned school, offering International Baccalaureate (IB) programmes for students three to 19 years old.
As the IB celebrates its 50th year, it is an opportunity to reflect on why parents choose the IB. I have worked with the IB for 13 years, as a teacher, co-ordinator, college counsellor, principal and parent.
Holistic nature
To answer the question of why choose the IB, I could speak about the rigor and holistic nature of the programmes, or the fact that IB students can be accelerated to the second year of university.
Or that students join university better trained in academic research, writing and study. However, the reason to choose the IB is more than the academic success its students are known for. To understand why you should choose the IB, it would be helpful to start with the end in mind.
What do we hope for our children at the end of the educational journey? Is to get the highest grades possible, to get into the best universities or to get a great job? Herein lies the difference between the IB and other curricula. The IB explicitly focuses on learning for life, not just success in the next hurdle.
Its aim is to develop inquiring, knowledgeable and caring young people who help to create a better and more peaceful world. In fact, there isn't an end to the educational journey. Its focuses on who our children will become and not just what they can do.
Preparing for life
I was once asked by a prospective family why they should choose the IB over an alternative curriculum offered here in Kampala. I explained that the alternative curriculum would likely enable their child to succeed in getting entry to a good university but the IB is not only about preparing for the next step, it is about preparing for life.
Our students illustrate this to us every day. Yesterday a nine-year-old girl asked my colleague and I if they could play after eating lunch. My colleague responded: "Yes, it is fine even though it is not yet time." The child turned, looked at her watch and replied: "It is ok, we still have five more minutes to eat, I'll wait." CLICK HERE FOR MORE ON THIS STORY
KCCA benchmarks Acorns International School Kisasi
Acorns International School (AIS) formerly located in Bukoto, Nakawa division recently set up its new state of the art premises in Kisaasi, Nakawa division along the Northern by pass. The school revamped itself into a stronger power house and has created a new face for Kisaasi as far as international schools are concerned.
The survey
Following their mandate to provide quality education in Kampala city, the directorate of education and social services conducted a survey, using AIS as a case study. This was partly because AIS is known to offer quality education services worth benchmarking.
The team, comprising 13 school inspectors and Kampala City Council Authority (KCCA) officials, visited the new AIS campus in Kisaasi, along the Northern Bypass. During the visit, the team toured the five-acre property, including classrooms, cafeteria, auditorium and swimming pool.
Areas of interest
The areas of interests in the survey were notably classroom environment KCCA benchmarks Acorns International School Kisasi management, general administrative structures, sanitation, and administration of learners and staff records.
The KCCA team also looked at ICT teaching and learning processes, library services, co-curricular activities, interaction activities and management of internal capacity development of staff.
Speaking about their visit to AIS, the Ag. deputy director education services, Alice Busingye said: "At KCCA we believe in partnership which enables us to improve with regards to service delivery in the city. It was a great experience sharing information with the team from Acorns, which we believe would enhance the operations in the school." CLICK HERE FOR MORE ON THIS STORY
Why choose an international school?
For many parents, finding a school that suits their child is often difficult, especially for parents who work overseas. International schools come in as the solution to this challenge.
A parent with a child at an international school, says when he moved to Uganda, his worry was where he would take his child for an education similar to that in his country. His prayer was answered when he found an international school that was offering the Cambridge curriculum.
Mustafa Ekizoglu, the principal of Horizon International School Jinja, says international schools are home to children of many nationalities and exposure to different cultures.
He explains that many put emphasis on cultural exchange which is phenomenal, and as world markets become increasingly interconnected, it is now more desirable to understand the dynamics of cultures different to your own.
The curriculum
He adds that the schools often use international curricula. Ekizoglu adds that, many international schools offer extracurricular activities which allow the children to gain access to skills that cannot be nurtured in many local schools.
"These can range from imagination games and creativity to mathematics and robotics. When the child develops new and exciting skills, they grow more confident and learn how to communicate and work with other children," he says. CLICK HERE FOR MORE ON THIS STORY
GEMS Cambridge school celebrates moms in style
Mothers' Day is a special day of the year that should not go unnoticed. No matter how long one postpones the celebration, a mother's love can always be counted on.
In the same way, pupils and staff of Gems Cambridge International School located along Butabika Road in Kampala, made mothers feel wonderfully special at a breakfast bonanza organised in their honour.
This happened on May 25, at the school sports complex under the theme; Enjoying Motherhood Today. It was zealously enjoyed by mothers and their children. Indeed, the pure bond ever known to mankind which is motherhood, was celebrated in high spirits and merriment from 8:00am to 10:20am.
Heart-warming feelings fi lled the air of the richly decorated hall that dazzled in white with a dash of pink roses. Besides, mothers together with their dynamic and energetic children enjoyed a nonstop flow of snacks, fries, fruit and juices till the end.
Renowned radio personality Crystal Newman, a mother of three, kept the celebration rolling in high gear as children lifted up their voices in songs of praise to their mothers.
They also confi dently echoed and recited poems with messages of mothers being a symbol of love, respect and dedication to their families and the world. This lit up the mothers' faces thanks to the teachers who made an earnest effort to instill the importance of mothers in their pupils' hearts.
Children also conveyed an important message of being humble, respectful and obedient to the parents. Meanwhile, being a working day did not matter to the guests. Over 100 mothers of different nationalities put aside their engagements and tight schedules to attend the bonanza.
The bonding emotion was kept in mind amazingly as mothers embraced and cuddled the little ones. The red carpet celebration was a mark of unity in diversity. The little bundles of joy irrespective of nationalities and gender freely interacted with mothers of their classmates and friends.
Similarly, mothers mingled, hugged and pecked passionately as though they were workmates, relatives or even village mates to the extent that many of them greeted each other by name or by those of their children. It was an event not worth missing as it had more special and unique treats to offer that brought smiles on the mothers' faces. CLICK HERE FOR MORE ON THIS STORY
ADVERT
GEMS CAMBRIDGE INTERNATIONAL SCHOOL