'Motorcycle riders have a 34-fold higher risk of death in a crash than people driving. Unless urgent action is taken, the trend may worsen, resulting into more deaths'
PIC: Happy bodaboda riders after receiving helmets and reflectors. (Credit: Elvis Basudde)

LIVING A BETTER LIFE

Is your son, brother or husband a bodaboda rider? If he is, you should be worried, because he is in a trade that is exposed to two of highest killers in Uganda-road accidents and HIV/AIDS.

Motorcycle riders, popularly known as bodaboda cyclists, are among the most vulnerable road users, contributing 41% of all road traffic injuries in Uganda, the executive director of Family Rescue Initiatives-Uganda ( FRI-U), Jane Mwirumubi, has revealed.

She said per vehicle mile travelled, motorcycle riders have a 34-fold higher risk of death in a crash than people driving. Unless urgent action is taken, the trend may worsen, resulting into more deaths.

And when it comes to HIV/AIDS, Mwirumubi said bodaboda cyclists are categorised by the Uganda AIDS Commission (UAC) as people at high risk of contracting HIV/AIDS because of their social behaviours including having multiple sexual partners.

"Most of the bodaboda riders are young people who lack access to appropriate information on HIV/AIDS and reproductive health. They have multiple sexual partners, majority of whom are school girls whom they lure into sexual relationships with promises of money for school fees or a ride to school," she said.

She added that having multiple sexual partners was the lead cause of spreading HIV in Uganda at 37.3%, according to a 2016 UAC survey. And this does not mean that only bodaboda cyclists are the only vulnerable group to contracting HIV/AIDS, but also the people in their communities.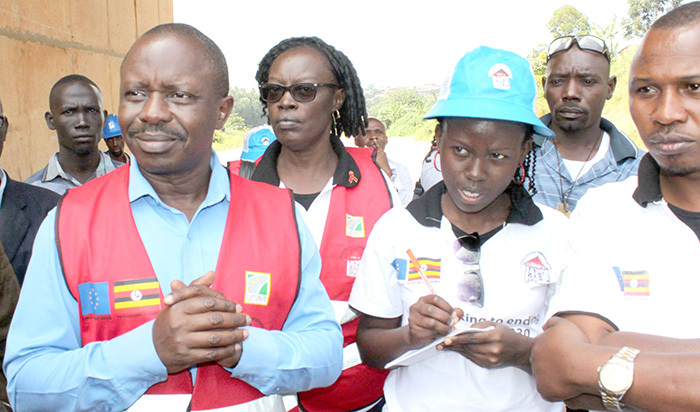 Uganda Road Acident Reduction Network Organisation, Cuthbert Isingoma and Jane Mwirumubi (wearing dark glasses) speaking to bodaboda riders


Mwirumubi made these remarks over the weekend while launching a safety campaign and the presidential fast track initiative to ending HIV/AIDS by 2030, minimising road accidents, ending gender imbalance and ending child abuse.

They also commissioned the "Champions of Change Agents", who are the bodaboda cyclists who were identified from every stage from Namboole to Busega, who were empowered with information, education and communication messages which they would pass on to the communities who use the Kampala Northern bypass.

The function which was held at the flyover on Kireka-Namugongo road, benefited over 40 bodaboda cyclists who represented almost every stage and became champions of change for HIV prevention, child protection, road safety and gender-based violence.

These champions of change agents were sensitised on the road safety, given tips on how to ride on a highway and each received two helmets-one for himself and the other one for the passenger-and reflector jackets with messages of safety and HIV prevention.

"This is good for sustainability and ownership when the project comes to an end. There will be no vacuum, but empowered and responsible young men to continue rolling out these good projects," said Mwirumubi.

Also speaking at the same function, the programme manager, Uganda Road Accident Reduction Network Organisation, Cuthbert Isingoma, stressed the importance of the bodaboda riders wearing safety gears while transporting passengers, for their own safety and for the safety of passengers.

He also advised them on what course of action to take and which ones to avoid for their own safety and issues to do with sexual and reproductive health and to keep their reputation clean.

William Mulindwa, a 22-year old small-bodied young bodaboda rider on Kampala northern bypass road, said he feels bad when people describe the bodaboda cyclists as bad guys who live recklessly.

"We get despised on the way and treated as bad-hearted people, yet not all of us are bad mannered. Even the vehicle drivers do not respect us. They don't mind if they knock us. We also have the challenge of driving permits which are expensive," he said.

He said he has attended some health education seminars which have empowered him and one of the things he does is trying to champion sexual and reproductive health education among his fellow cyclists.

"Many of my colleagues have divergent views about the subject of sex and reproductive health, but I am determined to be their mentor. I may not have studied much, but I know we need to live healthy and responsible lives," he said.

Mulindwa dropped out of school in Senior One. Born in a polygamous poverty-stricken family in Kayunga district, he moved to Kampala city after his pursuit for formal education failed. With hardly any skills to ride on, he became a cyclist to earn a living. That was in 2017.

FRI-U is working on the Kampala northern bypass, co-funded by the European Union and the government of Uganda to empower families, communities and institutions to mitigate challenges brought about by HIV/ AIDS, TB, cervical cancer, gender imbalance, gender based violence, child abuse and stigma and discrimination.


Mwirumubi (wearing dark glasses) with the happy bodaboda riders after receiving safety gear