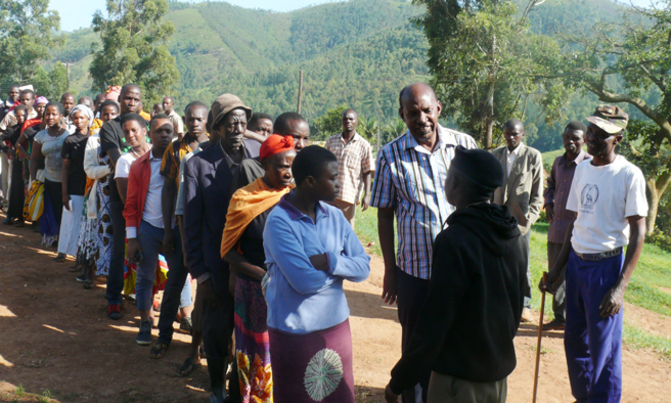 The by-election is being described by observers as a highly securitized affair, especially judging from the number of senior military officers present and active in the district as well as the level of deployment of the rank and file security personnel.
The byelection was as a result of the Court of Appela's cancellation fo the election of Winnie Masiko as MP for Rukungir district during the 2016 elections.
Winnie Masiko in line to vote
The seat fell vacant in April this year when Masiko lost a court against her victory.
The Court of Appeal led by Deputy Chief Justice Alfonse Owinyi-Dolo on March 22, 2018 declared the Rukungiri Woman seat vacant on grounds that the 2016 elections were marred by voter bribery.
The two ordered the Electoral Commission to organise fresh elections and asked Winnie Matsiko to compensate the petitioner for the costs incurred. She was taken to court by FDC's Betty Muzanira.
EC begun dispatching polling materials to the other 12 sub counties at around 4:00am and by 6:00am, the process had been almost completed. Polling materials were being transported from the Rukungiri district EC offices.
Voting
People were in voting lines as early as 6:00am
EC begun dispatching polling materials to the other 12 sub-counties at around 4:00am and by 6:00am, the process had been almost completed. Polling materials were being transported from the Rukungiri district EC offices.
The turn out was very high, thanks to the level of competition and mobilisation by various groups involved.
In Kebisoni and Nyarushanje sub counties between 7:30 and 9:00 am, people would be seen linning up in big numbers to vote, at Nyamakukuru polling station in Nyarushanje there was over 60 people lining up to vote at 8:15am and at Rubirizi primary school there was over 40 people linning to vote.
The district returning officer, Umaro Kiyimba said the dispatch of electoral materials started at 4:00am and that by 6:30am all polling stations had received the voting materials.
Arrests:
Former CA delegate and former district chairperson, Athanasius Rutaro was arrested at 6:30am at his home in Nyaburondo Nyakagyeme as he was coming out from his house to vote and do the monitoring of elections in Nyakagyeme sub-county.

Former FDC president Kizza Besigye says other people including former Rwampara County MP Hon. Kyamadidi were in police custody.

The Buyanja sub-county Youth councillor, Allan Nabasa is reported to have been arrested on Tuesday evening by plain clothed people believed to be state agents.

The Rukungiri Municipality Member of Parliament, Rolland Mugume said Nabasa was picked from Buyanja at around 7:45pm by unknown people and up to now not body knows where his about.

But Police denied this. The police spokesperson, Elly Maate denied having Nabasa in any police custody. "I also hear allegations that councilor was missing but we do not have such person in our custody but we shall investigate the allegation and we inform you accordingly," he said.
Security
There has been heavy presence of security personnel
According to election observers, despite the fact that the campaigns ended without serious incidents, the district remains a sea of security personnel and equipment; and security remains generally very tight as per Thursday morning.
Police officers getting briefing in Rukungiri town ahead of elections
Several roadblocks were mounted mounted at specific entry and exit points of Rukungiri district. For instance, last night, roadblocks were erected at Buyanja (Omukiragiro) on Ntugamo-Rukungiri road and at Nyakibaare at the junction of Nyarushanje and Nyakishenyi sub-counties.
Police personnel and vehicles ready to mantain law and order during the elections
The roadblocks are being manned by military Police.
The Electoral Commission chairperson, Justice Simon Byabakama, defended the presence of security personnel in Rukungiri elections, saying they are mandated by law to keep law and order during and after elections.
Military Police has always been deployed in areas where breach of security is expected

Byabakama said that it would be impossible in this country to have elections without police or other security agents as some group of people can interrupt the process.
Byabakama addressing the media
"The law requires to have enough security and when necessary we also borrow sister security personnel to beef up police in order to have free and fair elections," he said.
Security warned
Addressing the press briefing ahead of the elections, Byabakama, however, warned the Police against interfering in election process apart from keeping law and order.
Police deputy spokesperson addressing the media on security preparations
Candidates vote
The NRM flag bearer, Winifred Masiko has casted her voter at Rubirizi primary school at 10:02am. She was accompanied by her nephew Grace Ankunda. Masiko's husband Augustine Masiko voted first before his wife. He voted at 9:37am at the same polling station.
Augustine Masiko voting
Winnie Masiko voting
Muzanira waits for her ballot paper





Kizza Besigye casting his vote