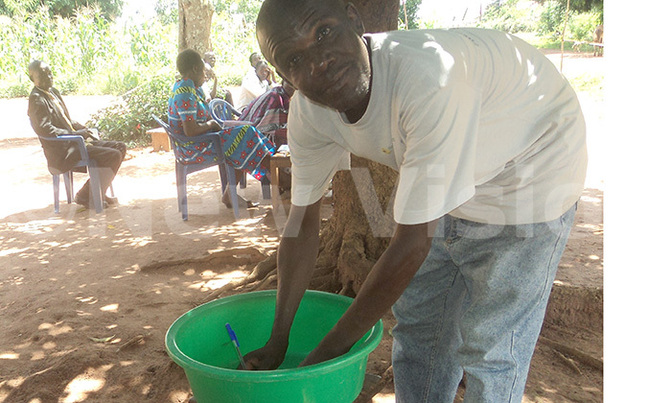 'People were busy with their productive work in gardens'
PIC: Sam Opoloje ticking for his favourite candidates in secrecy at Kateki polling station in Pallisa town council. (Credit: Lawrence Okwakol)
NRM ELECTIONS
PALLISA- The NRM elections for Woman Member of Parliament flagbearer for Pallisa district and LC5 for Butebo district kick-started at 8:00am with a low turn-up in a number of polling stations.

By 2:00pm when New Vision visited a number of polling stations, no less than 100 votes were cast in Pallisa sub-county, Pallisa town council, Kibale, Akisim and Apopong, making it the worst mobilised elections in Pallisa.

Fred Ejautene, the Pallisa civil society organizations network (PACONET), said the Government should take civic education as an important exercise.

Ejautene said waiting for only elections to gather for elections makes it lose meaning because people should naturally know why they are going to vote.

Those in the race for woman Member of Parliament are Josephine Ibaserete, Kevin Kaala Ojinga and Faith Alupo, while the men for Butebo district chairperson are James Okurut, Christopher Onono, Samule Keddi and Eriakimu Mulekwa.

Albert Opatana of Okaracha village in Opwateta sub-county, said people were busy with their productive work in gardens.

Simon Peter Okiria of Manga village in Pallisa town council said what has demotivated people from turning up at polling stations in large numbers are the services offered by the current elected leaders.

Okiria said MPs from Pallisa district have kept away from their electorate and hardly pick calls, alleging that people call to ask for money from them.

Franco Aik of Akisim sub-county in Pallisa said given the character of leaders, people now ask for money before elections because they know nobody will remember them after.
John Ojangole checking for his name at Mutembei zone polling station Pallisa town council. (Credit: Lawrence Okwakol)

In Butebo, Samuel Ngeso of Matakokorei village, said whoever wins in NRM takes the Butebo chair because Butebo has no opposition contestants.

However, Tanga Odoi, the NRM electoral commission chairperson, said the exercise started peacefully, urging people to go and line up to elect their candidate who will represent them in Pparliament and the LC5 for Pallisa and Butebo respectively.

Odoi said nobody should be intimidated and people should be allowed to freely vote for the candidate of their choice and that the NRM district executive committee member should be keep off and leave the entire elections process to his commission.

Nonetheless, James Okurut, one of the contestants for Butebo LC5, complained that in Kanginima sub-county, 80% of the ballot papers were already ticked by 9:00am as his polling agents were chased away from the polling stations of Katika, Kadalac, Ladoto, Nadili P/S , Kingoli and Kanginima.

Okurut said the NRM electoral officials at the grassroots always misinform the center which has caused distrust in the party elections.

In response, Tanga said Okurut wanted to have NRM electoral commission discredited for nothing because the mess in the three polling stations of Katika, Kadalac and Kingoli cannot affect the outcome of the results.

"To me, this is a mere 0.05% which cannot affect Okurut if he is to win. I have warned Okurut and if he continues with his allegations, I will rule him out of the exercise", Tanga said on phone.