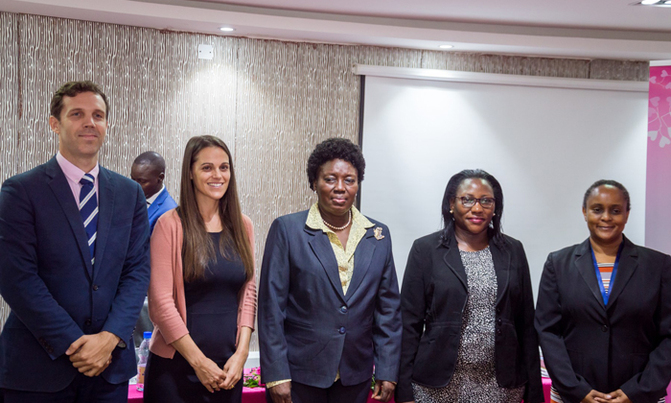 The Uganda National Household Survey 2016/2017 found more Ugandans had slipped into poverty with the number increasing from 6.6 million in 2012/2013 to 10 million in 2016/17.
Menstrual hygiene is something most young girls in rural Uganda have long suffered to attain.

Most families in rural Uganda cannot afford to buy sanitary pads every month for their girls and they are forced to drop out of school because of no pads during menstruation.

The Uganda National Household Survey 2016/2017 found more Ugandans had slipped into poverty with the number increasing from 6.6 million in 2012/2013 to 10 million in 2016/17.

Their income stood at $1.25 (about sh4500) a day, which is below the poverty line.

With no money, to cope, some girls use cotton wool or newspaper and when in school wrap sweaters around their waist just in case their uniforms get soiled with blood, to avoid embarrassment.

Some girls on the other hand stay away from school during this period and miss several days of class which affects their journey to attain an education, skill and job.

The sustainable development goal (SDG) 4 and 5 emphasizes education and gender equality.

It emphasizes girls who are more educated, confident, and focused on creating a better life for themselves, families and communities are more likely to move out of the poverty cycle and challenge gender stereotypes and norms plus be self-sustaining.

Innovations to help girls
To help girls stay in school during this menstruation, in 2004 Dr Moses Musaazi of Makerere University come up with an innovation making affordable biodegradable sanitary pads.

Also, there are ongoing efforts to teach unprivileged young girls and women plus even the boys to make reusable pads.

But, recognized as the pioneer manufacturer of reusable sanitary pads in Uganda and Africa at large, is AFRIpads Ltd.

In 2009, Plan International partnered company AFRIpads Ltd, founded by Canadians Sophia Klumpp and Paul Grinvalds, started producing washable cloth pads for the girls.

The AFRIpad is a cheap, reusable sanitary pad that is helping young underprivileged girls and women live a more hygienic, comfortable and productive life. This is the same for its second retail brand, So Sure.

Getting the quality mark
To protect the girls and women plus ensure reusable pads do not pose any health threat, in December 2017, Uganda Bureau of Standards (UNBS) passed one of the first quality standards in all of Africa.

Manufactured reusable pads are now tested to ensure they meet the absorbance threshold, use acceptable chemicals and ensure there is no reaction to the skin when used.

Seven years since discussion started on quality, AFRIpads and So Sure, have now been given the quality mark in a Ugandan that is always dodged with concerns of counterfeit products.

According to Gertrude Emojong AFRIpads Uganda Limited Marketing Communications Officer (So Sure), the quality mark DUS 1782: 2017, will now give users the confidence that they are using a quality low price product.

This is in addition to protecting the products from duplication.

The Director of AFRIpads Ltd, Sophia Grinvalds, speaking in Kampala on Monday emphasized the new UNBS standard is a key stepping stone to mainstreaming reusable sanitary pads as a product in Uganda and Africa at large.

"The standard will also open up new doors for trade and export, putting Uganda on the map as a leading supplier of reusable sanitary pads in Africa," she says.

The Speaker of Parliament Honourable Rebecca Kadaga, hopes the standard will act as a model for other governments in the region, and will soon be adopted by the East African Community.

With over 12 million girls and women of menstruating age, Uganda now joins Tanzania in putting in place a quality standard for reusable pads.

Tanzania came up with a quality standard immediately after a menstrual hygiene symposium in Uganda less than a year ago.