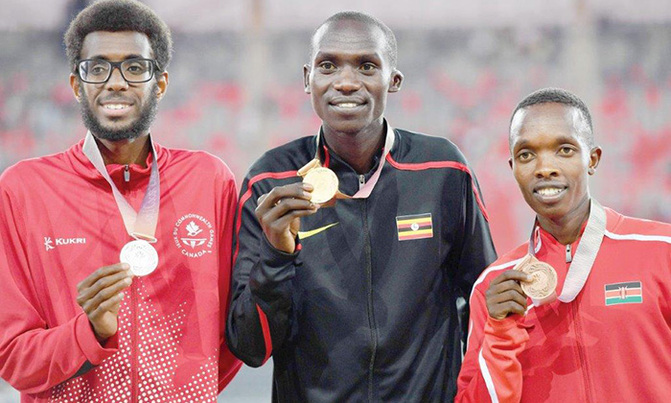 'I should not have run the 10,000 metres...I worsened my injury by competing in that second final.'
PIC: Cheptegei (centre, Gold), Canada's Mohammed Ahmed (left,Silver), Kenya's Rodgers Kwemoi (right, bronze) pose with their medals a day after the athletics men's 10000m final during the 2018 Gold Coast Commonwealth Games at the Carrara Stadium on the Gold Coast on April 14. (AFP)
SPORTS
Chepetegei's historic run at the recent Gold Coast Commonwealth Games came at a huge risk.

Uganda's double gold medal star has revealed that he could be out for most of this season due to a career threatening injury he worsened in Australia.

"I should not have run the 10,000 meters," explained Chepetegei yesterday adding: "I worsened my injury by competing in that second final."

Cheptegei returned on Monday from Holland where he underwent an operation.

Cheptegei, also a world 5000m silver medalist, won both the 5,000 and 10,000m in gold Coast.

His treatment came courtesy of his Dutch management company- Global Sports Communication.

"I can't tell when I will be back in action. For now all I can say is that I am still healing," stated Cheptegei shortly after returning from Europe.

Two legs of the lucrative Diamond League have so far been held in Shanghai and Doha. A third leg is due in Eugene, Oregon this weekend.

Asked whether he will be in shape for the next 5000m race in Stockholm on June 10 Cheptegei said he is not sure.

The 14 leg competitions that draw track and field's crème de la crème in various cities in Asia, Europe and USA conclude in August in Brussels.

The IAAF Diamond League is an annual series of athletics competitions. The series began in 2010.

It was designed to replace the IAAF Golden League, which had been held annually since 1998.

It encompasses 32 disciplines, following a championship style model where athletes earn points at the various meetings to qualify for the final of their event.

Each discipline is staged six or four times before the final. At each of the qualification meetings, athletes are awarded points for ranking 1st to 8th respectively.

The cumulative winner of each discipline wins a $50,000 (sh185m) prize at the end of the season.

With two finals, each staging 16 diamond disciplines, the total prize money awarded amounts to $1.6m (sh5.9b).

At each qualification meeting, $30,000 (sh111m) prize money is awarded per discipline.