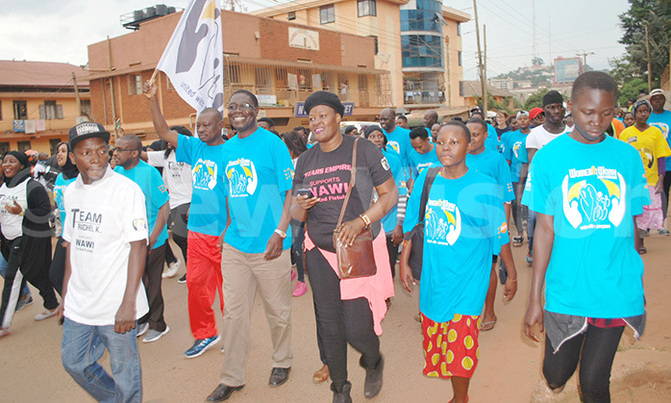 'We need to prevent Obstetric Fistula by sensitising young girls to stay in schools, avoid early marriages and produce children at the right age'
PIC: Jackson Amone and Andrew Sorowen during the walk. (Credit: Agnes Kyotalengerire)
The Commissioner Curative Service at the Health Ministry Dr. Jackson Amone has advised parents to keep their girls in schools as a means of preventing Fistula.

"We need to prevent Obstetric Fistula by sensitising young girls to stay in schools, avoid early marriages and produce children at the right age," said Dr. Amone.

Dr Omone was speaking during the charity walk organized by the Women at Work International (WAWI) which is being spearheaded by Uganda's local singer Halima Namakula.

The annual walk which marked the beginning of the Obstetric fistula week ahead of the International commemoration slated for May 23rd in Kibuku district was held at Kitante Primary School in Kampala.

It was aimed at creating awareness of an ailment that is depriving women and young adult girls a right to live harmoniously in society.

Dr. Amone said that obstetric fistula can also be prevented by proving services including antenatal care. Then repair mothers who have Obstetric Fistula.

Highlighting on this year's theme," End fistula now, reach everyone", Dr. Edson Muhweza who is the assistant representative at United Nations Population Fund (UNFPA) advised couples to utilize reproductive health services and mothers to deliver in health facilities under skilled birth attendants.

Dr. Muhwezi applauded the fistula surgeons, midwives, nurses and all stake holders who are working to ensure that they restore the dignity of women and girls, giving them hope for a better life that they deserve.

He however observed the need to do more to clear the current backlog of 75,000 cases and also prevent more cases from happening.

"We can end this scourge in our lifetime especially through strong partnership and political leadership at all levels to stand with the most the world's poorest, most marginalized women and girls," he said.

He revealed that ending fistula is a high priority for the UNFPA and is a key step on the road to achieving the world's sustainable Development goals by 2030.

"We are all working to achieve the vision of the campaign to end Fistula, which is "End fistula within a Generation", no new fistula by 2040".

The walk was done in partnership with different stakeholders including DFCU, RIHAM, and Capital Shoppers supermarket among others.


Facts about Obstetric fistula

Dr Peter Kivunike Mukasa the maternal health/ fistula specialist said Obstetric fistula is a tear that occurs during childbirth between the vagina and the bladder causing the urine to continuously leak.

Prevalence

Globally, UNFPA reports that there are approximately 3.5 million cases of fistula with up to 100,000 new cases annually with majority being in Sub-Saharan Africa and Asia.

In Uganda, UNFPA reports that 1,900 new cases of fistula are still occurring every year. The health ministry estimates that only 2,000 repairs are done every year.

Andrew Sorowen, a director at the Uganda Police Force, challenged corporate companies to equally join the campaign to end fistula which is life shattering scourge.