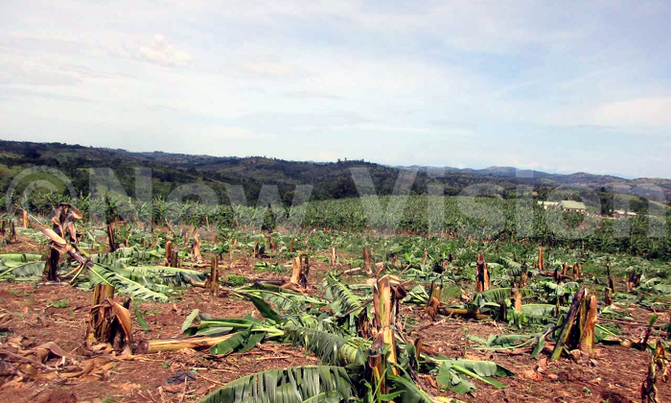 The police used teargas and live bullets to disperse the angry residents who were armed with pangas and spears destroying Mugisha's property.
The Police and military have been deployed in Ganyinayo village Kihuura Sub County Kyenjojo quell the rioting residents who yesterday went on rampage destroying the properties of Vincent Mugisha a lawyer and businessman in the area whom they accuse of land grabbing.
The police used teargas and live bullets to disperse the angry residents who were armed with pangas and spears destroying Mugisha's property.
The angry residents cut down over 10 acres of Mugisha's matooke plantation, torched houses and killed his livestock. Mugisha is being accused of using his capacity and position to forcefully grab their land and to frustrate the court system.
Early this year Mugisha appeared before the land inquiry commission chaired by lady justice Catherine Bamugemereire. The commission quizzed Mugisha on claims of illegally evicting people from his alleged 230 titles piece of land.
The commission later arrested and detained Mugisha after he failed to clearly explain circumstances under which he acquired the land. The commission then queried all the land documents that Mugisha presented as proof of land ownership.
Before he was released from police custody, the commission issued an interim order barring him from accessing the disputed piece of land until the commission finishes its investigations.
The commission's interim order was however dismissed after Mugisha petitioned the Fort Portal high court.
In his ruling Anthony Ojok, the resident judge then stated that Mugisha should be allowed to access only his home because it is where his family is.
However according Muhereza Nayayo the village chairperson Ganyinayo, Mugisha took advantage of the high court's ruling to evict more people.
Muhereza explains that raw broke out after agents of Mugisha who were armed with spears and pangas tried to evict Annet Kwikiriza a 35-year old woman.
"Kwikiriza sounded an alarm but by the time the locals came to her rescue, Mugisha's agents had already injured her on the face. On realizing that one of their own was bleeding, the locals reorganized and started destroying Mugisha's property as his agents went into hiding" Muhereza the area chairperson explained.
Isaac Kawonawo the Resident District Commissioner (RDC) Kyenjojo today said that the situation has returned to normal.
According to the RDC, some of the residents had fled the area for fear of their lives.
"The arm of government is in control and I would like to call upon all those who have fled their hopes to return and resume normal business" Kawonawo said.
He also cautioned the residents against taking the law into their hands and appealed to them to remain patient as they wait for the court process to end.
James Kawalya the District Police Commander (DPC) Kyenjojo said that investigations on who could have been the ringleaders of the riot are ongoing.