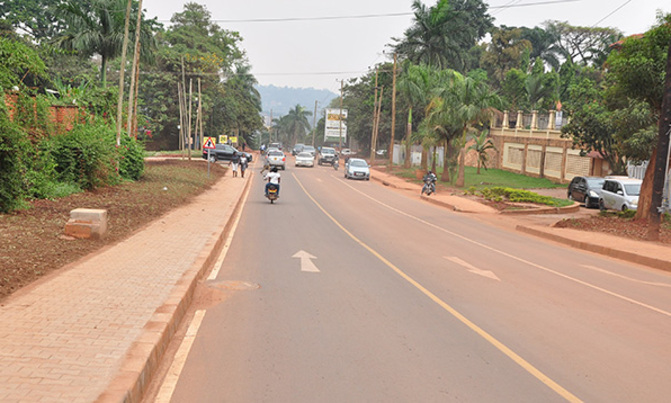 It helps the beneficiary communities know the right contract amounts and other important details.
PIC: District leaders have been asked to ensure that all local government projects such as roads are constructed on land where there is proof of ownership
TRANSPARENCY
INFRASTRUCTURAL DEVELOPMENT- The permanent secretary, Ministry of Finance, Planning and Economic Development, Keith Muhakanizi has directed all local governments to start publically displaying contract values of all infrastructure projects being constructed in their respective districts.

"Ensure that all infrastructure projects being constructed are clearly labeled indicating the name of the project, contract value, the contractor, source of funding and expected duration to enhance transparency," reads the recommendation in Muhakanizi's letter, dated May 4.

Muhakanizi says among several more recommendations, it is aimed at improving the adequacy and equity of fiscal transfers and improving fiscal management of resources by local governments for improved service delivery.

Wakiso district Chief Administrative Officer, Luke Lokuda confirms that they have received Muhakanizi's communication and are ready to implement the recommendations.

"I think it is a wise thing to do so that beneficiary communities know the right contract amounts and other important details. In most cases, non-disclosure has kept beneficiaries misguided and that is why you hear cases where people are accusing district leaders of swindling project funds; which might not be the case. As Wakiso district, even before the Permanent Secretary's communication, we were already implementing this because we have noticed that community engagement in infrastructure projects is very vital and eases work," he says.

He urges other district leaders to adopt the recommendations because among other benefits, this builds trust in the local leaders and also boosts service delivery since there is increased public participation.

According to Olive Kabatwairwe, the Construction Sector Transparency Initiative (CoST) Uganda Chapter Programme Officer, this is a step in the right direction.

"We are glad to learn that the Ministry of Finance, Planning and Economic Development, appreciates the need for increased disclosure of infrastructure project information; including project cost, start and end dates, contractor, supervisor, scope of the project, source of funding, among others," she says.

She emphasizes that funds invested in public infrastructure are public money and therefore, opening up on what is being done, how much it costs and the associated details is very important. This according to her enhances citizens' participation in monitoring performance of contracts, building trust and appreciation of government programmes.

"We have been engaging various stakeholders and policy makers on the issue of increased transparency through disclosure of information using the CoST Infrastructure Data Standard (IDS), an internationally approved guide on information disclosure and we encourage all districts, as directed, to put in place measures to have this information availed to the general public. You save a lot by disclosing the required project details. This enables you to earn the trust of the general public who are the primary beneficiaries of government services," she adds.

However a district leader that prefers anonymity holds the view that disclosure of contract price on information walls is not that good an idea. "The political mindsets of the members of parliament confuse the perceptions of everyone who would contribute to the delivery of the project but also, the citizens might misconceive the idea, misplacing it to be money meant for compensation. In the meantime, engagements will proceed through Barazas (performance monitoring programmes involving citizens), radio talk shows and meetings with the citizens where costs will be disclosed, as the districts gradually graduate to full disclosure where project costs will be disclosed on the bill boards," the source opined.

Muhakanizi also pointed out that district leaders should ensure that all local government projects are constructed on land where there is proof of ownership. He also advised that in case there is no proof of ownership of the land in question, the local government must enter into a memorandum of understanding with land owners.

He also asked the district local governments to designate an officer to be responsible for communication to enhance transparency and accountability.