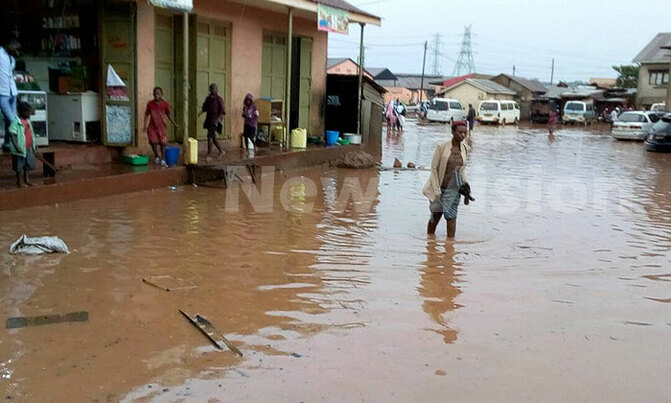 A source at the Mulago causality ward says the first cholera patient to be admitted at one of the isolation camps was a wife to one of the doctors.
PIC: A KCCA official says the current rains might be a major cause of the cholera outbreak due to contamination of water sources

HEALTH

KAMPALA - Kampala has been invaded by cholera - and a number of cases have been confirmed.

On Wednesday, as many as 15 cases were confirmed in Kampala, up from 10 as reported at the beginning of the week.

A total of 12 people had been admitted at Naguru Hospital. Seven were discharged while five are undergoing treatment.

When Kampala Capital City Authority (KCCA) joined forces with the health ministry to open up another cholera isolation camp at Mulago Hospital on Wednesday, three new cholera patients were rushed to the camp in the night.

Naguru Hospital

Dr Emanuel Batiibwe, the director of Naguru Hospital, said he had received information that one child had died while being rushed to the hospital.

"The ones we are retaining were in critical condition and it is by God's grace they are alive," he said.

Batiibwe said although they had agreed that another isolation camp be set up at Mulago, Naguru Hospital wouldn't send away patients, adding that the health facility had received some routine supplies of antibiotics and fluids.

"National Medical Stores promised us some additional supplies and we are still waiting for them."

Patients at Mulago Hospital

Meanwhile, a source at the Mulago causality ward said the first cholera patient to be admitted at the camp was a wife to one of the doctors, a 25-year-old resident of Mawanda Road UEB Zone.

Another patient is a 34-year-old resident of Kyebando, Nsooba Zone.

"I saw doctors rushing to attend to the man who could barely utter a word. He had soiled himself, yet he neither had a friend nor a relative to take care of him," a bodaboda rider operating near the entrance of the isolation camp said.

One of the doctors at the camp, said nobody had visited the camp to claim relation to the patient, yet he was still in critical condition and unable to contact any of his relatives.

The third patient was an eight-year-old girl from Kalerwe Kibe Zone, who is recovering.

"When you visit this isolation camp, you will be received by medics working under poor conditions, but willingly bathing patients, cleaning their clothes, assisting them to visit the toilets on a minute-by-minute basis and sometimes helping them to eat," one of the nurses, who preferred anonymity, said.

She said the situation was bad because there were two ordinary medical beds which were not meant for cholera patients.

She also singled out lack of protective gear for staff, which could also expose them to cholera.
Causes, symptoms

Cholera is an acute infectious disease characterised by watery stool and vomiting. The disease can kill a person within hours.

It is spread through eating and drinking food contaminated with faeces of an infected person.

Other factors responsible for the spread of cholera include poor personal hygiene such as not washing hands after visiting the latrine, using contaminated water, poor sanitation as occurs in open defecation, eating foods or drinks prepared under unhygienic conditions.


Joel Ssematimba, the KCCA Nakawa division health surveillance officer, said the current heavy rains were likely to cause floods and contamination of water sources because of poor hygiene and sanitation.

This might be a major cause of the cholera outbreak that has also affected other areas such as Hoima, where over 40 cases were confirmed in March.
Also related to this story

KCCA cracks down on fruit vendors to curb cholera