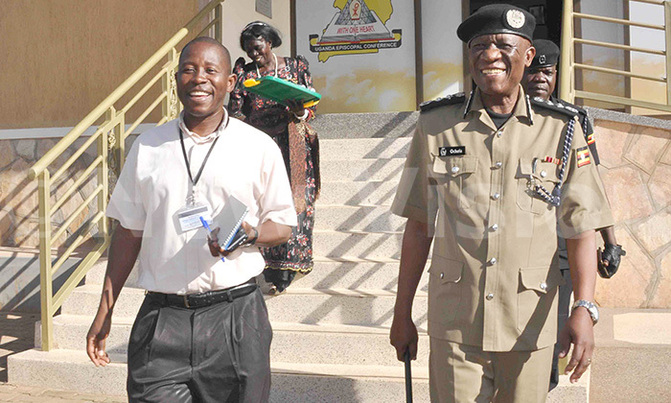 This year's celebrations will also mark 100 years since the martyrdom of Daudi Okello and Jildo Irwa, the two 'blessed' catechists were killed in 1918.
PIC: IGP Martin Okoth Ochola with Fr Phillip Odii. (Juliet Lukwago)
RELIGION
KAMPALA- As the countdown to June 3 starts ticking, over 7,000 Christians from Tororo Archdiocese have registered to pay pilgrimage to Uganda Martyrs Shrine Namugongo ahead of this year's celebrations.

Coincidently, the day which has increasingly become an important event on the calendar of Christian faith in Uganda and beyond, will also mark 100 years since the martyrdom of Daudi Okello and Jildo Irwa, the two 'blessed' catechists were killed in 1918.

Okello and Jildo are usually commemorated on October 18, but this year, they will be remembered in a special way on June 3 in a colourful celebration whose liturgy will be led by Tororo Archdiocese.

The host Archbishop of Tororo, His Grace Emmanuel Obbo, said preparations are already ongoing and that different committees have been put in place to ease division of labour.

Obbo revealed this at the Catholic secretariat in Nsambya.

"You are aware Christians, especially those paying pilgrimage on foot, start trickling in before the D-day, so committees have been formed to make the pilgrims feel comfortable and safe."

Tororo Archdiocese was chosen by the Episcopal Conference to organise this year's Uganda Martyrs Day celebrations, having last presided over the occasion in 1998.

Hoima Diocese was last year's host.

IGP visit

This year the celebrations will be held under the theme: "Let us walk in the light of God as a family (1 John 1:5-10)".

Meanwhile, the Inspector General of Police, Martin Okoth Ochola, who is also from Tororo Archdiocese, paid a courtesy call to the Episcopal Conference communication secretary, Fr. Phillip Odii, for private talks over the event.

Tororo Diocese has a wide geographical area, with eight districts.

Obbo advised pilgrims to do medical checkups before embarking on the journey, also calling for discipline and focus.

Last year, an expectant pilgrim from Lira died at Matugga on her way to Namugongo.

Obbo said a special prayer dedicated to the martyrs is already out.

"A Novena will start on May 25 at Uganda Martyrs Shrine and will end on June 2. The Martyrs walk will be on May 26 from Munyonyo Martyrs Shrine to Old-Kampala."

Earlier, Dr. Sam Orach of Uganda Catholic Medical Bureau, one of the heads of the health committee, said there will be free medical services available at Namugongo to handle emergencies.

According to the chairperson of Martyrs Kampala Chapter 2018/Tororo Head of Laity Interim, Robert Kamiza, a budget of sh720m has already been drawn.
However, sh450m has been raised from the fundraising in parishes and well-wishers.

A special fundraising dinner has been organised at Hotel Africana in Kampala on May 17, to raise the balance.