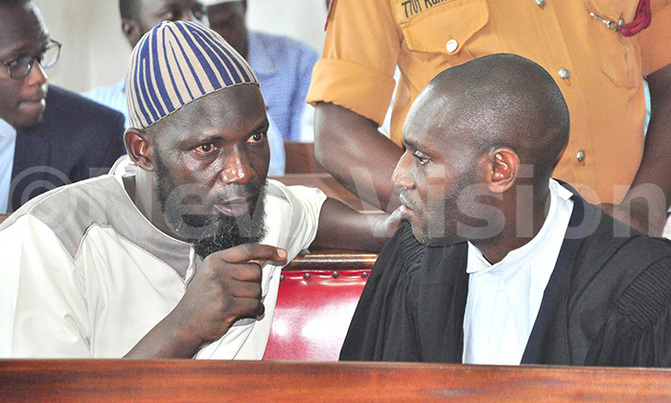 'A person serving a long sentence is likely to abscond court once granted bail unlike those on lighter sentence'
PIC: Sheikh Siraje Kawooya interacting with his lawyer Robert Kagoro while appearing before court for his bail applications at Tweed tower court on Thursday. (Credit: Nancy Nanyonga)

MUSLIM CLERICS MURDER
KAMPALA- Yesterday, Sheikh Siraje Kawooya, who is serving a life sentence over terrorism, shed tears from the prisoner's box after the Court of Appeal declined to release him on bail pending determination of his appeal.

On August, 21, 2017, Kawooya was convicted together with embattled Tabliq leader Sheikh Muhammad Yunus Kamoga, Sheikh Murta Mudde Bukenya and Sheikh Fahad Kalungi on the charge of terrorism. They were imprisoned for life.

Their co-convicts sheikhs Yusuf Kakande and Abdu Salaam Sekayanja were each jailed for 30 years in prison.

However, they immediately appealed against their conviction and sentence. They also applied for bail on grounds that their appeal has high chances of success and had substantial sureties to bail them out.

The other ground was that they have chronic illnesses such as peptic ulcers that cannot be handled by the Prisons health facility, yet they are still presumed innocent until their appeal is determined.

Yesterday, Justice Christopher Madrama ruled that there was no proof that Kawooya's appeal will succeed as alleged since there is a counter appeal by the Director of Public Prosecution (DPP) challenging their acquittal on the charge of Muslim cleric's murder.

They were accused of killing Sheikhs Mustafa Bahiga and Hassan Kirya on top of attempting murder of Dr Haruna Jjemba.

"This is a unique case where the DPP also filed a notice of appeal. If the DPP's case succeeds, it would mean that the accused will be added another sentence. Therefore, the application is dismissed because the applicant is unlikely to complete his sentence before his appeal is heard," Madrama ruled.

Madrama also noted that of the seven sureties Kawooya produced in court, only two were found substantial.

Madrama instead directed the deputy registrar of the International Crimes Division of the High Court, Harriet Nalukwago, to produce the lower court records within 45 days from then to expedite both appeals in the matter.

The court agreed with senior state Attorney Lilian Omara that there was no proof to show that Kawooya's alleged illness could not be managed in prison.

Madrama also faulted Kawooya's lawyers Friday Roberts Kagoro and Lamlah Naluggya over failure to produce in court an authority (ruling) where a convicted capital offender serving life sentence was granted bail pending appeal.

The Judge noted that all the authorities Kawooya's lawyers relied on were of simple charges that did not include personal violence or threatened attack on a particular group of people.

Madrama further observed that a person serving a long sentence is likely to abscond court once granted bail unlike those on lighter sentence.

The judge said bail pending appeal is exceptional since the convict no longer enjoys the presumption of innocence. Kawooya has been remanded until further notice.

Shortly after the ruling, Kagoro said they intend to appeal against Madrama's decision so that it is heard by a panel of three justices.

Kawooya's relatives who jammed court were also seen crying as he was being driven back to jail.