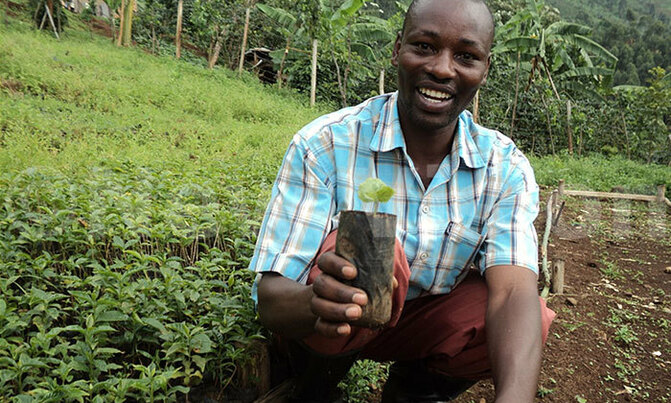 Until you visit his home, somewhere in the remote steep slopes of Wanale hill, you are tempted to presume that his assertion to fame is a pack of lies.
AGRICULTURE

When Antony Welishe failed to realise his childhood ambition of ever becoming a district agricultural officer (because he was not lucky to pursue education up to university level), he set himself another target in life.

"I dreamt of becoming an outstanding model farmer and I am happy this has been achieved."

At 36 now, Antony Welishe, from Bukhanakwa, Busano sub-county in Mbale district, is among the Arabica coffee farmers in the entire Elgon, Sebei and Rwenzori region that Uganda Coffee Development Authority (UCDA) relies on for Arabica coffee seed material.

"I am humbled to be among the very few farmers in all the regions that grow Arabica coffee in the country that got a nod of approval from UCDA on grounds of merit, to supply them with Arabica coffee seed material," he says cheerfully.

Until you visit his home, somewhere in the remote steep slopes of Wanale hill, you would be forgiven to assume Welishe's assertion to fame is a pack of lies.

From a distance, his four-acre Arabica coffee shamba that spreads out on the steep slopes stands out.

A stranger to his shamba can't fail to notice the contrast it exudes against the neighboring coffee gardens. The garden in its moderate size is all but a breathtaking lash of deep green foliage.

Yet scrutiny of the coffee cherries on each plant reveals a remarkable difference with those of coffee farmers at the neighborhood - in terms of size and quality.

"I supply my clients with eight tonnes (8,000kg) of perched Arabica coffee every season," says the primary school teacher with a beaming smile.

Perched coffee is processed dry coffee beans.

At the open market, a kilogramme of perched Arabic coffee beans goes for sh6,500.
Humble beginnings

Born to Vincent Khabala, a retired primary school teacher, and Florence Namasaba, both of Bukhanakwa village in Busano sub-county, Welishe is the third born of 10 children.

He is now married to a fellow teacher - Jane Malongo Welishe. The couple is graced with six children.

Welishe had wished to pursue education to university but saw the dream hit a deadend because of the meager financial earning of his retired teacher father. After O'level, his father convinced him to go for the teaching profession.

But Welishe's passion for farming can be traced when he was a little boy.

"He always had a small garden of crops within the reach of the family home, and would devote almost all his time tending to the garden," recalls Namasaba, his mother.

His passion was to become so pronounced when he joined secondary school.

Once in Senior Two, he stunned family members when he successfully started a horticulture project engaged in growing tomatoes, onions, among others.

"At the time, I could not afford pesticide. So I applied a conventional method. I would mix cattle urine with plants, such as kamyu and redpepper that my agricultural teacher had told us about.

"I successfully managed to fend off pests from attacking my project."

Welishe would use proceeds from the horticulture project to buy scholastic materials. He did not embark on coffee project until he graduated from the teacher training college.

How he started

Although he had been lucky to be posted to one of the nearby schools, Welishe still focused on farming as a sector around which he would forge a future.

During his second year of teaching in 2005, he was put on the pay roll. "From that time, I would spend virtually all my salary on procuring coffee seedlings," he recalls.

He had sought a salary loan of sh4m and acquired a two-acre piece of land on which he not only planted coffee, but also applied all the necessary farming practice.

By 2010, UCDA scouts had spotted him. After careful scrutiny of samples of his yields, he was pronounced an accredited Arabica coffee seed supplier to UCDA.

Since then, his thriving coffee garden has attracted dozens of specialists from within and outside the country.
Good earnings and organic manure

But you consider Welishe too lucky - if not, privileged.

"I am producing 8,000kg every year," he says. At a price of sh10, 000 per kilogramme, this means that he earns sh80m annually.

Settling down with Welishe for chat, he is quick to confess maintaining the quality of his coffee plantain is no easy task, as he heavily relies on organic manure.

"What makes my coffee garden distinct from others is just a concept I obtained from my secondary school agriculture teacher at Mbale Senior Secondary," explains Welishe.

During lessons, the instructor would dwell much on the importance of organic mature and how to make it.

"If there is anybody who took his tips seriously then it is me," says Welishe, who obtained a D1 in Agriculture at O'level.

But the secret behind his success is simple.

"Many coffee farmers have failed to understand the secret behind a coffee crop. But ideally, after the first harvest, each coffee plant is capable of sustaining itself in terms of nutrients."

Welishe uses the fresh husks pulped from his coffee harvest as manure for the shamba. To the contrary, many other coffee farmers either dry the coffee and sell the husks with them or sell the coffee fresh, with the husks.

Welishe says this is a very big mistake.

"Why should a coffee farmer waste tonnes of manure that would have maintained his coffee plant by selling his coffee fresh to a dealer?"

He says he picks a fight with whoever wants to take his fresh coffee husks obtained from coffee he has pulped.

Pulping coffee

Coffee pulping means obtaining coffee beans from the fresh husk. The process is done by a hand pulping device. Welishe bought his at sh350,000.

Pulping gives him two advantages. The first is that the value of his coffee bean rises by at least sh3,000 - from sh2,500 to sh6,500. The other advantage is that he gets the husks and uses them as manure on the farm.

According to Welishe after pulping, he collects all the fresh coffee husks and depots it a wide 20 feet pit for a period of a year.

"By that time, the husks have not only been drained of the acidic content that is dangerous to any crop, but have also crumbled into fine crisps of dark soils (manure) that I scoop and deposit around every coffee plant," he explains.

Sometimes, the composite pit where fresh coffee husks are deposited is complemented with other organic matter, such as cow dung, domestic waste and livestock urine.

It is then buried in the pit for over three months. After this, it is ready for application.

The organic manure application on the farm usually sees Welishe hire a work force of 10 people, each being paid a wage of sh3000 per day.
The exercise usually lasts a period of a week, costing him a total wage bill of sh300, 000.

According to Welishe, application involves digging between the rows of coffee plants and then depositing the composite manure in the pits, before covering. Because the coffee plants are healthy, they are rarely haunted by pests.

Other expenses

But even when the coffee looks good, Welishe takes other measures to make it better. "I don't take chances, spraying exercise is usually carried out in the month of February each year," Welishe explains.

Spraying costs him shs700,000.

The month of April usually sees him embark on pruning as well as devote full scrutiny of each plant for any traces of pests, such as coffee berry bowler.

In the month of May, he buys heaps of stock of beans from the community around, which he uses in mulching the coffee garden.

"Mulching the coffee garden saves me from the expenses of weeding," explains Welishe. He usually spends sh500,000 on the mulching exercise.

When the harvest exercise begins in the month of August, he hires a labour force 20 people.

"A section of the labour force picks the coffee, while the others carry out pulping whatever is harvested in a day," says Welishe who has to physically supervise the exercise.

Preparing seeds

Because UCDA relies on him to supply coffee seedlings, he ensures that fresh coffee is pulped, before it is thoroughly scrutinised using the floating method.

Floating involves stashing fresh beans in a utensil, before filling it with water. "Usually fresh beans of poor quality float while the good quality seeds stay down," he explains.

He is compelled to remove the few cherries that float and throw them away as waste. The next step would be stashing the good quality coffee cherries in a hand pulping machine that he has since acquired.

Once the coffee is pulped, it is washed clean and spread on strong polythene mats for a few days until it dries. When coffee has dried, he contacts the authorities of UCDA to come and collect it.

Benefits

"I am constructing myself a dream house, which I will complete soon," says Welishe. He is also ably looking after his family.

Additionally, he has also expanded his land ownership from just half an acre when he started to 11 acres today.

"I have since bought 11 acres of land around the village, which I plan to use as expansion of my coffee garden."

The farmer he has acquired dairy cows to add to his income from coffee. His dream is to acquire a piece of land in the business centre of Mbale town.

Challenges

Welishe's biggest challenge has since he got in this business has been transport.

The poor road infrastructure in this remote and hilly part of the country side is an inconvenience, especially during the rainy season as the wet soil becomes too sticky.