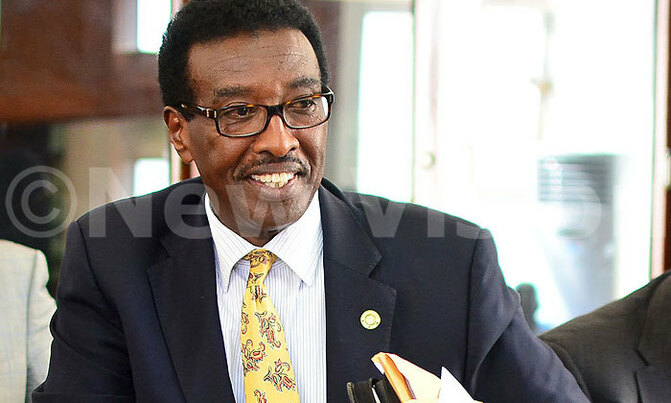 Muhwezi claims he is the rightful owner of the said land which he purchased from one William Hatimana in 1995.
LAND ROW
KAMAPALA- Former Minister of Health, Maj Gen. (rtd) Jim Muhwezi has run to the High Court, seeking orders blocking his eviction from a piece of land in Makindye, a Kampala suburb.
Last week, Muhwezi was evicted from the disputed land by court bailiffs in the presence of Police officers. The land is comprised of block 273 Kyamula-Salaama, Makindye.

On Tuesday, Muhwezi's lawyer Ahmed Mukasa Kalule, submitted in court a supplementary affidavit, showing that he (Muhwezi) is the owner of the one acre land. The affidavit was received by the Execution Division of the High Court registrar, Deo Nizeyimana.

An affidavit is a written statement confirmed by oath or affirmation for use as evidence in court.

This prompted the court registrar to adjourn the case to Wednesday when the complainant's (James Mubiru) lawyer, Yusuf Mutembuli, will reply to the affidavit.

"The case was coming up for hearing today, but it did not proceed because Muhwezi's lawyer served court a new affidavit showing that he is the owner of the land," Mutembuli revealed.

In his affidavit, Muhwezi claims he is the rightful owner of the said land which he purchased from one William Hatimana in 1995.

"I have been peacefully staying on this land for the last 23 years until last week when court bailiffs tried to evict me basing on instructions of a one James Mubiru," he said.

According to Muhwezi, there is no existing order of the High Court in civil suit N0. 46 of 2013, holding Mubiru to be in possession of the property.

"Mubiru's pursuance of the current execution proceedings of the land with knowledge of previous order of court is an abuse of court process," he said.

Muhwezi further contends that his eviction from the said land is pre-mature, especially at the moment when there is a number of pending court cases and staying orders before court.

Defending his action to evict Muhwezi, Mubiru says he sought court bailiffs' intervention on grounds that Maj. Gen Muhwezi fraudulently obtained the land which he (Mubiru) claims forms part of the estate of his late father, George Ssekajjugo.

It is on this basis that Mubiru says he is the biological son of late Sekajjugo and, therefore, the rightful beneficiary of the property. He says he registered the land with Buganda Land Board.

A High Court order seen by the New Vision had directed the eviction of William Hatimana and his agents from the said land, but when court bailiffs went to the land to carry the eviction, Muhwezi came up, claiming to be the owner of the land.

"You are hereby directed to remove Hatimana and their agents/servants from the property. Also you are authorised to demolish any house that is built in that plot of land," stated the court order.