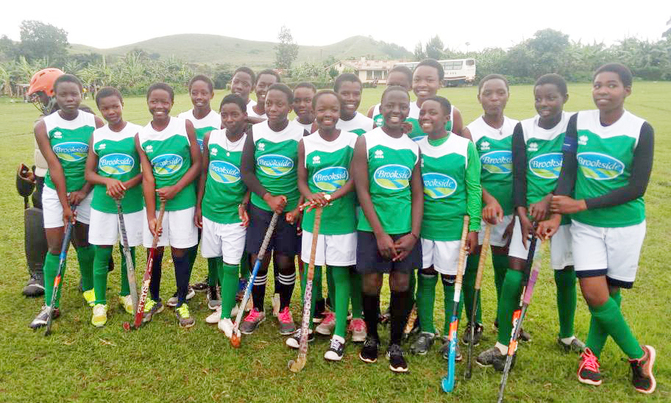 Patience Asiimwe and co. played for fun in the destruction of Budo
USSSA Ball Games 1
Selected results
Boys: SMACK 3 Sir Samuel Baker 1
Girls: Namagunga 7 Budo 0
Mt St Marys Namagunga promises to be an all-conquering side in the ongoing Uganda Secondary School Sports Association (USSSA) Ball Games.
The 7-0 whitewash of King's College Budo in hockey on Monday, was an indication of their ability to win the competition.
The school is fast growing into a side that can play an expressive game since coach Vincent Kasasa took the reins. Their build-up to the games was intense and upstaging the likes of Budo, a traditional hockey powerhouse, is no mean feat for the girls in green.
Kasasa had prior to the games, expressed a strong desire and confidence in winning the girls' championship.
"It is time to own the high table. I am confident the girls are fully prepared for this," he said moments after the final training session at the school's pitch.
Patience Asiimwe and co. played for fun in the destruction of Budo. Joselyne Mugusha grabbed four goals for her side on day one.
Namagunga's (also known as Prawlers) biggest hurdle will possibly come in the form of Kakungulu Memorial School.
Meanwhile, Andrew Ndaye, Joel Barungi and Brian Kakeeto, were the main architects as St Mary's College Kisubi defeated Sir Samuel Baker 3-1 in a one-sided affair.
They nonetheless came up short against Kakungulu in the boys' category, losing 5-0.