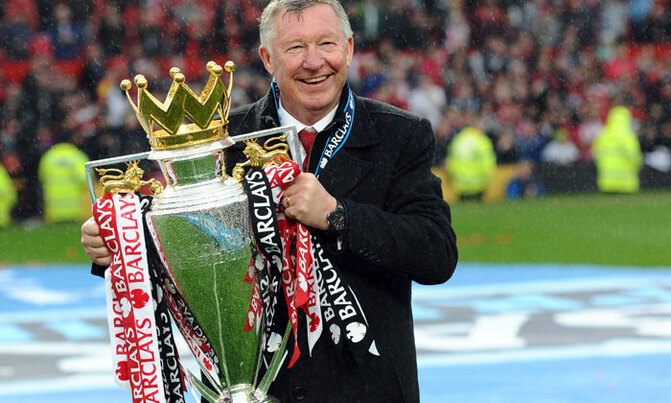 Sir Alex Ferguson, the most successful manager in British football, is recovering following the surgery, his family says.
PIC: Ferguson won several trophies while in charge of Manchester United. (AFP)

FOOTBALL

Former Manchester United manager Alex Ferguson underwent emergency surgery on a brain haemorrhage on Saturday.

His family said the legendary Scot, who had a remarkable career, was recovering. They asked for privacy.

"We will keep Sir Alex and his loved ones in our thoughts during this time, and we are united in our wish to see him make a comfortable, speedy recovery," tweeted Manchester United.

An outpouring of messages of support continue to flow for one of the most decorated football managers of all time.
Sir Alex Ferguson has undergone surgery today for a brain haemorrhage. The procedure has gone very well but he needs a period of intensive care to aid his recovery. His family request privacy in this matter.

Everyone at Manchester United sends our very best wishes. pic.twitter.com/SDoNzMwVEZ

— Manchester United (@ManUtd) May 5, 2018
ALEX FERGUSON FACTFILE:

Name: Alexander Chapman Ferguson

Age: 76

Date of birth: Dec 31, 1941

Place of birth: Glasgow, Scotland

Playing career

Position: Striker

Teams: Queen's Park (1957-1960), St Johnstone (1960-1964), Dunfermline Athletic (1964-1967), Rangers (1967-1969), Falkirk (1969-1973), Ayr United (1973-1974)

Playing honours

St Johnstone

Scottish Football League Division Two (1): 1962-63

Falkirk

Scottish Football League Division Two (1): 1969-70

Managerial career

Teams: East Stirlingshire (1974), St Mirren (1974-1978), Aberdeen (1978-1986), Scotland (1985-1986), Manchester United (1986-2013)

Managerial honours

St Mirren

Scottish First Division (1): 1976-77

Aberdeen

Scottish Premier Division (3): 1979-80, 1983-84, 1984-85

Scottish Cup (4): 1981-82, 1982-83, 1983-84, 1985-86

Scottish League Cup (1): 1985-86

UEFA Cup Winners' Cup (1): 1982-83

UEFA Super Cup (1): 1983

Manchester United

Premier League (13): 1992-93, 1993-94, 1995-96, 1996-97, 1998-99, 1999-2000, 2000-01, 2002-03, 2006-07, 2007-08, 2008-09, 2010-11, 2012-13

FA Cup (5): 1989-90, 1993-94, 1995-96, 1998-99, 2003-04

League Cup (4): 1991-92, 2005-06, 2008-09, 2009-10

Community Shield (10): 1990 (shared), 1993, 1994, 1996, 1997, 2003, 2007, 2008, 2010, 2011

UEFA Champions League (2): 1998-99, 2007-08

UEFA Cup Winners' Cup (1): 1990-91

UEFA Super Cup (1): 1991

Intercontinental Cup (1): 1999

FIFA Club World Cup (1): 2008

Individual

Premier League Manager of the Season (10): 1993-94, 1995-96, 1996-97, 1998-99, 1999-2000, 2002-03, 2006-07, 2007-08, 2008-09, 2010-11

UEFA Manager of the Year (1): 1998-99

BBC Sports Personality of the Year Coach Award (1): 1999

BBC Sports Personality of the Year Lifetime Achievement Award (1): 2001

English Football Hall of Fame (Manager) : 2002

European Hall of Fame (Manager): 2008

FIFA Presidential Award: 2011

Other

Officer of the Order of the British Empire (OBE): 1983

Commander of the Order of the British Empire (CBE): 1995

Knight Bachelor (Kt.): 1999