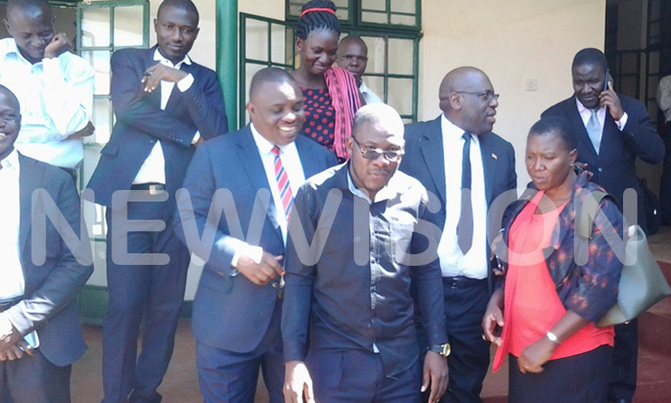 Muyanga had since April 30th been sentenced to a six-month imprisonment at Kirinya in Jinja town for failure to pay sh57m in court costs.
PIC Muyanga leaving the court with Lukwago as Salamu Musumba, Asuman Basalirwa (speaking on phone) and Asuman Kiyingi look on. Photo by Jackie Nambogga

LAWSUIT
The Jinja High Court resident judge, Eva Luswata, declined to release NBS television presenter, Simon Muyanga Lutaaya, before all involved parties agreed how he would clear a petition debt in writing.

Luswata witnessed drama when two parallel lawyers, Hassan Kamba and Henry Nyegenye each claimed to be representing the respondent in the matter, Kenneth Lugobo, the Bulamogi County legislator. This was during the Friday session, where Muyanga had appeared for his possible release, but Luswata said she would only make her verdict after the concerned parties had reached a consensus.

Kamba briefed court that he fully represented Lubogo (NRM) to the conclusion of the petition in which Muyanga challenged his victory at the Jinja High Court and won it. Kamba said he also represented Lubogo when Muyanga appealed and also won.

Much as he was the lawyer from the inception to the conclusion of the matter, Kamba regretted that upon winning both cases, Lubogo got another law firm - M/S Ssekaana - to recover the court costs without paying him.

Kamba cited a similar incident of Pangaker VS Arnold Botha in South Africa, where the trial judge ruled that such instructions had increasingly become common and were an abuse of the case.

Luswata said she did not want to get into battles with advocates in this particular matter referring to it as sensitive.

As a result, she sent journalists and other members of the public out of the courtroom as the lawyers from both parties and Muyanga remained inside to come to an agreement.

Muyanga was represented by his lawyers led by Erias Lukwago, who is also the Kampala City Council Authority. Others were Asuman Basalirwa and Asuman Nyonyintono.

Muyanga had since April 30th been sentenced to a six-month imprisonment at Kirinya in Jinja town for failure to pay sh57m in court costs.

Muyanga who contested on the Forum for Democratic Change (FDC) ticket had served four days of his jail term so far.

As the session resumed after negotiations steered by former minister Asuman Kiyingi, who is also chairing the fundraising drive to settle Muyanga's debt, the parties briefed court about what they consented to.

Key among the discussion was to release Muyanga and they agreed to reduce the debt by sh10m.

Lukwago said they also agreed to give sh4.5m to Kamba on top of the initial sh6m, which Muyanga had earlier advanced to him totaling to sh10.5m. Muyanga's outstanding debt stands at sh37m, which he agreed to clear within six months.

Both Kamba and Nyegenye told court that this was their position.

Also, Muyanga said he was part of the negotiation and understood the terms, which he pledged to abide with.

Luswata ordered Muyanga to deposit the remaining money with the high court registrar or chief magistrate, until they resolve on who among Lubogo's lawyers would take the money.

Muyanga's release sent the court room into ululation. He wondered why a person who has lost an election must be punished to such a level. According to Muyanga, this undermines democracy and threatens young people from joining politics.

Muyanga hailed what he termed as a new ray of unity in Busoga and the fundraising team led by Kiyingi that worked tirelessly for his release.