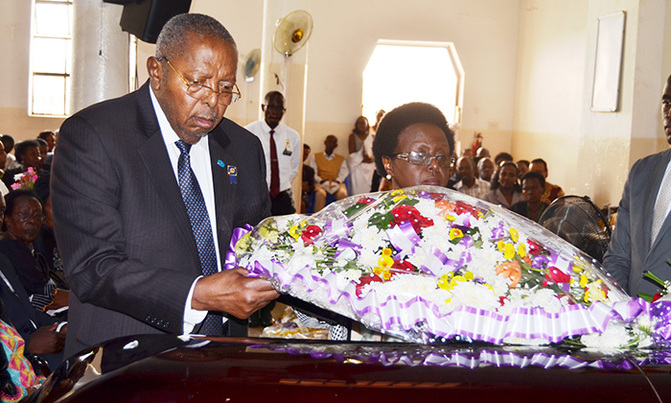 Canon Girasi was buried today at his home in Katete, Kanungu district.
PIC The Central Bank Governor Prof-Emmanuel Tumusiime Mutebile lays-a wreath on Canon Girasi's casket during the funeral service on Thursday
TRIBUTE
Tributes have been paid to Canon Nehemiah Girasi, a veteran medical practitioner based at Katete, Kanungu district, who passed on at Nakasero Hospital at the age of 95. Girasi, who died after suffering a homorganic stroke, was the father of Dr Ben Mbonye, a prominent orthopedic surgeon.

Among those who paid tribute to Canon Girasi, during a funeral service at All Saints Cathedral, Nakasero on Thursday, was the state minister for defence, Dr Bright Rwamirama, who praised him for giving quality education to his children.

"Dr Mbonye worked in different capacities at the defence ministry. Although he eventually retired from public service, he continues to help us whenever we go to him for consultations," Rwamirama said.

Dr Mbonye also described his father as a responsible parent, who sacrificed comfort to keep his children in school. He marveled at his father's commitment to discipline, time management, the Church and human friendship.

The former premier, Patrick Amama Mbabazi referred to Girasi as a versatile citizen, who served his country as a medic, local leader and philanthropist.

Bishop Emeritus Dr Edward Muhima, who preached during the funeral service, called Canon Girasi the personification of integrity.

Canon Girasi was buried today at his home in Katete, Kanungu district.

Who was Canon Nehemiah Girasi

He was born in Rubona Busanza in 1923 to Abraham Gashugu and Nyirabarera. He began his education at Shyira Primary School and later went to Kigezi High School. In 1946, he married his Esther Nyirakubanza.

Girasi began his career by enlisting for the World War II under the Kings African Rifles. However, by the time he reached Entebbe, the war was over and he was charged with guarding Italian prisoners of war. Thereafter, he joined the Uganda Police Force and trained at Masindi Police Training School.

His time at Uganda Police was short-lived, as he decided to serve Uganda in the medical profession. He became a member of the Uganda Medical Service. With the growth of dispensaries in outlying districts, he provided medical services at Kisoro Dispensary, Mparo Dispensary Rukiga, Kabale Hospital, Katete in Kambuga.

He retired from the Uganda Medical Service in the 1950s. As a respected member of the community, he went on to serve in local administration. He began as a parish chief and retired as sub-county chief in Buyanja.

He left active civil service in 1981, but continued to serve his community. He served as Chairman of PTA for Nyakinoni PS ans spearheaded the construction of All Saints Church in Katete.

Canon Girasi survived by a wife, children, who are Dr Ben Mbonye, Prof Kenneth Kagame, Evelyn Kamagaju Rutagwenda, Mauda Mukangwije, Richard Munyaneza and Frank Safari. He also left behind a sister Merabu Habimana, brothers Karamuka and Mucurabuhoro, 25 grand-children as well as five great grand-children.