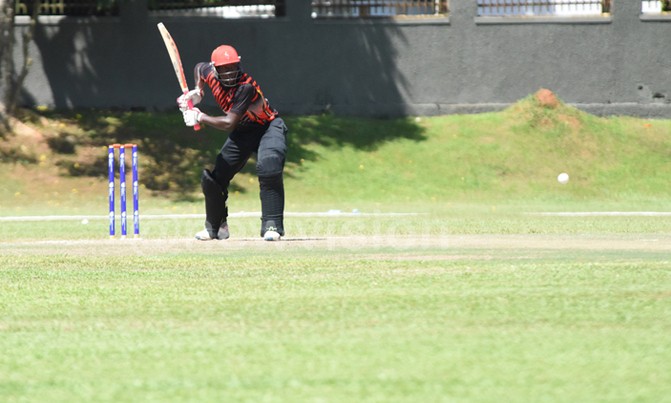 Tight as you like it, a game to remember!
ICC World Cricket League Division 4

Uganda 215/8 Denmark 129

(Uganda win by 1 run D/L method)

It was a game that Uganda desperately needed to win at any cost. A game the resilient Denmark side would not afford to lose.
Tight as you like it, a game to remember!

In a highly intense fixture, it was a situation of a camel going through the eye of the needle for Uganda in the dying moments of the game; they claimed four wickets from just six balls to literally force a one run win over Denmark Thursday at Kinrara Academy oval.

Bashir Shah was run out (Nsubuga/†Achelam) to set Uganda's camp on fire. Madness! Achelam's heroics ensured he won man of the match. Roger Mukasa's steely bowling in the last over was out of this world.

The rains had earlier interrupted the game where Uganda looked in full control. Roger Mukasa and Co were protecting 215 following a free scoring innings where the consistent Hamu Kayondo and Brian Masaba had scored 51 and 47 respectively.

Denmark seemed to struggle with the runs before the skies opened. Play resumed with a revised target for the chasing side who required 131 from 29 overs. In the end their score shows how close they were as Uganda won under nail biting moments.

The Cricket Cranes are now close enough to qualify back to the ICC World Cricket League Division Three. They entertain Jersey Saturday in the last round robin game with a win guaranting qualification to division three.
WHAT OTHERS ARE SAYING
Well played Cricket cranes...oyeeeeee...Congs Captain Roger...we are proud of you @CricketUganda

— carol tompson (@carol22x) May 3, 2018
#CricketCranes #CricketCranes #CricketCranes
Alilililili... alilililili...
(Puts back her heart that had partially fallen out)
Eno pressure ebade enzita nyo..
Well played boys...@CricketUganda @jackie_tino @deniszenk @davour23 @DavidPaxchard @tragicanon @mus_dia

— Yondos (@YondosNaomi) May 3, 2018
Cricket cranes please dont put me on this much pressure ever again.
Ehhhhh @DhakabaKigongo @NTV_Omumuli @KigoziJoe @cricketCranes pic.twitter.com/aYAJxh7YEt

— Fresh Prince (@aqramist) May 3, 2018
I was alive when Uganda did it

Roger mukasa is proof that we don't need a Cuban cricket captain.

Pulled off the unthinkable.
The over that was. Next to the BRAITHWAITE OVER.@CricketUganda @DAVOUR23 @DENISZENK @ROBERTMADOI @KagutaMuseveni #cricketuganda #CricketCranes pic.twitter.com/JTowhRFG4j

— Daneal 🇺🇬 Batuwa 🇺🇬 (@danielbatuwa) May 3, 2018
Roger Mukasa I have given you Jasmine 4 free!#CricketCranes win... pic.twitter.com/JiLMwDzgH4

— Musali Denis (@deniszenk) May 3, 2018
Well done #CricketCranes Capt. Roger was well composed with an impressive last over! 4 wickets! Good job lads. @CricketUganda @deniszenk @AllanDarren @nsiboallan @AdoniaWaibale @BrianX49 @Mr_IncREDible98 pic.twitter.com/1SHdgd2Vo6

— Daudi (@DavidPaxchard) May 3, 2018
Top top top stuff Roger...great last over 🔥🔥🔥
Great team effort lads #CricketCranes spirit lives on 👏👏👏👏
Uganda wins by one run

— Karashani Davis (@davour23) May 3, 2018