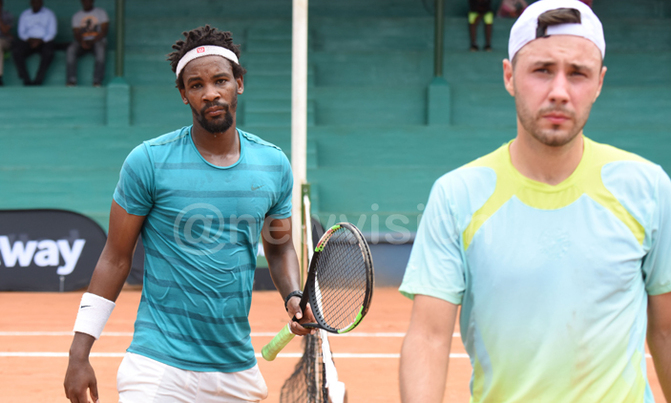 Dhanashiya outlasted the Uganda top seed
ITF Uganda Pro Circuit

Results

Dhanashiya 6-0 4-6 6-3 Mugabe

Dev 6-1 6-1 Aguma

Duncan Mugabe gave it a real go. He stood up to the number three seed in the Futures 1 (F1) ITF Uganda PRO Circuit. And that after getting knocked down 6-0 in the first set.

Russia's Shalva Dhanashiya still triumphed, the cream rising to the top after the contest slipped into a decisive third set.

Dhanashiya outlasted the Uganda top seed 6-3 in the decider, moving on to the round of 16 and ending Mugabe's three-game winning streak that began Saturday with a victory over Britain's Joe Cooper in the qualifiers.
Russia's Shalva Dhanashiya


Mugabe was joined on the sidelines by compatriot Borris Aguma, who was defeated 6-1 6-1 by India's Prajwal Dev. Still, in taking the second set 6-4 from a player ranked 632 in the world, Mugabe made an admirable show of his undeniable ability.

It is no small feat for a player who reached the main draw by way of a qualifier to stretch a high seed like Mugabe did.

The Ugandan can be proud of his display. He showed the kind of grit that will serve him well in the doubles, where he's made the quarters with Burundian partner Hassan Ndayishimiye.