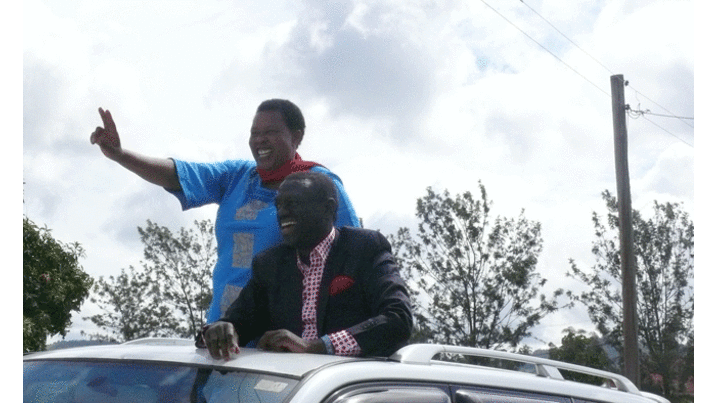 The seat fell vacant in April this year when NRM's Winfred Masiko lost a court against her victory.
PIC: FDC flagbearer Betty Bamukwasa atop a campign car with Besigye. (Credit: Caleb Bahikaho)
BYELECTION
RUKUNGIRI - The nomination of Betty Bamukwasa Muzanira of Forum for Democratic Change (FDC) for Rukungiri Woman MP byelection has put business in Rukungiri town on a standstill as her supporters escorted her to the nomination hall.
The procession of cars, bodabodas and other supporters took almost one hour to travel the 2km-stretch from Heritage Country Club to Rukungiri district headquarters.
Bamukwasa was accompanied by Dr. Kizza Besigye, leader of opposition in Parliament Winnie Kiiza, party president Patrick Amuriat Oboi, Kampala Lord Mayor Erias Lukwago, Salaamu Musumba, party chairperson Wasswa Birigwa and others.
Topher Tumwine and Bernard Musinguzi proposed and seconded her nomination, respectively.
Umar Kiyimba, the district returning officer, announced Bamukwasa as the duly-nominated candidate for Rukungiri Woman MP byelection, but warned her against making public campaigns before May 4, when they will harmonise the campaign schedule with the Electoral Commission.
Bamukwasa later led her supporters to a launch of her manifesto at Rukungiri main stadium.

The chairperson of her campaign team, Rolland Mugume Kaginda, predicted a 90% win in the May 31 byelection - judging by their supporters' solidarity.
Sheilla Atukunda Kirebeta was the first person to be nominated as an independent candidate at around 10:30am and was accompanied by her father, Rev. Bernard Kirebete, together with Rev. Ivan Matongo.
Former state minister for Public Service Prisca Seezi Mbaguta, also an independent, was supposed to follow in the nomination room.

She lost in the NRM party ahead of the 2016 elections.
Winfred Masiko of NRM will be nominated Thursday at 10:00am, before going on to launch her campaign at Rukungiri main stadium.
The Kigezi region Police spokesperson, Elly Maate, said security was guaranteed to all aspirants who intend to be nominated and contest for the seat.


Background
The seat fell vacant in April this year when Masiko lost a court against her victory.
The Court of Appeal led by Deputy Chief Justice Alfonse Owinyi-Dolo on March 22, 2018 declared the Rukungiri Woman seat vacant on grounds that the 2016 elections were marred by voter bribery.
The two ordered the Electoral Commission to organise fresh elections and asked Winnie Matsiko to compensate the petitioner for the costs incurred.
Matsiko's victory was challenged by FDC's Betty Muzanira.