According to Linda Natasha, Murphy's guardian, the girl went missing last Friday after picking her report card from school.
(Courtesy photo)

DISAPPERANCE

Sophia Murphy (pictured), a 15-year-old student from Victoria High School in Entebbe municipality who was reported to have gone missing, has been found at a friend's home.

According to her guardian Linda Natasha Karugaba, the teenage girl disappeared last Friday after picking her report card from school.

Karugaba said Sophia had not expressed any signs of discomfort at home.

"After waiting for a long time without seeing Sophia return home, I went to check with her school, only to be told that all students had been sent home immediately after receiving their report cards," she said.

Panicked, Karugaba went to check with some Sophia's close friends - all of them were at their respective homes.

They all said they had bid farewell to Sophia, before parting with her en route to their homes.

"I only received a couple of calls later from a concealed number inquiring whether I was in Entebbe and after answering in affirmative, the man on the other end said they would call me back later," Karugaba narrated.

She reported her missing child's disappearance to Entebbe Police.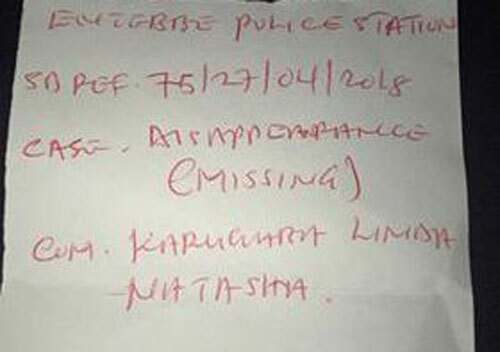 The case of a missing child was reported to Police

According to Karugaba, Sophia's mother - Sharon Kenyange - also went missing in 2013, with reports that she had travelled to Europe.

Other people claimed Kenyange had died.

However, no-one knows her actual whereabouts - not even Karugaba.

"Sophia's mother was a very close friend of mine, but all my efforts to find her have proved futile since she disappeared in 2013, prompting me to remain with the child," said Karugaba.

She said Sophia's father is believed to be Caucasian but details about him unknown.

New Vision's attempts to get a comment from Entebbe Police on Sophia's disappearance were fruitless.