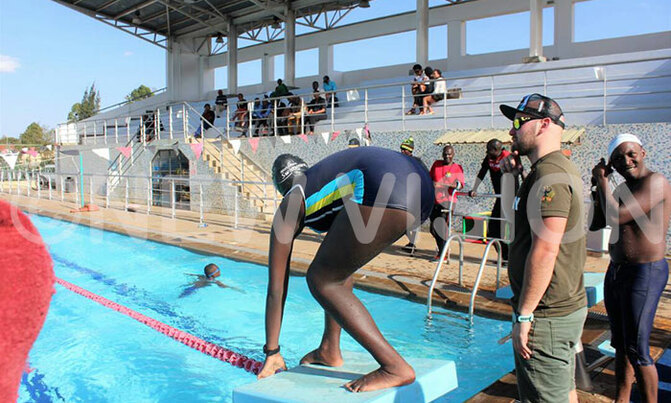 Her teacher also noticed that she loved water. So, I paid for the swimming club. That marked the beginning of her swimming journey.
It has been 11 years, but when she narrates her ordeal, the pain in her voice is palpable. Her eyes tear.

The day she gave birth in 2007, to Husnah Kukundakwe at Rubaga Hospital, she shed tears and blacked out at the sight of her newborn's deformity. But today, Hashima Batamuriza, an employee in the public relations department at Uganda National Bureau of Standards (UNBS) sheds tears of joy.

Kukundakwe will possibly compete in the Tokyo 2020 Paralympics (international multi-sport event for athletes with disabilities) as a swimmer. She shared her experience with VICKY WANDAWA.

The nurse wore a strange expression. She stared at the new-born, then at me and quickly back at the new-born. It was just seconds after I had pushed the baby out. The baby was crying, but she did not touch it.

I sensed that something was wrong. She hurriedly walked away and immediately returned, another nurse closely following behind. Then one of them said: "Madam, please sit up and look at the baby you have given birth to."

I garnered the energy to sit up and because I was not thinking straight, what I saw was not a baby, but something without hands and legs. Then I lay back. The nurse asked: "Have you seen the baby you have given birth to?"

I did not respond. I just cried out to God, why, oh why. As the nurse cleaned me up, I reached for my phone and called two of my sisters and sobbed: "I have given birth, but I don't know what I have given birth to," right before I lost consciousness due to shock, at about 7:00am. At about 9:00am, I saw a doctor and asked: "Is the ki -baby still alive?" He said yes. I had not expected the baby to live.

The image kept running through my mind. I called my husband, Ahmed Asiimwe, who immediately turned up. When I unwrapped the baby for him to see, I blacked out again. After a few minutes I regained consciousness and my husband said: "It's okay, don't worry. The good thing is that she has the other hand and it has three fingers." So, the baby did have legs, a left hand with three fingers and a stump in place of the right hand.

At about midday, I breastfed Husnah Kukundakwe for the first time. Three hours later, she started vomiting while in my arms and her temperature rose. She was put on oxygen. Her complexion turned dark. I thought she would die, but she recovered two days later from the infection. I asked a paediatrician why my baby had no limbs. He said it was one of those mysterious conditions that happen to 1 out of 1,000 babies.

That hurt me, I said oh God, it had to be my baby out of all 1,000, to suffer the condition? I felt like I could not take it anymore. Shortly after, we were discharged. My mother accompanied me to my home in Ntinda, a Kampala suburb. Every time I looked at the baby, I would nearly black out in shock. Many questions ran through my mind, especially what the future held for her. Would she manage to even crawl? The sight of my baby depressed me to the extent that my mother did everything to do with the baby, from bathing, dressing to cuddling.

All I did was breastfeed, during which I avoided eye contact. I preferred her wrapped up all the time such that I didn't have to see her hands. But when she made three months, I had to get used to seeing the hands because the baby was active. She would kick and stretch, hence unwrapping herself.

She was jolly, smiled all the time, and healthy. She weighed 2.9kgs at birth, but at three months, she was over six kgs. Then something changed. I fell in love with her. Interestingly, since that infection she developed in hospital, Kukundakwe has never fallen sick again. No diarrhoea, malaria or any other common infancy disease. Before long, she was able to sit on her own.

Whenever I handed her an object, she would receive it with the left hand, then transfer it to the arm pit on the other side, I guess aware that her hand did not have fingers to hold anything.

When she made four months, I returned to work. She was started on formula, but I would leave after breastfeeding, return at 11:00am to breastfeed again, then at 2:00pm. I was working with UNBS Nakawa and would get a bodaboda to Ntinda. My mother stayed until the baby made six months.

At six months, she started crawling. Around that time, I attended an Idd celebration at my father's house. When my relatives saw her crawl, I looked around and noticed that everyone was fighting to hold back tears. This was a baby we all never expected to see hit any milestone.

She crawled for only two weeks and, at seven months, started standing for short periods. She would hold onto things with one hand. At eight-and- a-half months, she started walking. The milestones had come too soon, everybody was shocked at the speed. At one point, I thought it was too unusual and that she would not grow further because she was no ordinary baby.

At three years, Kukundakwe started school in 2010 at Lyna Daycare and Nursery School in Kampala. The teachers noticed that she was brilliant. She could coherently narrate a story in English. The school had a swimming pool, though teachers was unsafe for her to swim.

Kukundakwe often complained that they did not allow her to swim. I too did not allow her.

Before long she started trying to write. Then I remembered a statement her father made on seeing her the first time: "At least she has three fingers, so she will be able to write."

The swimming lessons begin

In the third term of her baby class, the school swimming coach asked me to let her attend the swimming sessions. I said it was okay, as long as he took extra caution. I bought her swimming costumes.

When she got to top class, she did an interview at Sir Apollo Kaggwa Primary School and scored 100%. She continued there in top class.

Looking for the prosthetic hand

I was uncomfortable. I hated it when people saw the arm and asked questions. I tried to hide it by dressing her in long sleeved clothes. I decided to get an artificial limb. I drove to hospital and asked about one.

However, I was told it was best fixed at 15 years because before then, she was growing too fast and the limb would have to be changed so many times.

She realises her uniqueness

When Kukundakwe made five, she realised that she was different. She told me that she preferred long sleeved to short sleeved clothes.

She started wearing sweaters from morning to evening because her classmates stared and asked questions.

Her teacher alerted me that the girl's confidence was waning and that we, as parents and teachers, had to work hard to raise her confidence. She was made class monitor in top class. She, therefore, had to find a way of carrying out tasks, such as collecting books from her classmates, she would pick the books with the left hand, then hold them in the right hand joint.

Her teacher also noticed that she loved water. So, I paid for the swimming club. That marked the beginning of her swimming journey.

In Primary Three, she started swimming well. One of the coaches was amazed at her skill and paid her more attention.

I conceive, grappled by fear

I conceived but it was tough; I did not get any sleep because I feared that the baby would also get a deformity, probably worse. At seven months I got so impatient that I paid for a 3D scan, to confirm that my baby had all body parts.

After that, I was able to catch some sleep.

The swimming competitions begin

In Primary Four, she started participating in school competitions, but I did not pay much attention.

The teachers said she was a great swimmer, but I thought her teachers were just trying to be nice to us. She told me she loved swimming. She knew the days on which swimming took place and never forgot to carry her swimming costume. The school swimming coach approached my husband about training Kukundakwe.

Every Saturday, he would take her for training.

One day, he was busy so I took her myself. I witnessed her dive from the deep end. That is when it dawned on me that she was actually great at swimming.

Before long, there was a swimming gala by Sir Apollo Kaggwa schools. She returned with a gold medal. During the competition, a coach observed and approached my husband requesting that Kukundakwe joins his swimming club.

Asiimwe thought it might be too much in addition to her school work. However, Kukundakwe begged to join the club.

Later, there were inter club competitions, but I did not attend. Asiimwe was there and cheered her on. I did not think it was anything, until I saw her return home with a full DSTV explora package after winning.

WORLD PARALYMPICS

We learnt of an event in Nairobi, where classification of swimmers for the forthcoming international world swimming competition was to take place. Kukundakwe participated and went a step closer to taking part in the Tokyo 2020 Olympics.

However, because she was less than 12 years at the time, she will have to undergo a confirmation competition in Malaysia, when she clocks 12, from where she could make it to the Tokyo 2020 Olympics.

It was then that I recalled how I once thought Kukundakwe would never ably do something for herself and, yet here she was, going to participate in the World Paralympics.

She is the first of her kind, female Paralympic in Uganda. Secondly, she is the youngest Paralympic swimmer in Africa. What's more, Uganda delegated four athletes for the competition and she was the youngest. When I picked her from the airport, she told me: "Mummy, I am a world swimmer now."

Early this month, we learnt about a national swimming competition at Greenhill Academy. She did well, though her competitors were all able-bodied. She got two silver medals for being second. She is not only good in swimming. Since her top class, she is always among the first four.

She is now a minister for Islamic affairs at her school. I encourage any mother who gives birth to a child with a disability to love them and treat them right. Look out for something they love and do the best to help them achieve it.

All the questions I used to have; that is to say why me? why me? are starting to fade away.

Seeking partnerships

We are looking forward to getting partnerships with companies to sponsor Kukundakwe's career in swimming. For example, for the perfect training, she needs to swim at Speke Resort Munyonyo because of the sizeable length, 50 metres, compared to other pools around the city.

However, for each session, it costs sh50,000 for both her and the coach to access the facilities. Additionally, we are paying club fees and contributing to air transportation costs.


The swimmer I know

I want to be a doctor

Interestingly, when asked what career she would like to take up, Kukundakwe quickly responds; doctor. Her motivation: "I just want to treat people. Swimming will remain my hobby." The 10-year-old who topped her class in a recently concluded set of examinations at Sir Apollo Kaggwa Primary School, says she loves mathematics and science and she is good at them. She says she finds swimming fun and competitive.

"I love competition," she confidently says. Despite finding swimming fun, she admits that she finds it challenging because her competitors are able-bodied.

"I try to catch up, but they are fast," she says.

Sadly, she says sometimes pupils make fun of her hand and laugh at her, but she ignores them.

She scored four — Headteacher

The headteacher of her school, Fred Lubwama, told Sunday Xtra that the first time he laid eyes on Kukundakwe, he was afraid that her disability had made her inferior, but it was not so "She is courageous, determined and in the most recent examination, she took the first position. She was the only girl who got a four.

She is the type who will walk into any office and express herself," he said.

He added that Kkundakwe has numerous friends. He noted that the school is proud of her because of her academic excellence and keeping the school's position at the top in swimming.