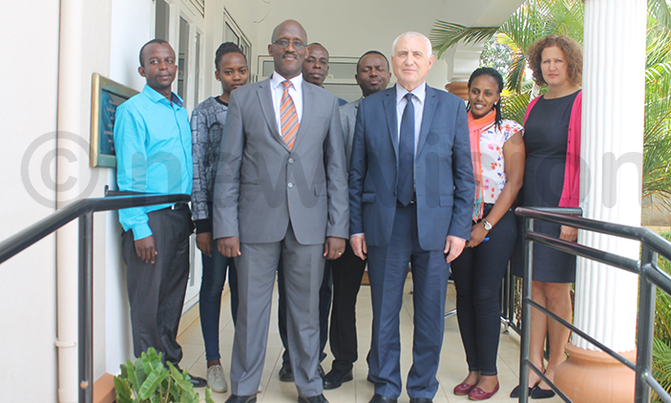 UN, through the International Conference on the Great Lakes Region (ICGLR), will support Uganda to put an end to sexual violence
UN Secretary General for Great Lakes Region, Said Djinnit (right) and ICGLR acting director, Byamukama (left) during Djinnit's visit at the facilty. Photo by Wilson Manishimwe
UN Secretary General for the Great Lakes Region, Said Djinnit has promised continued partnership with Uganda in the fight against sexual and gender based violence countrywide.
Djinnit who was on an official visit at the International Conference on the Great Lakes Region (ICGLR) -Regional training facility offices in Munyonyo on Friday, said the organisation would support Uganda through the facility to put an end to sexual violence.
"I believe that there is no difference between man and woman. Both parties do the same work in development. Therefore, they are equal," said the ambassador, pointing out gender and culture, as one of the major causes of sexual violence.
Meanwhile, the ICGLR acting director Nathan Mwesigye Byamukama explained that the institute intends to train different institutions in Uganda such as Police, Judiciary and officials such as social workers and medical personale on how to best address the problem of sexual and gender-based violence.
"This is supposed to be a real centre of excellence that provides the necessary skills in eradicating sexual violence" said Byamukama, who also asked for the Government's support to the facility.