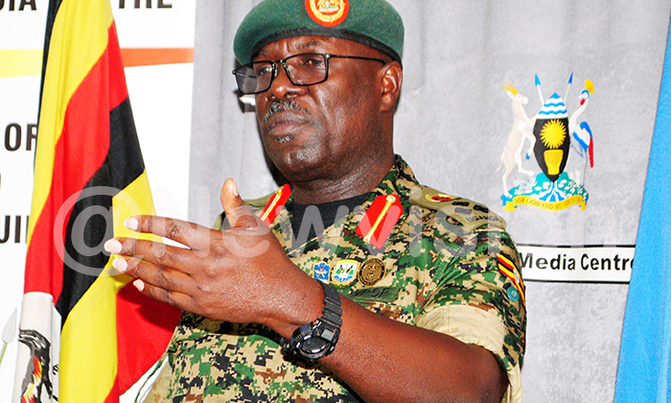 The programme is a presidential initiative that President Yoweri Museveni launched in 2009
PIC: Brig Patrick Mwesigye addressing journalists about the patriotism training at the Uganda Media Centre in Kampala on Friday. (Credit: Mary Kansiime)
TRAINING | PATRIOTISM
KAMPALA - One thousand senior six leavers are to undergo patriotism training for 21 days. The training, which begins tomorrow, will end on May 18.

The annual training, which is conducted by the National Secretariat for Patriotism Corps (NSPC), will be held at Luzira Prisons Academy and Training College.

The NSPC commissioner, Brig. Patrick Mwesigye, said the training will guide and equip students with the capacity to manage the transition from secondary school patriotism clubs to post-secondary study groups.

"Unlike at the secondary level, tertiary level students are exposed to more advanced ideological theories and patriotic teachings which further shape their worldview. The teachings also allow students to adapt to the more liberal and risky university environment," Mwesigye said.

He added that it is against that background that the secretariat thinks that the patriots advance in their education ladder.

"It is our responsibility to deepen their understanding by equipping them with better tools of analysis, critical and creative thinking skills," he said.

He made the remarks during the press conference at the Uganda Media Centre in Kampala today.

During the training, students will be taken through a number of theoretical studies. These include patriotism and mindset transformation, governance and a patriotic citizen as well as social and lifestyle topics.

Other areas of focus are basic military drills and self-defense, personal development and personal welfare.

Mwesigye explained that the secretariat's mandate is in line with the country's constitutional command that as every citizen of this country enjoys and exercise their rights and freedoms, they have a duty to be patriotic and loyal to this country.

"Our mission is to develop a resourceful, responsible, loyal and resilient citizenry that is ready to defend and transform this country," Mwesigye said.

Presidential initiative

The programme is a presidential initiative that President Yoweri Museveni launched in 2009. The ultimate goal is to produce a new breed of enlightened population committed and devoted to national causes, and have love for the country.

Since its inception, over 320,000 senior six leavers and 5,000 students from NTCs, UTCs have been trained. Over 4,000 clubs were introduced in secondary and tertiary institutions.

However, the target is to train over 1,500,000 secondary school students and their teachers, 6,000 students in UTCs and NTCs, and over 84,000 in universities and other tertiary institutions of learning.