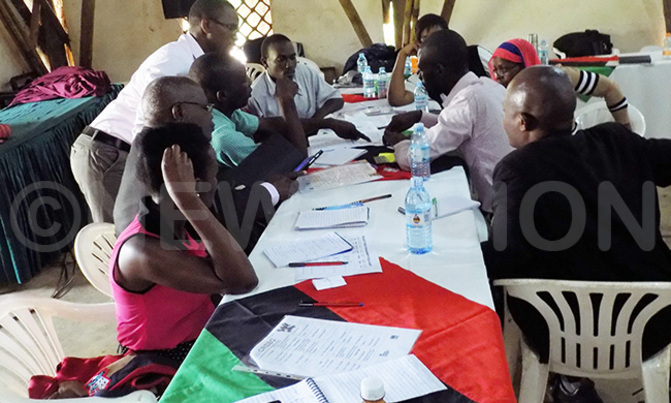 The training attracted experts from government departments, Makerere University, NGOs and the private sector.
41 experts involved in renewable energy projects across the country have been trained in managing renewable energy projects.

The two-day training dubbed Holistic Approaches to Renewable Energy Management is organized by the Centre for Research in Energy and Energy Conservation (CREEC), a Makerere University based energy organization, and the African Clean Energy Research Alliance (ACERA) based at Leeds University in the United Kingdom.

It is being held at Makerere University guest house.

ACERA is running a five-year project, Capacity Building in Renewable Energy at three Africa higher institutes of learning, which include Makerere University in Uganda, Dar-es Salaam Institute of Technology in Tanzania and Marien Ngouabi University in Congo Brazzaville.

The training attracted experts from government departments, Makerere University, NGOs and the private sector.

Jovan Nizeyimaana, a researcher in Biomass energy based at the Presidential Initiative on Banana Industrial Development in Bushenyi district said he had gained financial skills in managing renewable projects through a game exercise they had.

"Here, you plan for uncertainties. You also stick to what you have budgeted for," Nizeyimaana said.

Sarah Sunday Fortunate, an independent consultant on climate change and environmental management said she had learnt a lot from the presentations from the three doctorate students from the three participating institutions.

Their presentations ranged from energy generation from hybrid sources and energy generation from concentrated solar.

Prof. Jon Lovett of University of Leeds, the lead facilitator said the project aimed at alternative and efficient sources of energy for people, away from the main grids.

"It is more to do with rural community empowerment. If you need development you need modern energy supply," he said. "The aim is to create renewable energy mini-grids where communities have control."



Mary Suzan Abbo, the managing director at CREEC said the training was part of skills development in the renewable energy sector. She argued a 2014 study on the challenges the private sector faces in managing renewable energy. The study found huge gaps in their technical capacities to manage aspects like documentation, and proposal writing that would help them access finances.