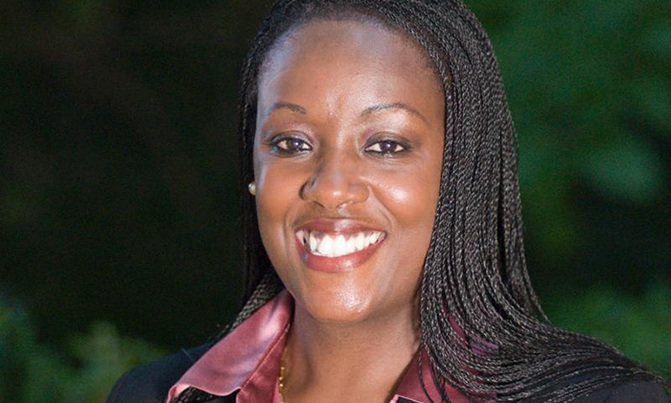 The more than an hour that I spent with Mrs. Bush – a very short span of time considering life - influenced me, subliminally, in two ways: as a mother and later as a philanthropist.
By Anita Mpambara Cox

Former First Lady Barbara Bush, who passed away last Tuesday aged 92, cut an impressive figure in every way. For those of us fortunate enough to have met her, the interaction was hugely positive: humorous, witty and unforgettable.

Among the tributes pouring in the one that rings most true to my own encounter with the First Lady is a quote from John Sununu - the White House Chief of Staff during her husband's presidency - who said, "She was at ease with anybody in terms of the hierarchy around the world, and worked hard to make them feel at ease in her presence and the president's presence".

The more than an hour that I spent with Mrs. Bush - a very short span of time considering life - influenced me, subliminally, in two ways: as a mother and later as a philanthropist.

My 'Barbara Bush story' starts and ends in the VIP lounge at Cairo International Airport in March 2000. I was in charge of the VIP office of the then largest US Mission in the world. There I was standing at the bottom of the stairs of the just landed private plane carrying her and all her grandchildren who were in Egypt to take a Nile Cruise vacation.

I had spent the previous evening with my staff going over the visit details with mixed emotions: excited about a refreshingly different kind of visit (I love kids!) and a nagging worry about how to help shepherd the kids around.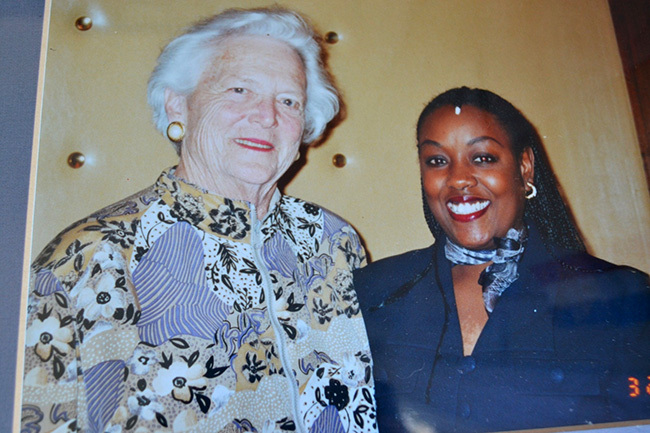 Former First Lady Barbara Bush with Anita Mpambara Cox at Cairo International Airport.

I read and reread the manifest, looked at birthdays and figured out how many teenagers, how many younger ones, etc., all in an effort to be fully prepared. Suddenly, my taste of her legendary, sharp, to-the-point and authentically delivered wit came as she descended the stairs, holding hands with one of the grandchildren as the rest followed behind her.

"There are no brats here", she said, as if she has read my mind. You got the impression she was saying something, but I wasn't sure what it was, I thought I had messed up somehow! Was it directed at me or some covert message to them?

That quickly changed when in the lounge she immediately asked the children to introduce themselves to me and, one-by-one they did. I gave my briefing which turned out to be rather short, because the conversation quickly turned to motherhood.

She was very open, natural, inquiring and seemingly genuinely interested in talking with me. As every first-time mother inevitably, almost subconsciously does, I went on and on about my first born; telling her that he was turning five months the next day. "What is his name" she asked? Miles, I told her.

"Beautiful name", she responded, and in the same breath asked if I had started reading to him. "It is never too early to start reading aloud to kids" she continues, "They grasp words and understand the meaning more than you think".

She was preaching to the choir however, and we went on to discuss what books I had bought recommending a few in the process. As I escorted her to the plane for the onward leg of the trip she asked about Uganda; I told her my father had been a politician too. As if to summarise the topic, she said, "Don't get home and get distracted by all that you have to take care of, ignore those distractions, put your arm around Miles and read to him".

Our next meeting was when she was leaving Egypt for the U.S. "What did you read to Miles last night" was the first thing out of her mouth when she saw me, and I thought wow, what a memory!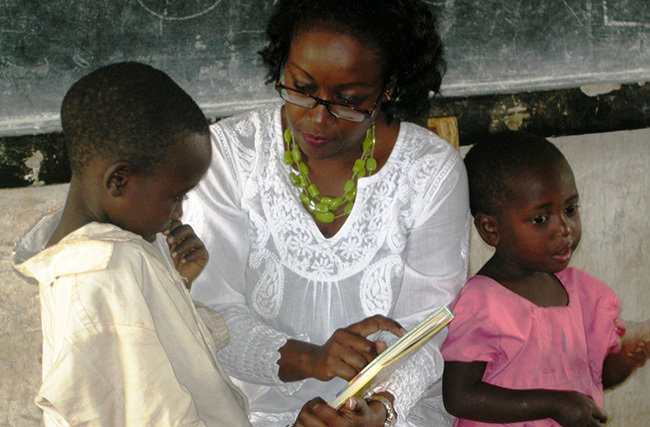 Mrs. Cox volunteering at Bugomora Primary School, Kabale.

We picked up from where we had left off; I remembered the conversation with crystal clarity, but how and, certainly why would she? For the next 30 or so minutes, she told me about the cruise, her family and her foundation's work.

The Barbara Bush Foundation for Family Literacy's goal was to bring parents and children together through reading she said. With a warm hug, she said goodbye and we never met again.

Eight years after I met her, I started my own foundation - The Mpambara Cox Foundation - to improve literacy in Uganda by enabling and encouraging children to attend school.

The goal is to reverse the high drop-out rates in government-aided/Universal Primary Education schools where in our operational area, as many as 70% drop out of school by Primary Five. Among our programmes are reading, school-feeding, installing clean water, improving health and wellness through preventative medical checks and microfinance for women impacting almost 1000 households.

We also implement unique programmes aimed at relevant types of literacy. For Earth Day (Sunday, April 22), we launched two more primary school-gardens as "Living Literacy Labs" to impart environmental sustainability at Kabale Preparatory School and Ndorwa Primary.

Following the traumatic event of losing my second born daughter (as had Mrs. Bush, I would later learn), I became a home-maker devoted to building a strong family rooted in faith.

The foundation gave me a channel to actively help others not from an arm-chair, but in the field. As a fierce campaigner for children's literacy, she was active and not passive. Active enough to have spent time in a foreign airport lounge encouraging me to read to my children daily.

The impact of that brief moment was total. Subliminally it was - on reflection - a part of the impetus of my modest efforts to give back to my community today.

Having lived a life devoted to her family, faith, friends and far-flung mothers, "the Silver Fox" as her children nicknamed her, must have been in the enviable position of having few regrets when she declined further medical treatment days before she passed on.

"At the end of your life, you will never regret not having passed one more test, winning one more verdict or not closing one more deal," Mrs. Bush cautioned the women in a speech at Wellesley (the prestigious all women's college). "You will regret time not spent with a husband, a child, a friend or a parent."

The writer is founder and president of the Mpambara Cox Foundation, a former State Department employee, mother of two and wife of a Foreign Service Officer.