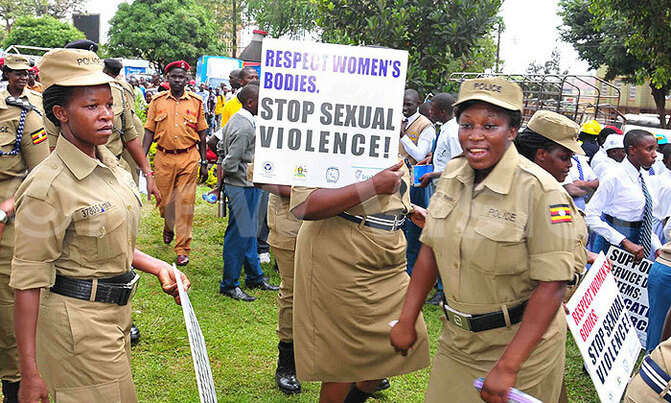 Police reports indicated that 341 women and girls were killed in domestic scuffles between 2015 and 2016.
VIOLENCE

In Uganda, women, children and even men are battered within the very homes they are supposed to be safe.

According to a survey done by the Uganda Demographic and Health Survey (UDHS) of 2011, 56% of women experience physical violence from the age of 15, 28% aged from 15 to 49 have experienced sexual violence compared to 9% men in the same age group and 16% experienced violence during pregnancy.

The study indicated that physical violence incidences had slightly decreased among women aged 15-49 - from 34% in 2006 to 28% in 2011.

But it was noted that the figures may still be higher given that some cases are not reported and only solved by families or local officials at village levels.

Police reports indicated that 341 women and girls were killed in domestic scuffles between 2015 and 2016. It was also indicated that in 2016, Police registered 17, 567 cases of defilement, 1, 572 of rape and 72 of incest.

Districts including Kampala, Wakiso, Mukono, Iganga, Rakai and Mbale recorded the highest cases of violence against women and girls.
A UPDF soldier checks out a bag made by wives of UPDF officers. (Credit: Gladys Kalibbala)

Anyone can be a victim

Reports explain that domestic violence can happen to anyone in the community, regardless of being educated or not, age, sex, race or socio-economic background.

Although the majority of cases reported involve women and children, there are some men who have suffered - but they fear to report. Police explain that domestic violence is a crime and a violation of one's rights, where all human beings are born free and equal with dignity and rights.

Organisations, such as Centre for Domestic Violence Prevention (CEDOVIP) and Raising Voices have been key in fighting for the rights of many victims of gender-based violence as they work hand-in-hand with Police.

Such organisations believe that empowering women and girls is one of the ways to protect their rights.

"Denying women and girls their rights is not only wrong, but also has serious social and economic impact that holds our country back," a report indicated.

Once in a while, different organisations that fight domestic violence meet to discuss the way forward. During one such meeting, we captured views from some participants:


Diana Kyangungu (Social development officer - UPDF Spouses Desk - Bombo Barracks):

"Imagine a scenario where a UPDF soldier is sent on a peace-keeping mission and he takes long to send money to his wife. Some of these women rarely practice family planning so they have big families. Even when the money is sent in time, because the salary is not enough, gaps will still exist, causing arguments in families all the time. Stories of soldiers who kill their partners and later commit suicide have been in the media for some time.

"One reason that leads to this is mismanagement of their hard-earned money, where soldiers return from missions outside the country and find all the money gone.

"Once their wives are economically empowered, they will be able to assist their husbands in providing for their families. The introduction of this support 'spouses desk', which was started by the commander-in-chief in 2005 has eased pressure on the soldiers who can now save their salaries for other family developments.

"After women getting financial backing, they have finally received respect from their husbands and peace has so far returned in their homes.

Annet Nyawere (Programme officer - UPDF Spouses Desk - Kabamba):

"These women make groups, where they are trained in financial literacy and later choose projects suitable for them. They are taught how to look for markets and the need to continue saving. It is very important for them to take the saving culture seriously because after this project was introduced to them, they need to make it sustainable by making profits for them to share and keep enough capital for their businesses to prosper. At least cases of domestic violence have reduced after empowering them."

Kettie Bagambe (Senior health educator - Prisons Headquarters):

"A bigger percentage of women in the prisons are there due to domestic violence. You would not be surprised to find one charged with murder of a co-wife because their husband was not giving her any more support and instead had abandoned the family and diverted all the money to the new 'catch'. We train them in skills that will empower them and enable them provide basic needs to their families once they come out of prison. This rehabilitation programme has helped many, where men come out as professional carpenters, builders, welders and so many other skills. While still in prison their items are sold and money kept for them till they are released while some of them cater for their families with this money when they are still behind bars. By the time they come out, they can appreciate that crime is bad and avoid getting involved again."

Irene Adibaa (Acting commissioner of the Child and Family Protection Department, Police headquarters):

"Intensive community policing is still needed to enable the public understand that it is everyone's responsibility to ensure that domestic violence is stopped. Apart from fights in the homes, we also have this crazy trend of human sacrifice. People must learn that riches don't come out of sacrifices of human blood. They need to engage in profitable ventures instead of wasting a lot of time arguing about which football team will win in Europe."

Gad Mifitundinda (Police officer - family and child protection - Uganda child helpline):

"The number of reported cases keeps growing because the community now understands their rights. Women used to think it was normal for their husbands to kick and slap them because of failure to provide warm water for bathing. Today, when you do it, before she reports to Police, her neighbour would already have informed the responsible authorities. Step-mothers also ought to stop mistreating their step-children while men should appreciate the heavy work their women engage in at home as this can help in reducing domestic violence."

Sexual assault: Why urgent medical attention

Priscah Murungi (SGBV co-ordinator - Makerere Joint AIDS Programme - MJAP - Makerere University):

"Sexual assault where defilement and rape occur is rampant in the country, but in some cases, our communities don't know what to do when it happen. This is a crime (sexual assault) which can happen to anyone but it does not have to result in HIV infection - that is when Post-Exposure Prophylaxis (PEP) for HIV should be given within 72 hrs.

"The victim should also seek emergency contraceptives to help reduce the risk of unwanted pregnancy. This should be given within five days. All victims of sexual and gender-based violence (SGBV) need to get the above services in time as reporting late may deny them the opportunity to prevent unwanted pregnancies after the incident as well as HIV infection.

"Stopping rape should start with men who should know that a woman/girl's 'no' means 'no' and should note that silence does not equal to consenting to sex. Our services around Kampala can be got at Kawempe, Makerere University hospital, Butabika and Mulago hospitals."

Mariam Nalumansi (Nurse - Makerere Joint AIFD Programme - MJAP - Makerere University):

"Victims should report for emergency services before tampering with evidence (don't bath or change clothes). Perpetrators of sexual violence need to be reported to Police immediately with evidence of items like clothes worn during the attack for samples. Such attacks brings trauma to the victims who will require counselling, psychosocial and spiritual support services which we provide. In this case it's not wise to blame rape victims for the violence perpetrated against them as this only makes them feel bad. Don't wait to throw away the baby because it was a result of a rape as the emergency contraceptive can rescue you."

Christopher Kaweesi (Chairman - Children activists - Banda):

"We have a Children Protection Committee in Banda, but being a slum area we are faced with many challenges of domestic violence always associated with many people. In such places majority are women engaged in different jobs and men tend to have more than one and abandon their families. In fact some men think they help their families by giving them food and other necessities especially when they are in a new relationship. As committee members we counsel the community and sensitize them about their rights. Failure to care for their families, we hand them over to probation office though in most cases talking to them helps families more than sending them to prison."

Robinah Babirye (Vice-chairman - Children activists - Banda):

"Defilement cases are still high where in February 2017 we already had over 5 cases of girls between 12 - 14yrs. Among these was a father who defiled his own daughter ofP5 who is now pregnant. We have carried out a lot of sensitization seminars around village through drama and music but unfortunately the men who are the main perpetrators never turn up. Women here misuse funds left by their husbands due to competition with their neighbours. Why would a mother of six buy meat on a daily basis in order to show her neighbor of only one child that she is also rich? This brings fights in the families as men feel cheated by their wives who keep on demanding for money when the poor men are poorly paid. It becomes complicated when men refuse their women to work while they cannot afford to provide for all their needs."