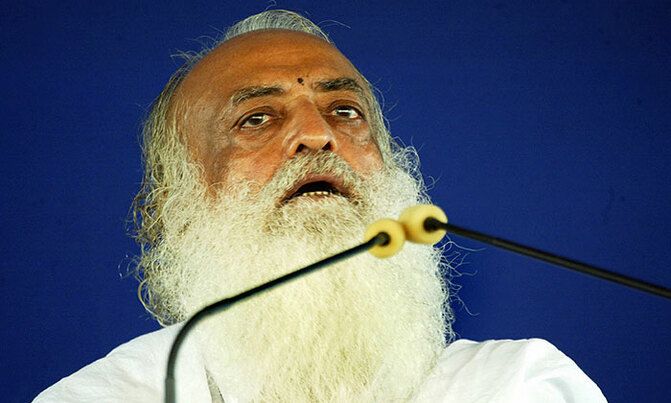 The white-bearded guru, who urges followers to live a pious life free of sexual desires, has always denied raping the then 16-year-old in 2013.
PIC: In July 18, 2008, Asaram Bapu addresses supporters at the sect's ashram (Spiritual Centre) on the outskirts of Ahmedabad. (AFP)

CRIME

An Indian spiritual guru with millions of followers was sentenced to life in prison on Wednesday for raping a teenage devotee, his lawyer said.

"Asaram (Bapu) has been sentenced for life until death. And two others, including a woman, have been sentenced to 20 years in prison," Rajendra Singh, a lawyer for the defence team told AFP outside the court in western Rajasthan state.

Asaram Bapu, 77, was found guilty of rape on the pretext of ridding the victim of evil spirits.

Earlier, Bapu, who leads hundreds of ashrams in India and overseas, was convicted at a closed jailhouse court hearing in Jodhpur, in western Rajasthan state where hundreds of police stood guard.

The white-bearded guru, who urges followers to live a pious life free of sexual desires, has always denied raping the then 16-year-old in 2013 at an ashram in the city.

The spiritual leader was convicted of rape and breaches of child protection laws, said Utsav Bains, a lawyer for the victim's family, who was informed of the verdict by colleagues at the closed prison hearing.

"There was no room for the court to acquit the accused. The victim stood by her allegations despite all the intimidation. It is a great victory and the credit goes to her resilience," said Bains.

Two of the four other co-accused were also found guilty, Bains added. The remaining suspects were acquitted.

The hearing was closed to media and the prison surrounded by tight security.

The woman, now 21, accused Asaram of assaulting her on the pretext of driving away evil forces.

The influential guru, who has been in custody since 2013, had called the trial a political conspiracy and refused to cooperate with a police investigation. A perceived reluctance to bring the charismatic leader to account sparked public outrage.

The Hindu televangelist and yoga guru once attracted huge crowds to hear his sermons but Asaram's star power has faded following the rape charges and other controversies.

But he still commands a devoted following and several Indian states were put on high alert and thousands of extra police deployed ahead of his trial, fearing riots if "Bapuji" was found guilty.

Devotees of another self-styled Hindu guru, who was jailed in 2017 for 20 years for rape, went on a rampage that lasted days and left 38 dead.

Asaram's followers have been accused of attacking or pressuring those who have spoken out against the controversial guru into withdrawing their allegations.
On October 14, 2013, Bapu, accused of sexually assaulting a minor, is escorted by Gujarat state police in Jodhpur

Two close aides who turned key witnesses against him were murdered in 2014 and 2015.

Asaram is also accused of raping another devotee and involvement in the killing of two students at another of his Hindu retreats.

Controversial 'godman'

The sentencing comes as India reels from several horrific sexual assaults that have again underscored the country's grim record on rape.

The gang rape and murder of an eight-year-old and a separate assault on a teenager by a ruling party politician has sparked revulsion in recent weeks and angry marches across India.

Under pressure to respond, the government last week approved the death penalty for those convicted of raping children under 12.

Prime Minister Narendra Modi, who was criticised for a slow response to the protests, has since promised "to hang the people of demonic tendencies who misbehave with daughters".

"There is a government in Delhi which listens to the hearts of the people and decides on the basis of it," he told a political gathering Wednesday.

Officials from Modi's Bharatiya Janata Party (BJP) responded angrily Wednesday as the main opposition Congress party distributed photos of the prime minister alongside Asaram.

Asaram's website boasts of many high-profile devotees and admirers, including Modi and other past prime ministers.

India has numerous self-styled "godmen" with legions of devoted followers but several have been embroiled in scandals in recent years.