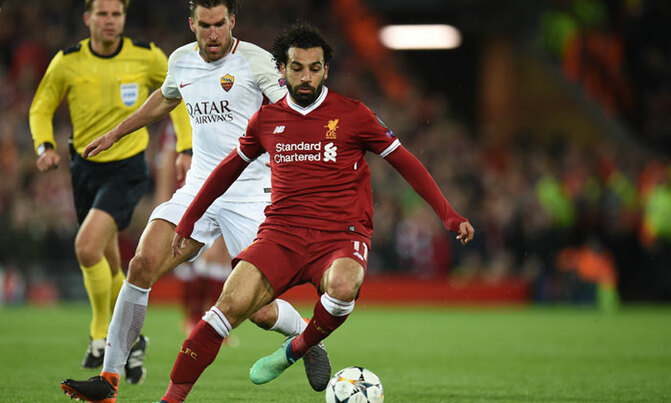 Egyptian Mohamed Salah is back to his starring role as Liverpool put up a five-star performance against Roma. If you missed, we have the action for you relived in pictures.
UEFA CHAMPIONS LEAGUE

Tuesday semi-final first leg result:

Liverpool 5 Roma 2 (at Anfield)

The last time Liverpool FC were in a final of the Champions League, I was a student warming up for life at university.

Remember that night in the Greek capital Athens 11 years ago? The English side was, however, only good for second-best - losing 2-1 to now-faded Italian giants AC Milan in that May 23, 2007 final.

The two sides had met in the final two years before, with Liverpool winning 3-2 in a penalty shootout after the main action ended all-square at 3-3.

Fast-forward to present-day and again, the Anfield side was facing yet another Italian side. Not the final this time, but not far off. It was the first leg of what promised to be a delicious semi-final duel at Anfield - and the home side felt the pressure to impress in front of their home support weigh ever heavily on their shoulders.

Jurgen Klopp and co would not disappoint.
The presence of Liverpool greats such as Kenny Dalglish and Ian Rush in the stands Tuesday night was even more reason for the Kop to put up a splendid performance.
Fans young and old graced a night of what promised to be a dose of fine European football.



Jurgen Klopp wore a serious, business-like look moments before kick-off as the two sides warmed up in front of a jam-packed Anfield.

At this point, I, too, felt the rush of anxiety dash through every corner of my body.

Adrenaline time. It was only a matter of seconds until the ball got rolling proper.
Meanwhile, Klopp's opposite, Eusebio Di Francesco, settled in for a night of 90 minutes of action.

It was hard to pick his mind to know what the cap-wearing Italian coach was thinking about at the time.

An upset at Anfield, perhaps? Not a shabby idea.

And with all the pre-match talk shoved aside, focus swiftly shifted to what had kept many of us up late. Once the ball got rolling, it was action, action and ACTION.

Mohamed Salah, who is Egyptian by the way, was facing his former club, who sold him to Liverpool last year at a fee of £37 million. That's around 191 billion Ugandan shillings - for one player!

Yet, going by Salah's impressive form at Liverpool, that fee looks quite a bargain. Arguably, he could cost a whole lot more now - only if the club decided to sell him today.

Please, allow me to emphasise 'if'.
In truth, the opening half played out quite squarely.

Both sides had their moments at the other's goal.

It was definitely going to be a free-flowing piece of action - knowing Klopp all tooo well. Another characteristic of the game was its physical nature, as Liverpool midfielder Georginio Wijnaldum and Roma's defender Juan Jesus, pictured immediately above, showed.

Now that's a genuine dollop of European football!
But the home side suffered a casualty in the early periods of the game.

Midfielder Alex Oxlade-Chamberlain it was.

It looked a serious injury as the former Arsenal FC man had to be stretchered off the pitch writhing in agony.

It could be game over for him for the rest of the season. And with the World Cup just around the corner, could this injury have greatly blown his chances of making the cut in Gareth Southgate's England side?
Just the other day, Salah was voted the PFA Player of the Year 2017-18.

And for all the doubters out there, the Egyptian superstar showed just why he deserved such glorious honours when he put Liverpool in front 10 minutes before half-time.

He would strike again on the stroke of half-time to give the Kop a healthy advantage over Roma going into the break.

A talisman indeed!
And the home fans acknowledged the display of their new-found gem.

I remember one pundit saying that every time Salah touches the ball around the box, it turns into goal.

Quite frankly, there is some truth in that.
Roma produced one of the greatest comebacks in Champions League history when they turned around a 4-1 first-leg deficit against Spanish giants Barcelona FC in the quarter-finals.

On Tueday night, they tried to replicate such enthusiasm, but it was quite a huge ask.
In fact, Liverpool made it difficult for the Italian side to come back into the game, especially with their German manager Klopp cutting an ubiquitous figure on the sidelines and the home fans willing their side on for more goals.
'You will Never Walk Alone' is the anthem of Liverpool FC.

But there are no guarantees.

Roma's Croatian defender Aleksandar Kolarov found himself walking alone as Liverpool kept banging the balls into the back of Roma's net.

A brace for Salah to open the rout.

Then Sadio Mane made it three in the 56th minute.

Roberto Firmino underlined Liverpool's dominance with two goals therafter - the first in the 61st minute and the other seven minutes later.
But just when it looked like it was game over, Roma's Bosnian striker Edin Dzeko pulled one back in the 81st minute to reduce the huge deficit.

At this point, 5-0 turned into 5-1.

Would the remaining nine minutes of normal play produce any more goals?

Oh yes . . .
PENALTY TO ROMA!

What was a comfortable evening for Liverpool suddenly transformed into a nervy conclusion when the visitors were awarded a penalty six minutes to time.

Midfielder Diego Perotti stepped forward for the task at hand and he did not disappoint as he beat Loris Karius from the spot.

5-2 the final score.

A mouthwatering seven-goal thriller at Anfield. Is there more of such action in store for next week's second leg in Rome?

I hope so.

Don't you too?
MO THE MAGICIAN

Mohamed Salah has had a phenomenal start at Liverpool.

Can he guide his side to a first Champions League final in 11 years?

Another 90 minutes of football beckons.

Second leg: Roma v Liverpool on Wednesday next week (9:45pm Ugandan time).
Also related to this article

2018 Road to Anfield in pictures