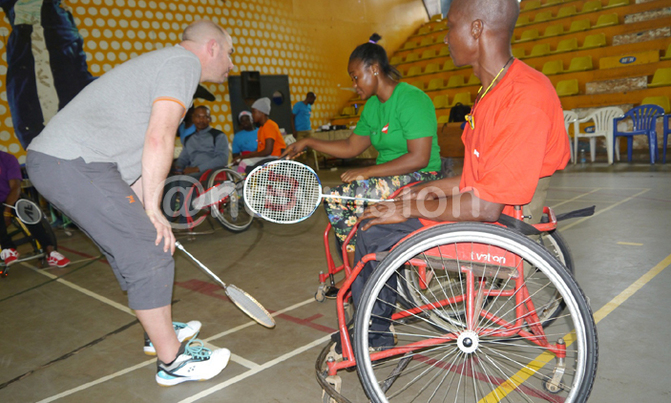 Uganda was selected to host the first ever workshop that started on Saturday.
World Badminton Federation (BWF) coach Guillaume Gailly is impressed by the positive response of African athletes with impairments during a three-day classification workshop that ended today at Lugogo.

The inaugural programme, fully sponsored by BWF, is intended to promote para-badminton across the continent ahead of the Tokyo 2020 Paralympic Games.

Para-badminton will be held for the first time at the games.

Gailly said that the participants are eager to learn which gives instructors the encouragement to go the extra mile to pass over their expertise.

"The beauty behind learning depends on the participant's interest and I am impressed that they have been involved wholeheartedly since the workshop and training started," Gailly stated.

"The biggest challenge in Africa is lack of facilities but otherwise if they continue training in a conducive environment, they will become good athletes."

Uganda was selected to host the first ever workshop that started on Saturday.

Gailly is assisted at the workshop by two other coaches Ian Bridge and John Shearer.

According to the Uganda Badminton Association chief executive officer Simon Mugabi, the programme has presented an opportunity for a number of domestic players to be classified.

"We were lucky that this workshop was brought to Uganda. It has given us the chance to field more athletes who will be classified," said Mugabi.

Uganda previously had 18 classified para-badminton players. The workshop attracted 15 more players.

Participants are to be classified in the wheelchair, standing lower (for impairments in the upper limbs), standing upper (for impairments in the upper limbs) and the short stature categories.

Meanwhile, starting tomorrow, classified athletes will take part in the second edition of the Uganda International Para-badminton Open at Lugogo.

The tournament has 83 participants from Uganda, Kenya, Cameroon, Ghana, France, India, Nigeria, Scotland, Poland, Israel and Malaysia.