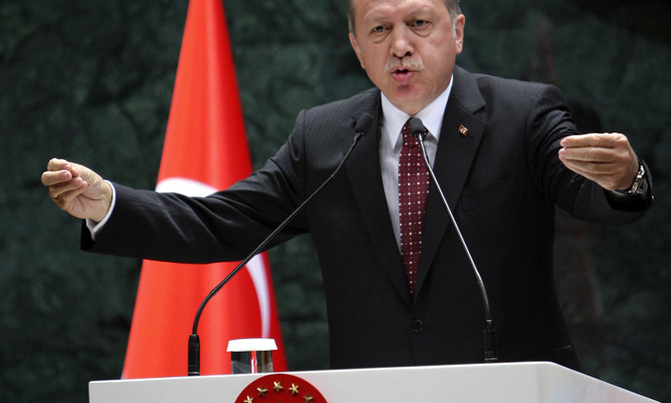 Turkey recorded stellar growth of 7.4 percent in 2017 but the data has failed to douse fears over the underlying health of the economy
Turkey's economy, the fastest growing in the G20 but haunted by an uncertain long-term outlook, is key to President Recep Tayyip Erdogan's decision to call snap polls and will also be decisive for the outcome.

Turkey recorded stellar growth of 7.4 percent in 2017 but the data has failed to douse fears over the underlying health of the economy which is marked by double-digit inflation, a wide current account deficit, a weak currency and high corporate debt.

The economy has generally been a trump card for Erdogan in his 15 years in power, with the Turkish strongman crediting himself with rescuing the country from the chaos that brought it to near financial meltdown in the 2000-2001 crisis.

By bringing the polls forward one-and-a-half-years to June 24, Erdogan wants to snare another five years in power with the economy at its peak before any downturn sets in, analysts say.

And with both unemployment and inflation at over 10 percent, Turkey's opposition will also be looking to capitalise on nascent economic discontent at the polls.

"There was no way to sustain this pace (of growth) until November 2019," Atilla Yesilada, country advisor at Global Source Partners in Istanbul told AFP, adding that the economy was "going too fast for its own good."

'Vulnerabilities building'

No visitor to Istanbul or other major Turkish cities can miss the frenetic pace of construction activity, with buildings being restored and built from scratch at every street corner.

The government is pursuing massive new infrastructure projects, from a giant new Istanbul airport due to open later this year to a Suez-style shipping canal parallel to the Bosphorus.

But markets have been troubled by reports that two major Turkish companies are seeking debt restructuring, in a sign ambitions may have been stretched too far.

Dogus Group, whose interests range from Garanti Bank to the meat restaurants of a famous Turkish butcher known as Salt Bae, and Yildiz Holding, the owner of the Godiva and McVitie's confectionary brands, have asked banks for a restructuring of billions of dollars in debts, reports have said.

"The economic data have all been very strong, so far. But it's clear that this is causing vulnerabilities to build," said William Jackson, senior emerging markets economist at Capital Economics in London.

He told AFP that of particular concern was the double digit inflation and the widening of the current account deficit, a measure of how much Turkey is borrowing from abroad.

Charles Robertson, global chief economist at Renaissance Capital, argued that the problems in Turkey's economy were not acute enough to cause Erdogan problems at the elections.

"Unemployment remains at an acceptable level and as so many Turks keep some savings in foreign currency even lira weakness is not that painful for the middle classes," he told AFP.

'Previous rallies short lived'

The Turkish lira had lost almost 10 percent of its value against the US dollar since the start of the year ahead of Erdogan's election announcement, making it one of the worst performing emerging market currencies in the world.

But his ending of uncertainty on snap polls -- the subject of speculation for months -- gave the lira one of its strongest rallies in recent times on Wednesday and it has since kept most of its gains.

Jackson of Capital Economics said he was "not sure this can be sustained", given the size of the current account deficit which leaves Turkey dependent on foreign capital inflows that could slow and pressure the currency.

Previous rallies of the currency when uncertainty was lifted "were short lived and the broad trend for the lira has been down", he said.

Up until 2013 there were fewer than 2 lira to the dollar but ahead of Erdogan's announcement it topped 4 to the dollar for the first time.

Keenly watched will be a meeting of Turkey's central bank on Wednesday, with the nominally independent institution under relentless pressure from Erdogan to cut rates to boost growth but markets wanting a tighter policy to douse down inflation.

"For the rally to get legs, the central bank should hike rates -- but Erdogan is an obstacle to this," said Robertson.