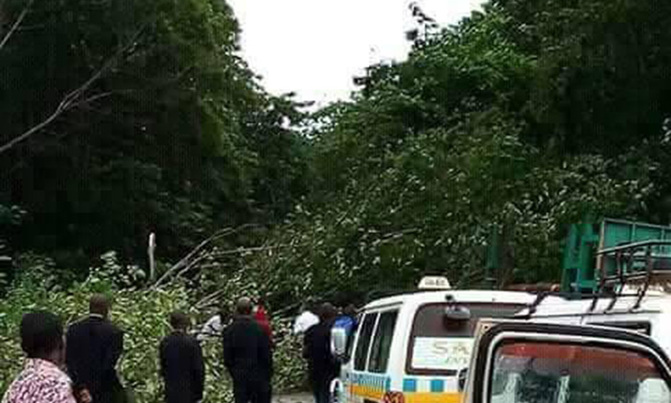 Ugandans in different parts of the country woke up to a heavy down pour. Whereas thanks to the rain, the consequences have been far reaching as to halt traffic and affect daily operations.
The treasured Mabira Forest on the Jinja Road highway on Monday morning closed off travellers from both Jinja and Mukono.

This followed a heavy downpour in the wee hour of the morning that left trees falling into the road, blocking flow of traffic.

Away from Mabira, the rain resulted in consequences that were far reaching as to cause flooding and affect daily operations.

New Vision takes you on a tour of the weather treatment of different parts Uganda.
In Bwaise, Kampala, the cars had to swim their way through the floods
Business was halted in Bwaise due to the heavy downpour
In Masanafu, Kampala, the roads were impassable. Those that were recently graded brame slipperly after the heavy downpour, making them impassable.
Business at the Jinja Post office started late, with most clients waiting for the rain to subside
Jinja Post office started receiving clients only at 11:00am. This was because most people were held back by the early morning rain
At May fair Cassino in Nakasero Kampala, a beehive of activity had its packing lot empty up to about 11:00am