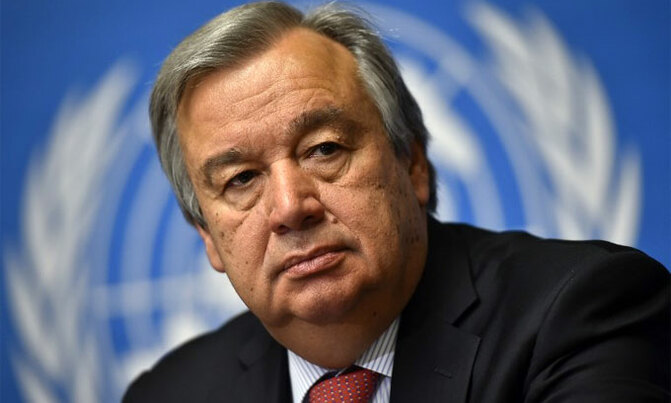 Russia warned the West not to make any "dangerous" moves against its ally Bashar al-Assad's regime and claimed to have proof that the attack had been staged by rescue workers acting on Britain's behalf
UN chief Antonio Guterres. Photo/File

The United Nations secretary-general on Friday warned against a "full-blown military escalation" in Syria, as France and the United States said an alleged chemical attack must not go unanswered.

Russia warned the West not to make any "dangerous" moves against its ally Bashar al-Assad's regime and claimed to have proof that the attack had been staged by rescue workers acting on Britain's behalf.

Experts from the Organisation for the Prohibition of Chemical Weapons (OPCW) are on their way to Syria to probe the alleged chlorine strike on the then rebel-held suburb of Douma, which took place nearly a week ago.

But, with the British government now estimating that the death toll from the attack has risen to 75, US President Donald Trump and other western leaders are contemplating punitive military action.

This would increase the risk of a clash with the Russian forces in Syria to defend Assad, and UN chief Antonio Guterres warned the Security Council to beware a "full-blown military escalation."

But France's UN ambassador Francois Delattre told the council that in choosing once again to use banned chemical weapons against civilians, Assad's regime had "reached a point of no-return."

And US ambassador Nikki Haley, while allowing that Washington is still weighing its options and pursuing its own investigation, warned her colleagues, "At one point, you have to do something."

Russia, in addition to tossing out unproven allegations against Britain, alleged the West was feigning outrage over the attack as a cover for a plan to overthrow Assad's government.

"We continue to observe dangerous military preparations for an illegal act of force against a sovereign state," Russian Ambassador Vassily Nebenzia told the Security Council.
'Missiles are coming'... or are they?

Tension between Russia and the West came amid signs the parallel conflict between Israel and Iran's forces and proxies in Syria is also on the point of escalation.

Earlier this week, Israel bombed a Syrian airbase used by Assad's regional allies, killing at least seven Iranians, and prompting threats from Tehran and its Lebanese militia ally Hezbollah.

"The Israelis carried out a historic mistake ... and put themselves in direct combat with Iran," Hezbollah leader Hassan Nasrallah warned on Friday in a televised address.

But the growing fears of escalation appear to have given western leaders food for thought.

After warning in a belligerent tweet earlier this week that "missiles are coming," Trump has backed off from talk of imminent action and is meeting with military commanders to look at options.

France's President Emmanuel Macron, meanwhile, on Friday called for stepped-up talks with Moscow and spoke to President Vladimir Putin by phone.

"The most important thing is to refrain from ill-considered and dangerous actions that would constitute a gross violation of the UN Charter and would have unpredictable consequences," the Kremlin said.

French 'proof'

Macron claimed in a TV interview Thursday that he had "proof" that Assad's regime had used chemical weapons and vowed a response "in due course."

But he also appeared anxious to avoid a wider conflict, saying France would "in no way allow an escalation."

Western officials believe chlorine was used in the April 7 attack on Douma, the main city in the former rebel bastion of Eastern Ghouta.

What is less clear is whether sarin, the agent used in a chemical attack that prompted US missile strikes last year, was also used.

Russia, which has stonewalled diplomatic efforts at the UN Security Council, has vehemently denied a chemical attack took place.

OPCW inspectors are expected to arrive in Syria at the weekend to investigate, following an invitation from Damascus.

Diplomats have expressed concern that the experts could be used as hostages or human shields.

Rebels give up Ghouta

Since last weekend, when images of ashen toddlers struggling for breath emerged, there has been a sustained military buildup in the eastern Mediterranean.

A French frigate, British Royal Navy submarines and the USS Donald Cook, an American destroyer equipped with Tomahawk land attack missiles, have all moved into range of Syria's coast.

US officials have refused to rule out direct military engagement with Russia.

On the ground, rebels and civilians were evacuating from Douma on Friday after anti-regime fighters in Eastern Ghouta surrendered their heavy weapons and their leader left the enclave.

This signalled the end of one of the bloodiest assaults of the seven-year war and a major win for the Assad regime.