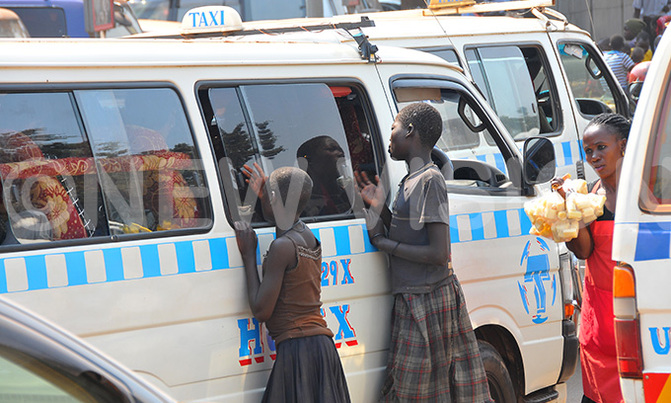 "We advocate better lives for street children and giving them money should be discouraged. KCCA should start arresting these people," says Byaruhanga, a former street child.
As Uganda grapples with the ever increasing numbers of children on the streets, Innocent Byaruhanga, the executive director of Save Street Children Uganda urges Ugandans to stop giving money to street children to enable government and other organizations take children off the streets.

"When these children get money or food they will not leave the streets. Some even escape from resettlement centers because they miss earning money on the streets," Byaruhanga says.

He called on Kampala Capital Authority (KCCA) to start arresting those offering money to street children.

"We advocate for better lives for street children and giving them money should be discouraged. KCCA should start arresting these people," says Byaruhanga, a former street child.

He however urges Ugandans to treat street children with dignity as any other children despite their vulnerability.

His words come as the World marks, the international day for street children. The day celebrated world over on every April 12.

In Uganda, the celebrations took place at the Pan African square - Clock tower in Kampala where Bernard Atiku the chairperson of parliamentary forum on children was the chief guest.

It was celebrated under the theme, "Equality for children living in street environments'"

The International Day for Street Children: Louder Together was launched on April 12, 2011, to give a louder voice to the millions of street children all around the world so their rights cannot be ignored.

James Kabogoza, a child specialist and former Assistant commissioner for Children affairs has called on Ugandans to treat street children like any other children for them to experience a better life.

Although it is difficult to get the actual number of street children in Uganda, it is estimated that there are about 2,000 to 10,000 street children in Kampala alone according to Trace Uganda.

"They should be protected and taken off the street. Take them back to where they came from if possible or put them in temporary settlement from which they can arrange plans for resettlement," Kabogoza says.

Kabogoza says, there is need to address the factors that are pushing children on streets instead of focusing on chasing them away.

"Majority of the children on our streets come from Karamoja and we know how things are in that region. But also in other areas like Mpigi, Jinja .If there can be better services, reduced hunger in that region, the number might reduce," Kabogoza says.

He notes that other factors like domestic violence, child abuse also need to be tackled.

Majority of these children have left their homes due to issues related to poverty, abuse by parents, and lack of care from parents.

Other urban centers especially the major towns like Mbale, Jinja, Iganga have also started reporting incidences of street children.

On the streets these children face violence, abuse from both the authorities and the community.

Caroline Ford, Chief Executive of Consortium for Street Children says street children are 'invisible' and not cared for as it would be by the governments and communities. She calls for equality for street children.

"If street children are not seen, not counted, how can they possibly be included in programmes aimed at visible children? How can they benefit from the development programmes that are often very successful? If they cannot enroll at a new school that has just been built by a charity because they don't have a birth certificate, then they are being left behind. If they cannot enter a health clinic if not accompanied by a parent then they are being left behind. If they are routinely detained just for begging or sleeping in the open, how can access to justice programmes serve them?" Ford wonders.

Children are too often denied the rights owed to them. Things most of us take for granted, like healthcare, access to justice when harmed, freedom from harassment.

While on the streets children lack access to clean water, shelter, food and education.