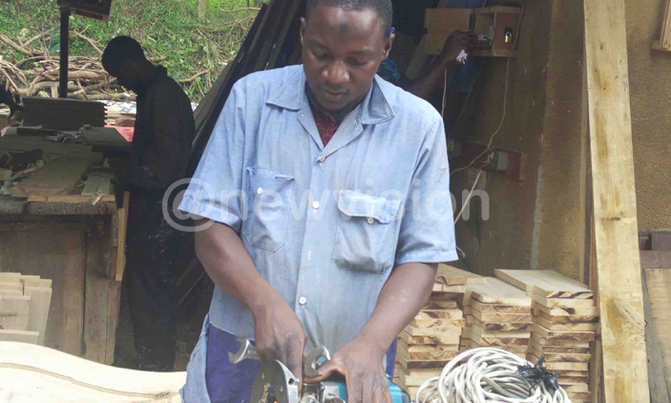 PwDs want the government to support them in acquiring tools to enable them put their skills to good use.
Despite acquiring skills, the People with Disabilities (PwDs) are not getting where to apply them.

PwDs are, therefore, calling upon the government to support them in acquiring tools to enable them put their skills to good use.

They made the appeal during a donor's conference at Uganda Society for the deaf, a vocational training center in Namirembe, Kampala.

"When some of our student's complete school, they lack kits to start their businesses and yet our aim of training them is to make sure they are self-employed," Emmanuel Kiberu said.

Kiberu disclosed that the kits cost between sh200, 000 to sh500, 000 depending on the course. The center has 36 girls and 31 boys totaling to 67. Seven of the students are partially blind and deaf and are supported by Sense International.

The students are offering courses in bricklaying and concrete practice (making concrete products), carpentry and joinery, tailoring and cutting, hair dressing, knitting and cookery.

Kiberu revealed that if the students become successful, they are awarded level one certificates or transcripts recognising the modules in which they have competences.

The vocational training project was started in 1998 by Uganda Society for the Deaf in order to provide education or training designed to meet individual needs.

Kiberu said the move was initiated to support government's policy of skilling Uganda and to reduce the unemployment rates.

The Belgian government signed a sh58b grant with the Uganda to support the Business, Technical Vocational Education and Training (BTVET) last year 2011.

Kiberu noted that disabled people in the community are being given low priority in terms of education and development programs.

"Many look at the deaf as people who cannot be of great importance in the community because of their lack of expression. We are trying to fight it by equipping them with skills and knowledge, which can enable them to engage in business," he said.

Irene Kharono, an official from Sense International Uganda demonstrates that it is important to assess the baby at birth to know whether he is deaf or blind before the defect worsens.