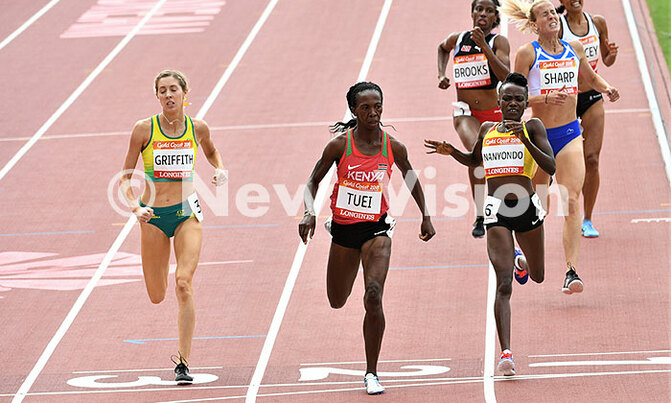 Winnie Nanyondo finishes second in her heat to qualify automatically while Dorcus Ajok is third in her heat but progresses thanks to her very good time.
PIC: Winnie Nanyondo progressed from heat three

GOLD COAST 2018 COMMONWEALTH GAMES

WOMEN'S 800M QUALIFICATION FOR FINAL

Heat One: Dorcus Ajok (2:00.53) - qualified

Heat Two - Halima Nakaayi (2:01.69) - did not qualify

Heat Three - Winnie Nanyondo (2:00.69) - qualified

The Ugandan duo of Winnie Nanyondo and Dorcus Ajok on Thursday advanced to the final of the women's 800m final after doing well in their respective heats.

Nanyondo finished second in heat three with a time of 2:00.69 minutes while Ajok finished third (2:00.53) in heat one, but progressed among the next two fastest runners.

Halima Nakaayi, who took part in heat two, did not make the cut. She finished fifth with a time of 2:01.69 minutes.

The final will take place on Friday at 12:45pm Ugandan time.
Dorcus Ajok (yellow) kept up with Semenya (green) in heat one, before the South Africa peeled away from the group with apparent ease

Nanyondo, who pulled off a personal best time of 4:06.05 minutes in Tuesday's women's 1,500m final, will be up against a familiar figure. Caster Semenya.

The South African, who won that particular race, cuts an imposing dominant figure on the track. She is eyeing double gold and has, as often been the case, been marked off as the favourite.

In heat one, which featured Ajok, Semenya eased into the final with a time of 1:59.26. Her personal best time is 1:55.16.

Uganda's interest in the upcoming final will also be up against other seasoned runners, including Kenya's Margaret Nyairera Wambui and Emily Cherotich Tuei, whose respective personal best times of 1:56.87 and 1:58.25 place them among the favourites as well.

Jamaica's Natoya Goule, Kenyan Eglay Nalyanya and Alexadra Bell of England also make the cast.

Joanna Houreau of Seychelles holds the current Games record of 1:57.35.

But Czechoslovakian Jarmila Kratochvilova's time of 1:53.28, set in 1983, remains the world record.

Can this record be broken on Friday?