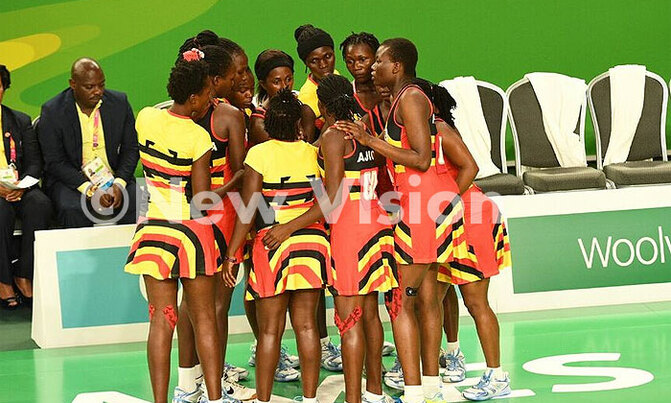 The She Cranes put up a fierce battle against Scotland but narrowly miss out on a semifinal place in 2018 Commonwealth Games in Australia.
GOLD COAST 2018 COMMONWEALTH GAMES

DAY SEVEN:

Pool B: Uganda 57 Scotland 37

Fifth place match: South Africa v Uganda

The She Cranes of Uganda are out of contention for a medal place despite beating Scotland in their last group game Wednesday morning.

Uganda needed to beat the Scottish Thistles by a margin of at least 40 goals to secure a semi-final spot ahead of New Zealand.

But the She Cranes' late charge in the third and last quarter came a little too late, with the Silver Ferns and the Roses of England emerging out of Pool B as the leaders.

The two nations, currently ranked second and third respectively, will next play in the semi-finals, with Malawi having a very remote chance to upset New Zealand.

Against Wales, the African nation would have to win by a margin of 80 goals to advance.

Meanwhile, seventh-ranked Uganda, having finished third in the group, know the identity of their next opponents: South Africa, who are ranked fifth, and finished third in Pool A.

The two African giants will play for a fifth and sixth place on Thursday.

She Cranes wrapped up their group challenge with three wins and two defeats.

Here is how Pool B looked after Uganda's final group game:

A little too late

The She Cranes, captained by England-based Peace Proscovia, came into Wednesday's match with their target clearly cut out: beat Scotland by no less than 40 goals and you are through to the semifinals.

But in Scotland they found a team determined to give them a spirited run for their place.

In the first quarter, they kept out Proscovia, knowing just how much aerial threat she carried. The lanky world-class goal shooter scored an impressive 56 goals as Uganda thrashed Wales 76-40 on Tuesday.

But where Proscovia was muscled out, teammate Rachael Nanyonga filled the void in attack. She had an impressive start to the game and the Ugandans particularly had her to thank for their 14-11 opening quarter lead.

The second quarter saw the She Cranes, rallied on by the huge crowd inside the Convention and Exhibition Centre, maintain their lead. But still their ultimate target was being frustrated by a disciplined defensive Scottish side.

Ugandans returned after half-time with such force that saw them win the third quarter 15-9 and the last quarter 16-7 as the gulf between the two sides eventually surfaced.

Scotland are currently ranked two places below Uganda.

In the end, the 20-goal-margin victory was, however, way short of what the She Cranes had set their sights on to reach the semi-finals.

Proscovia scored 32 of her 34 attempts while Nanyonga netted 25 of her 30 chances.

Nonetheless, the Ugandan camp will take a fifth or sixth place come Thursday. There is every reason to celebrate such an impressive performance on the global stage.