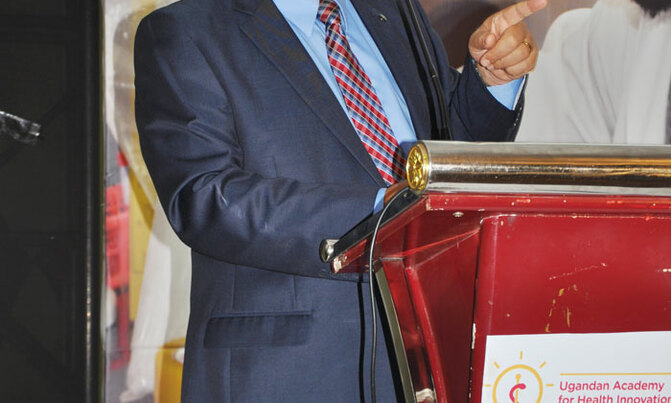 Prof. Elly Katabira, The UAHII Board co-chair said over 22,000 people and 7,000 health workers across 10 districts of Uganda had been reached since its inception
PIC: Dr. Alex Coutinho addressing the conference
By Prisca Baike

Researchers have lauded socio-technological inventions as key interventions in tackling the country's heavy disease burden amidst the high patient to health worker ratios.

In a conference organized by the Ugandan Academy for Health Innovation and Impact (UAHII) at Imperial Royale Hotel in Kampala recently, actors showcased a variety of developments geared towards improving the accessibility and sustainability of health services.

TB and HIV targeted
The conference brought together more than 20 national and local non-government organizations with both low and hi-tech innovations in various areas of health such as HIV, Tuberculosis, general practice, maternal and neonatal health among others.

Housed within the Infectious Disease Institute (IDI), the UAHII has for the past three years, spearheaded innovations to improve the health of people living with HIV and Tuberculosis.

In his opening remarks, Prof. Elly Katabira, The UAHII Board co-chair highlighted that over 22,000 beneficiaries and 7,000 health workers across ten districts had been reached since its inception.

"Our projects in clinical management training and research focused on innovations for impact have reached a wide network of people in the health sector in Uganda," said Katabira.

Dr. Rosalind Parkes-Ratanshi, the Academy's director, said that their call for life innovation has helped HIV and TB patients to adhere to their medication and hospital appointments. This, she said would help the country achieve its goals as it inches closer to the 90 90 90 deadline.

As explained by Dr. Ratanshi, Call for life is a simple non-smart phone based innovation that sends out automated voice calls to patients as a reminder for their medication or doctors' appointments.

"Using the same interface, patients can report any new symptoms or make complaints that are then followed up by the health workers," said Ratanshi.

More innovations
Speaking about innovation space for neonatology in resource limited settings and the link to good midwifery training and practice, Dr. Alex Coutinho the Executive Director, Partners in Health, Rwanda highlighted various cost effective lifesaving innovations the field.

Key among them was the Odon device that helps deliver babies who are stuck in the pelvis, thereby saving the mother's life and preventing c-section deliveries.

Coutinho also talked about the non-electric infant warmer, which he said is a much cheaper yet effective alternative to costly incubators.

Artificial Blood
Talking about the artificial blood manufacturing, Coutinho said that innovation and research are still going on to manufacture it although the major challenge lies in duplicating hemoglobin, the red pigmentation in blood.

"This will prevent hemorrhagic deaths in women and solve the blood challenges facing many countries," said Coutinho

Other inventions such as Philpa Ngaju Makobore's electronically controlled gravity feed infusion were also showcased among others.

"Innovations are there but often we don't know about them, we don't demand them or the system fails us in terms of using them," said Coutinho who called for a multi-sectoral cohesion to ensure the scaling of the various innovations to ultimately save lives.

The health actors called for low-tech needs-based inclusive innovations to ensure financial feasibility and accessibility to all end users so as to improve health outcomes.